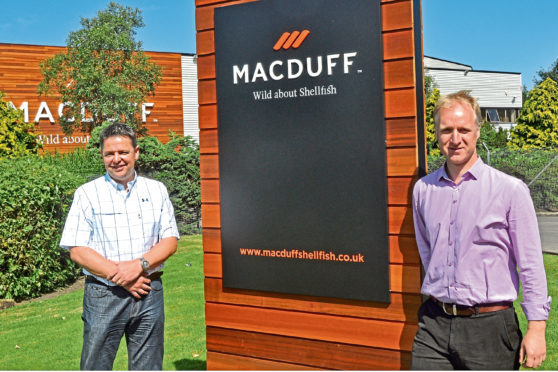 Seafood firm Macduff Shellfish (Scotland) said yesterday it was making "significant inroads" into global markets amid the uncertainty of Brexit.
Roy Cunningham, the Canadian-ownef firm's vice-president and chief operating officer, added: "Until we know the outcome of any deal with the EU it is difficult to know the extent that Brexit will affect us.
"However, we do continue to update our operating plans for March 2019 on a continual basis.
"We have a global markets strategy and are delighted to be making significant in-roads into Asia Pacific and North America."
He was speaking as the Aberdeenshire firm announced revenue and gross profits grew during 2017.
Accounts lodged at Companies House by Mintlaw-based Macduff show the company made pre-tax profits of £6.28 million last year, on revenue of £77.97m.
This was compared with profits of £9.37m on revenue of £93.99m during the 15 months to December 31 2017 following a change of financial year-end.
Mr Cunningham said: "On a comparable last 12 months basis to 2016, 2017 revenue and gross profit increased by 3.7% and 5% respectively as a result of continued strong market demand.
"When Clearwater bought the business, it announced its intentions to invest in Macduff.
"That investment has been significant – just under £9m in capital additions in 2017 – in expanding our facilities at Mintlaw and improving the operational efficiency of our vessels.
"These investments put Macduff in a positive position to take advantage of the increasing global demand for wild seafood, enabling us to continue to grow distribution of our products beyond Europe, particularly in Asia Pacific and North America."
Macduff – founded in 1987 – employs hundreds of people at peak times processing scallops, langoustines, whelks and crabs.
The firm and other group companies were acquired by Nova Scotia-based Clearwater Seafodos at the end of October 2015.
Clearwater paid the Beaton family and private equity firm Change Capital Partners £98.4m for operations with global annual sales of £52million.
The deal delivered a huge windfall for the Beatons, including brothers Euan, Paul and Fergus, who owned more than half of the shares. Euan Beaton is now Macduff's president.