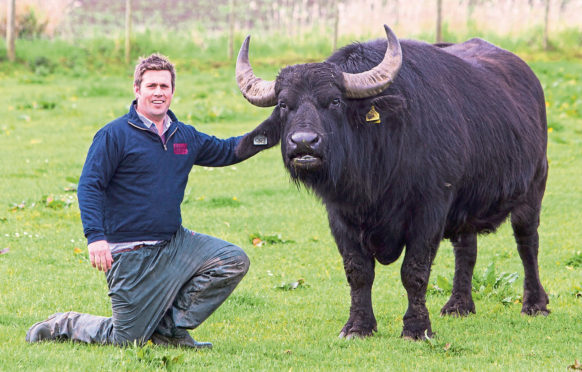 The entrepreneur behind plans for producing Scotland's first buffalo mozzarella cheese will be in Aberdeen next month to help inspire the next wave of north-east business start-ups.
Steve Mitchell, an award-winning Scottish farmer, butcher and reality TV star, has been invited to deliver the closing keynote speech at the inaugural BeBrave! festival on October 3.
He is expected to focus on the highs and lows of his entrepreneurial journey and share insights into his crowdfunding experience.
Buffalo mozzarella is traditionally made from the milk of Italian livestock.
In June 2018 Mr Mitchell announced plans to build a manufacturing facility, milking parlour and home for his herd of dairy buffalo on the outskirts of Kirkcaldy in Fife.
He then launched a crowdfunding campaign to support his goal of producing Scotland's first buffalo mozzarella, offering financial backers a 10% return on their investments.
Mr Mitchell, who also runs three butcher shops, an event catering business and bistro, said: "One of my key business mantras is to say 'yes' wherever possible.
"It is a bold mantra, but I believe this has added to my ambitions to put Scottish mozzarella on the menu.
"I am ready to share my story at Scotland's first BeBrave! festival."
He added: "I hope I can inspire and support our country's next generation of entrepreneurs and business owners, just as so many have supported me in the past."
Business Gateway (BG) has teamed up with Elevator – the Aberdeen-based social enterprise delivering BG services across much of the country – for the BeBrave! initiative, which is intended to be an entrepreneurial "hub" for new and existing businesses, or those thinking about starting up.
Pittodrie Stadium in Aberdeen will host the main part of the festival, but fringe events will take place at locations from Fraserburgh to Perth.
Those attending will have access to advice on how to start, grow and build their own business.
The line-up for Pittodrie includes an opening presentation from amputee mountaineer Jamie Andrew, a leadership panel session and workshops hosted by Google Digital Garage, Amazon and BG.
Chief executive Gary McEwan said: "Elevator is at the heart of Scotland's entrepreneurial ecosystem and we have outlined clear ambitions to cultivate an entrepreneurial culture across the country.
"BeBrave! is a step closer in bringing this ambition to fruition.
"It underpins our strategies in providing a cohesive support system which enables entrepreneurs to join the dots and access the help they need to take their business to the next stage, no matter its size.
"Steve's bold business ambitions, coupled with the inspirational success stories from our line-up of guest speakers, is set to instil a sense of fearlessness in Scotland's business community.
"We are ready to bolster Scotland's entrepreneurial spirit and enrich our country's legacy further."