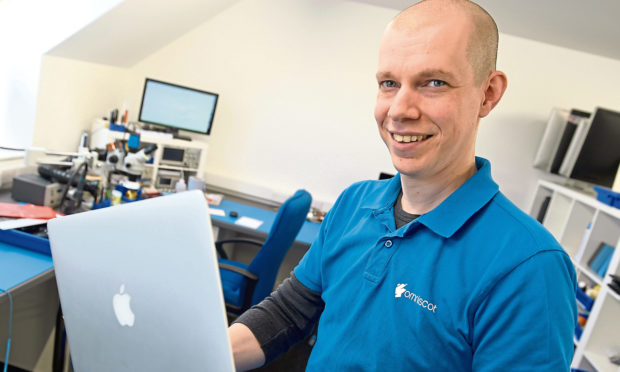 Each week we ask small businesses key questions. Here we speak to Steve Abraham, the owner of Apple-focused IT company Omniscot,
of Inverness
How and why did you start in business?
I grew up surrounded by IT. My folks had an IT company based at Dochgarroch, Inverness, and I loved to tinker with whatever kit was around.
I was the kid at school with the PC, not the games console, and I found building computers just as interesting and enjoyable as using them.
When I was in my teens I would spend as much time at the family business as the school timetable would allow, and this shaped me more than I could ever have realised at the time.
I was meeting customers, building computers, running email and web servers, and even configuring business phone systems.
It taught me as much about great customer care as it did about IT.
After my parents moved on to new ventures I continued to look after and support many of their old email and web customers in a freelance capacity, and continue to support several of them to this day.
How did you get to where you are today?
One day I received a phone call from one of my customers asking if I would come in for a couple of weeks to cover a staff absence. Nearly 10 years later I was still at Dynam (branding and marketing agency).
My work there showed me how little support there was in the Highlands for Mac-based businesses, and also how many Mac-based companies were in the area. It was a natural step for me to fill the gap in the market and extend the support to a wider audience, and that is what I did, launching Applescot in 2015 and rebranding it as Omniscot in June 2017.
My partner Marge joined me part-time in 2017. She has become a vital part of the company, taking care of the administration and finances. Together, we've grown the business to where it is today, last month moving from Church Street, Inverness, to larger, smarter premises on Cromwell Road.
Who helped you?
My parents provided me with a wealth of invaluable experience, advice and moral support, for which I am truly grateful, while Marge has had to put up with my long hours and not having much of a life outside work.
A special thank you also goes to Karen Green and Eleanor Neilson at Dynam for my time there. The support and flexibility I received from them – as well as the very long leash they put me on – was exceptional.
Finally, my Federation of Small Businesses (FSB) membership has helped enormously. The FSB provides great business advice, networking opportunities and help with cutting costs. It also fights for small businesses like mine, locally and nationally.
What has been your biggest mistake?
Regrets don't achieve anything, but if I had my time again I'd start Omniscot years earlier. It sometimes doesn't pay to be cautious.
What is your greatest achievement?
Omniscot. I'm immensely proud that I've built it up from scratch, without any borrowing or financial support.
If you were in power in government, what would you change?
I would prune unnecessary bureaucracy and vastly increase the support available to small businesses and the self-employed.
What do you still hope to achieve?
To grow the team to three or four to allow me to broaden our service offerings and widen our reach.
What do you do to relax?
Most of my vices are devices. I play the odd computer game, read a little – on my iPad – and watch some TV, but work dominates life at the moment.
What are you currently reading, listening to or glued to on the TV?
I'm a huge baseball fan and love catching up on Blue Jays (Toronto) games in the evenings.
What do you waste your money on?
Gadgets and computers.
How would your friends describe you?
Knowing them, something derogatory and unrepeatable.
What would your enemies say about you?
I try very hard not to fall out with people or burn bridges, so I don't think I have any.
What do you drive and dream of driving?
I've had a few nice cars over the years, but I'm as happy in my wee VW Caddy as I have been in any of them.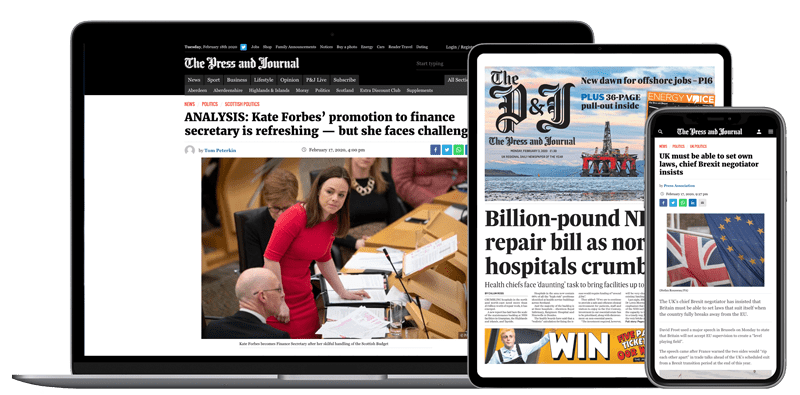 Help support quality local journalism … become a digital subscriber to The Press and Journal
For as little as £5.99 a month you can access all of our content, including Premium articles.
Subscribe