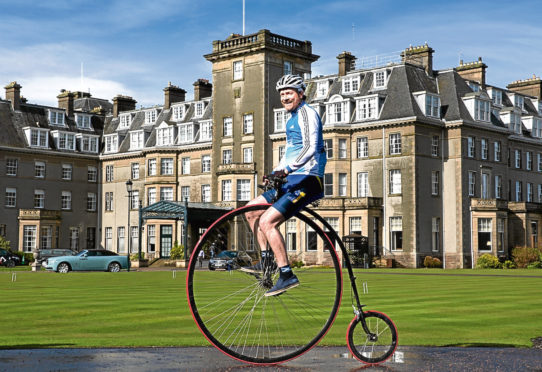 Business leaders from around the world gathered at Gleneagles yesterday to share their thoughts on how Scotland can become the most entrepreneurial society in the world.
Record-breaking cyclist Mark Beaumont, west Highland entrepreneur Angus MacDonald and world-renowned neuroscientist Dr Vivienne Ming all took to the stage.
They were at Entrepreneurial Scotland's annual conference to address a packed-out audience on how to help businesses thrive and survive.
The event, being held for the 22nd year, was opened by Dundee technology entrepreneur and Entrepreneurial Scotland chairman Chris van der Kuyl.
Mr van der Kuyl, who arrived riding Mark Beaumont's bicycle, encouraged companies to think on a worldwide level from the start.
He said: "The conference today is all about having a global mindset. To me that means having a global head and a Scottish heart.
"What's the point if you can't have an impact on the whole world? I don't really care about building a business that's only relevant to my back yard.
"As a tech entrepreneur, if I don't think global from day one, the business is dead at birth as far as I'm concerned.
"That goes for all our entrepreneurial ideas – whether they be business, public sector or governmental, we have to think with a global mindset."