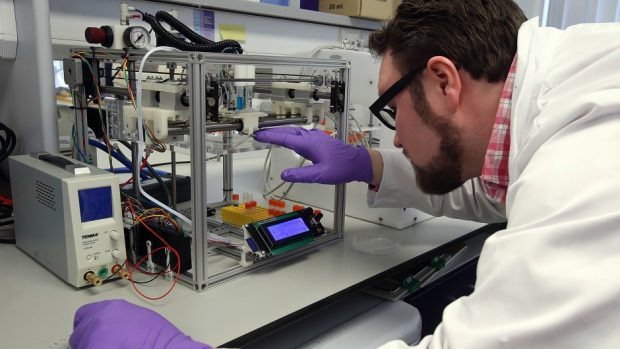 Life sciences firms throughout Scotland are expected to reap some of the rewards of a £56 million manufacturing innovation centre being built near Glasgow.
The new Medicines Manufacturing Innovation Centre (MMIC) in Inchinnan, Renfrewshire, could see the speed of bringing revolutionary drugs to market improve drastically, Scottish Enterprise (SE) said yesterday.
MMIC is expected to support 80 new jobs and offer pharmaceutical companies UK-wide support to develop and adopt new techniques in their manufacturing processes.
A further 90 jobs are forecast to be created or retained during design and construction phases of the project.
It is hoped the new centre will help the UK capture a bigger slice of the global £98 billion "small molecule" pharma market for drugs of a low molecular weight.
SE said it could also unlock £80m of new research and development investment in the UK by 2028.
MMIC is being supported with £15m from SE, £13m from UK Research and Innovation, through the UK Government-backed Innovate UK, and £7m each from pharmaceutical giants GSK and AstraZeneca.
The rest of the investment total is expected to come from commercial deals.
Business Minister Paul Wheelhouse said: "I am delighted that the MMIC will be located in Scotland, given its potential to become a global centre of excellence and bringing significant benefits to Scotland's economy.
"As well as helping to attract further manufacturing investment to Scotland, the centre will also be well-placed to support new business start-ups and spin-outs, and enable established life and chemical science companies to profit from innovation."
SE managing director Linda Hanna said: "There is no other facility like this in the world.
"It is a fantastic endorsement of Scotland as an ideal place to invest in global excellence in high-value manufacturing, drawing on our skills, innovative companies and academic expertise.
"Industry leadership and co-investment has been central to shaping this centre and will remain at the heart of what makes it a success, providing a platform for companies right across the UK to collaborate, innovate and develop world-leading medicine manufacturing processes and technologies."
UK Government Minister Lord Duncan said: "This is great news for the UK's life sciences sector and especially important for Scotland in reinforcing its global reputation as a centre for cutting-edge scientific endeavour."
"Through our modern industrial strategy, we want to see more of this world-leading research and manufacture done here in the UK, bringing highly skilled jobs and greater prosperity with it."
The centre will be built next to the £65m National Manufacturing Institute for Scotland.
It will support a Scottish industry employing about 5,000 people directly and a further 16,500 indirectly.