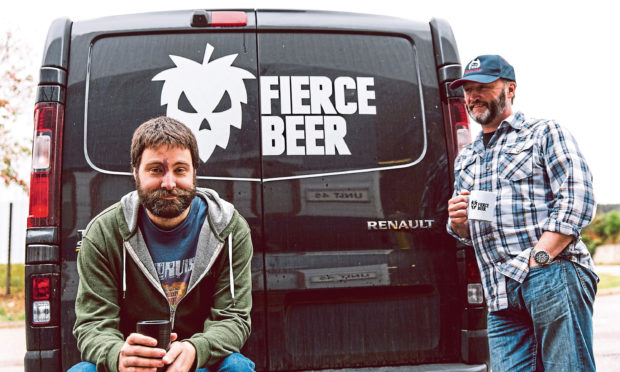 One of the oldest and most widely consumed alcoholic drinks in the world is enjoying a renaissance.
Beer has never been so popular, it seems, with all kinds of interesting brews – some well-known and others more obscure – flying off the shelves of supermarkets around the UK.
Craft beers are all the rage and consumers are more than happy to fork out a little bit extra to tickle their taste buds with new flavours.
Gone are the days when true enthusiasts were confined to small, intimate gatherings at real ale pubs up and down the land, regarded suspiciously and often as figures of fun by a public who decided these woolly jumper-wearing and mostly older, bearded men were out of touch with modern times.
Now, the beers – like the beards – are everywhere and UK consumers of all generations and gender types can't get enough of them.
Homemade beer kits have also made a re-appearance on Britain's high streets as new generations discover the enjoyment to be had from creating your own brews.
Some readers will remember when nearly every branch of Boots had a homebrew section, inspiring thousands of people to take up beer and winemaking – filling kitchens and garages around the country with plastic barrels and glass demijohns of fermenting, frothy, alcohol in the making.
UK consumers spent a record £135 million on craft beers during the 12 months to June, up 47% from the 2016-17 total of £92m, according to Kantar Worldpanel.
Growth in the category has accelerated swiftly since 2015, when spending rose just 13.5% to £46m.
British consumers downed more than 8m gallons of craft beer during the latest 12-month period, a staggering 52% rise on the year before.
So astonishing has been the rate of growth, that established mainstream brewing giants are desperate to get in on the action after years of treating this part of the market with disdain.
Smaller breweries targeting demand for something different are being snapped up left right and centre.
New breweries have been quick to take their place and Scotland boasts more than its fair share of successful beer-making start-ups.
Perhaps the most celebrated is Aberdeenshire firm BrewDog, which is now the "big daddy" of craft beer production.
I remember meeting BrewDog co-founders and former school pals Martin Dickie and James Watt early on in their entrepreneurial journey.
I was struck by both their determination to succeed and their ambitious plans for what was at that time only a fledgling business.
In just over 10 years they have gone from small-scale production – about 22,000 gallons a year – at the Kessock Industrial Estate in Fraserburgh to annual output of more than 7.5 million gallons.
The company moved to Balmacassie, Ellon, in 2012 and its new headquarters just keep on getting bigger.
Brewdog now boasts more than 1,000 employees, in excess of 70,000 shareholders and around 50 pubs, while its beers are sold all over the world.
The firm – never far from controversy over its choice of beer names – has also expanded its beer-making to the US and is building a brewery in Brisbane, Australia.
BrewDog's success was the catalyst for a revolution in beer-making in the north and north-east, with a raft of start-ups entering the market in recent years.
Longer established brewers in the region are also benefiting from the craft beer phenomenon as growing numbers of people show a preference for something out of the ordinary.
Supermarkets have been quick to cash in on this trend, filling more of their aisle space with beers from home and abroad bearing names like Kiltlifter (the US-based Four Peaks Brewing Company), Keel Over (Skinners Brewery, Cornwall), Skull Splitter (Orkney Brewery) and My Wife's Bitter (Burleigh Brewing Co, Australia).
BrewDog's effective marketing ploy of courting controversy is replicated in a whole string of UK and international beers with names not fit for a family newspaper.
One of the north-east-based newcomers to the market, Aberdeen firm Fierce Beer, has won a string of awards since it mashed its first brew on May 3 2016.
Its output is now exported all over the world.
Founders Dave McHardy and Dave Grant are pursuing opportunities to have more of their beers brewed overseas. They already have one partnership deal in place, in South Africa.
They are also looking to more UK production from Dyce to a more central site, with a visitor centre, in Aberdeen.
Fierce opened its first bar in Exchequer Row, Aberdeen, earlier this year, and plans to add others over the next 12-18 months.
Mr Grant said the craft beer market was continuing to grow and evolve, with increased competition bringing new challenges.
He added: "Brewers really need to keep abreast of the constant change in order to stay relevant, and indeed to survive and thrive.
"With craft beer growth both in on and off trade in the UK eating into big beer's share (if only marginally), sizeable business deals continue to be closed out, including Heineken buying into Beavertown, Lion/Kirin buying 4-Pure, and even BrewDog's purchase of the Drafthouse chain of bars in London.
"The appetite of larger players to grab market share continues apace.
"More and more small microbreweries continue to pop up but the space is now becoming pretty crowded .
"With more and better beers being available on supermarket shelves, small players without the benefits of economies of scale will find it tougher each month to survive – especially if they have no ability to sell direct to their customers via brewery taprooms or their own bars."
Distributors are also more choosy about who they keep in their portfolios as they have a wealth of quality to choose from, Mr Grant said.
He added: "Bars are being offered deals by breweries desperate to keep a presence on the tap list.
"Expect to see rotating beers from the same breweries, even in the most craft of beer bars. Again, this does not help start-ups.
"Some of the smarter microbrewers have moved away from having only a core range of beers to producing more and more special batch limited releases to keep interest up.
"A significant percentage of these specials are collaborative brews with other top table breweries in the UK and overseas.
"These efforts will keep these breweries at the cutting edge and in demand."
Deeside Brewery sales manager Christopher McPherson said: "The craft beer market is getting increasingly competitive as more and more breweries establish and launch products.
"The positive is that there's a great community amongst us and we support each other where we can.
"Our brewery is expanding, and we have recruited three new, highly experienced, staff members to help us grow our brand.
"We have also just launched our new citrus IPA – at 6%, it's the strongest beer we've ever produced, and we are keen to continue this trend in line with growing demand and our current market."
Andrew Chapman, director of sales and marketing at Moray-based Keith Brewery said Scotland had a growing reputation as the home of craft beer, with brewers north of the border helping to boost sales at more than 50,000 UK retail outlets .
Mr Chapman added: "The majority of craft volume in Scotland in concentrated in only two styles, lager and IPA.
"However, sour and saison-style (highly carbonated pale ale) beers continue to enjoy popularity among the more dedicated consumers."
New export markets could open up for Scottish beer-makers after Brexit, he said, adding: "China continues to be our biggest export market and we hope to be exporting to the US late 2018.
"We have already gained liquid and packaging approval from the TTB (Tax and Trade Bureau) in the US."
Craig Steven, commercial manager at Sinclair Breweries' Orkney Brewery in Stromness, said: "The craft beer drinker is deemed to a bit of a drifter when deciding on his or her choice of beer.
"This is due no doubt to more choice of beer brands available in the UK than one could sample in a lifetime, and more beers brewed in Scotland than you could sample in a year.
"If one day soon we come close to exhaustion of new-fangled ways of brewing and presenting beer, then surely the anticipation going forward should be of more good beer."
Predictions suggest craft in the UK to be 11% beer volume share by 2020.
Mr Steven said: "If we are nearing the end game in supposed new styles of beer, then this may well be the best news for growing and sustaining craft's role in the beer category.
"We can look forward to a maturing craft beer market, where quality and consistency become the new niche, and brewers would no longer need to come up with the 'next new thing'.
And in a warning for those beer-makers who "continually keep moving the drinker on", Mr Steven said they could end up "moving them off beer altogether".
He added: "If we keep promoting beer like the latest cocktail, then don't be surprised if drinkers drink cocktails.
"And as for beer cocktails, let us not even go there."