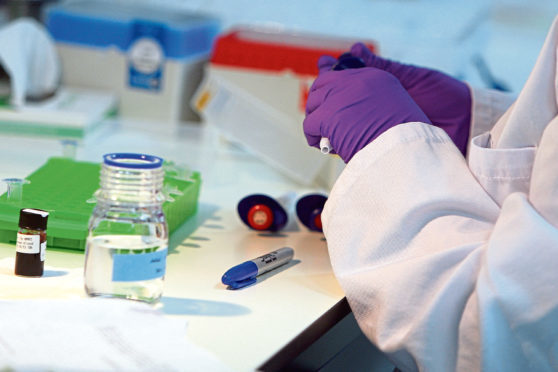 Scotland's fast-growing life sciences industry has some big hurdles in its path but does not lack ambition.
The Life Sciences Scotland Industry Leadership Group (LSS ILG), a public-private sector partnership, is targeting turnover of £8 billion a year for the sector by 2025.
Currently, the industry turns over £4.2bn and contributes about £2bn to the Scottish economy every year in gross value added terms.
The north and north-east share of this is projected to grow in years to come, thanks to substantial progress being made by firms in Aberdeen and new developments helping to maintain and build on a long-established life sciences stronghold in Inverness.
A growing life sciences cluster in the Aberdeen area, where companies like NovaBiotics, 4D Pharma, EnteroBiotix and Bio Technics are helping to lift the sector out of the shadow of an economically dominant oil and gas industry, will be a key factor in achieving the national target.
Aberdeen has a long and proud history of life sciences, thanks to world-renowned research institutions including the James Hutton Institute, but the city has for decades been inextricably linked with what happens offshore.
The recent oil and gas downturn was the catalyst for a major diversification push across the region, with economic development body Opportunity North East (One) spearheading efforts to create a more balanced economy.
One's different sector boards include one for life sciences, led by Professor Stephen Logan.
LSS ILG co-chairman Dave Tudor said: "North-east Scotland's life sciences cluster has an important role to play in realising the Scottish sector target of £8bn turnover by 2025.
"Within the region there is significant expertise in commercialising therapeutics and biologics. Successful spin-out companies include TauRx Therapeutics, Novabiotics, 4D Pharma and Elasmogen.
"The area also has excellent academic, research and company strengths in modern epidemics (diabetes, dementia), medtech and imaging, nutrition and medical mycology."
Aberdeen is gaining a particularly strong reputation for live biotherapeutics, a relatively new group of medicines that use the bacteria which colonise the human body – known as the microbiome – to tackle disease.
Mr Tudor said: "Aberdeen is strong on biotherapeutic research. The triple helix of industry, researchers and clinicians working together is essential in growing biotherapeutic companies.
"This opportunity is further enhanced by co-location within a tight geographic area at the Foresterhill health campus.
"The triple helix approach brings together the strengths of the region to create an ambitious and connected life sciences sector that is ideally placed to maximise opportunities through interaction and collaboration, whether in biologics, medtech or other healthcare fields.
"Growth plans centred on the new sector innovation hub, supported through the Aberdeen City Region Deal and by Opportunity North East, are exciting and will unlock the full potential of the region's clinical, research and commercial strengths."
Scotland has one of the largest life sciences clusters in Europe, employing more than 37,000 people across 700 organisations, but there are signicant challenges ahead for those chasing that £8bn turnover target.
Last year, LSS ILG highlighted an early negative impact from Brexit on the sector – and warned of worse to come.
In an open letter revealing major concerns, LSS ILG chairman David Tudor said life sciences firms were opposed to any restrictions on highly-skilled talent entering Scotland.
His letter followed an LSS ILG survey of the industry north of the border which showed Brexit uncertainty was causing strife.
"There is significant benefit in continued close partnership and collaboration with the EU for the benefit of patients and consumers globally," he said, adding: "Companies want experts and life sciences managers from the EU and overseas to be able to enter the UK at least as easily as at present."
Life sciences firms throughout Scotland are expected to reap some of the rewards of a £56 million manufacturing innovation centre being built near Glasgow.
The new Medicines Manufacturing Innovation Centre (MMIC) in Inchinnan, Renfrewshire, could see the speed of bringing revolutionary drugs to market improve drastically.
MMIC is expected to support 80 new jobs and offer pharmaceutical companies UK-wide support to develop and adopt new techniques in their manufacturing processes.
A further 90 jobs are forecast to be created or retained during design and construction phases of the project.
It is hoped the new facility will help the UK capture a bigger slice of the global £98 billion "small molecule" pharma market for drugs of a low molecular weight.
Scottish Enterprise (SE) said it could also unlock £80m of new research and development investment in the UK by 2028.
MMIC is supported by £15m from SE, £13m from UK Research and Innovation, through UK Government-backed Innovate UK, and £7m each from pharmaceutical giants GSK and AstraZeneca. The rest of the investment total is expected to come from commercial deals.
According to Strathclyde University's Fraser of Allander Institute, Scotland's £2.7bn pharmaceutical industry can be the "driving force for economic growth" as the country's wider life sciences industry makes its mark on the international stage.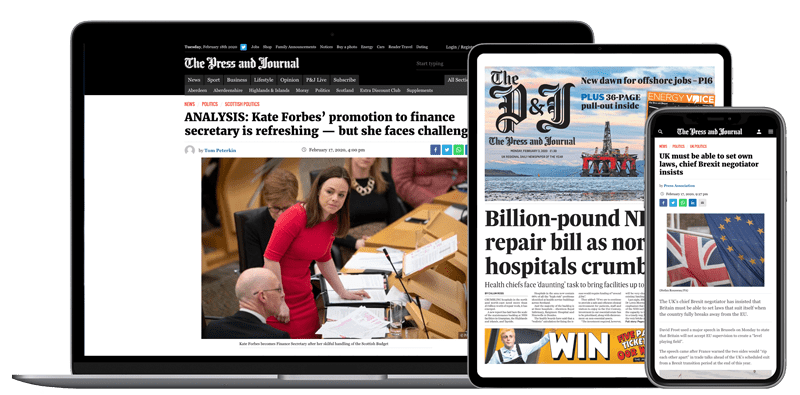 Help support quality local journalism … become a digital subscriber to The Press and Journal
For as little as £5.99 a month you can access all of our content, including Premium articles.
Subscribe