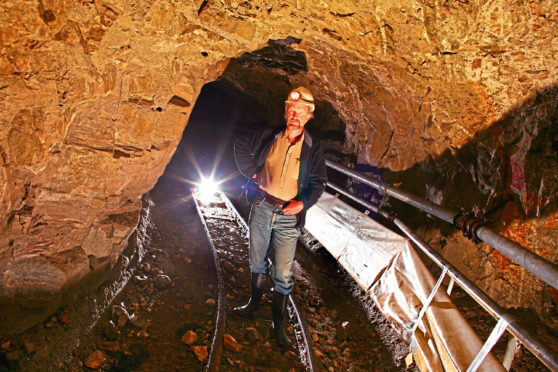 Commercial gold production from a Scottish hillside is on track to start later this year, the firm behind the project said yesterday.
London and Sydney-listed Scotgold Resources said it had satisfied all 19 pre-start conditions and other obligations of planning consent for its Cononish gold mining project at Cononish in Argyll.
It is more than 11 years since Scotgold, with offices in West Perth, Australia, and the village of Tyndrum on the edge of Loch Lomond and the Trossachs National Park, revealed plans to reopen an abandoned gold mine at Cononish.
In a first half results statement yesterday, Scotgold said its plans for Cononish were fully-funded and first gold production was due in the final quarter of 2019.
Exploration work in another area – the Grampian gold project – is continuing, with a view to potentially developing sites in the Ochils, Glen Orchy, Glen Lyon, Inverliever and Knapdale under Crown Estate "option agreements".
Scotgold hardly has any income – about £1,900 during the six months to December 31.
Interim pre-tax losses came in at £1.16 million, compared with a trading deficit of around £419,200 a year earlier.
The Alternative Investment Market company, which also has interests in Portugal, with a wholly-owned French subsidiary now in voluntary liquidation, recently renegotiated and extended a secured loan deal with Nat le Roux, its chairman and "major" shareholder.
Scotgold said the loan facility from Mr le Roux, who is a former chief executive of financial spread better IG Group, had been increased by up to £1m to £6m.
The firm produced its first gold from the Cononish seam several years ago due to bulk ore processing trial at the site.
It was later sold for an average £4,557 per ounce, a more than three-fold premium on the average gold price of the day.
The mineral was sold in the form of "rounds" minted by Baird and Co Bullion Merchants, each stamped with the Scottish gold mark of a stag's head and bearing a unique serial number linked to a chain of custody system certified by the Edinburgh Assay Office.
At one stage, Scotgold anticipated gold and silver production worth up to £17 million per year over a seven-year lifespan.
But those expectations have shifted over time due to fluctuations in the price of gold, which now trades at just over £1,000 per ounce.