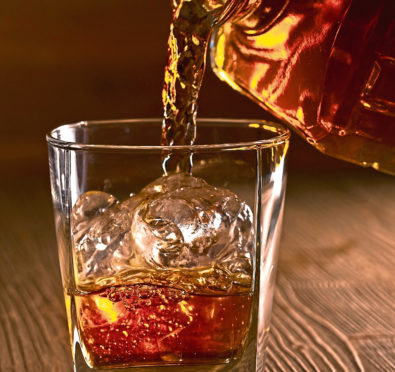 Whisky has grown its impact on the Scottish and UK economies by 10% in three years, new figures from the industry show.
The Scotch Whisky Association (SWA) said the economic value of Scotland's national drink had surged to £5.5 billion annually, buoyed in recent years by record exports and distilleries starting up.
Overseas sales of Scotch last year were worth £4.7bn, while total whisky sales accounted for two-thirds of all spirit production in the UK, SWA said.
The figures are based on research carried out by the Centre for Economic and Business Research (Cebr).
SWA said they highlighted the importance of a continued freeze on taxation to help an industry already paying the fourth highest duty rates in the European Union.
Karen Betts, chief executive of SWA, said the industry's GVA (the gross value added measure of economic contribution) grew by 10% to £5.5bn between 2016 and 2018.
This was as a direct result of whisky companies' "continued export success and the industry's consistent investment at home", with more than £500m going into production, distribution, marketing and tourism over the past five years", she said.
She added: "Despite the challenges of Brexit, this investment continues to flow, with further projects planned and more distilleries set to open – a sign that the Scotch whisky industry remains confident about the future.
"This is great news for our many employees, our investors, our supply chain and, of course, for consumers all over the world who love Scotch."
Whisky is taxed far more heavily in its own country – nearly four times as much – than in its top export market, the US.
Ms Betts said: "We will continue to press the chancellor for fairer treatment for Scotch whisky in our domestic market, which reflects the vital economic contribution the industry makes to the UK economy every day."
According to SWA/Cebr, the industry supports more than 42,000 jobs across the UK and its direct economic impact is worth £3.8bn annually.
Additional indirect and induced effects are estimated at £1.7bn.