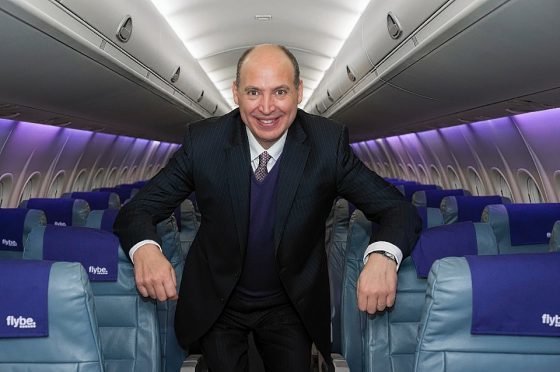 Regional airline Flybe said yesterday it had parted ways with chief executive Saad Hammad by "mutual agreement".
Mr Hammad is already out the door, with chairman Simon Laffin having taken on the CEO's duties in addition to his own on a temporary basis.
Cambridge University-educated Mr Laffin will continue to head up the business until a permanent successor to Mr Hammad is found.
Flybe, which operates from all the major Scottish airports and smaller ones in the Highlands and islands through a franchise deal with Paisley-based Loganair, said it was time for a new chief executive to lead the next phase of its long-term growth plans.
Mr Laffin, who is also chairman of healthcare property business Assura, added: "The board would like to thank Saad for his energy and drive which has been a major contributor towards Flybe's transformation over the last three years.
"He mapped out a clear vision for the group and led it to a significantly stronger position. We wish him well for his next challenge."
Mr Hammad, who took over the hotseat in August 2013 as the airline moved to restore its fortunes after hefty losses, said: "I am very proud of what we have achieved over the last three years with a major turnaround in Flybe.
"Now is the right time for me to move on to a fresh challenge. I would like to thank all company employees for their hard work, passion and commitment and wish them all the best."
Flybe, which is due to announce first half results on November 9, said its transformation under Mr Hammad had left it with "a strong balance sheet, robust operations and an excellent customer proposition".
In June, the Exeter-based carrier reported its first year of trading in the black since its £215million stock market flotation at the end of 2010.
Pre-tax profits for the year to March 31, 2016, came in at £2.7million after losses of £35.6million in 2014/15. Group revenue increased by 8.7% to £623.8million.
At the time, Mr Hammad said Flybe aimed to go head-to-head with bigger rival British Airways on the Aberdeen to London Heathrow route.
But these hopes were later dashed by a spat over charges at the UK's busiest airport, with Mr Hammad saying the airline was unable to connect the UK regions viably to Heathrow without "appropriate concessions and support".