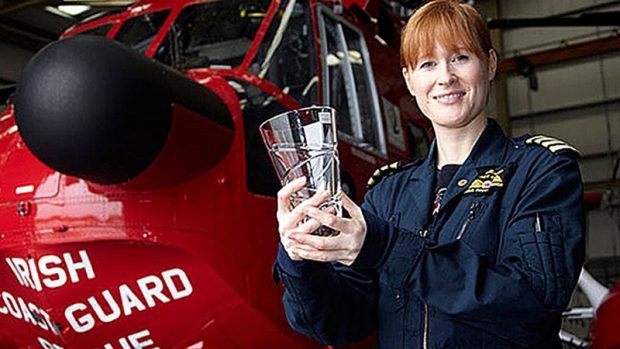 A coastguard captain who learned her trade in Aberdeen has died after a Sikorsky S92 rescue helicopter crashed into the Atlantic off Ireland.
Three other crew members were also missing last night from the aircraft which was involved in an early-morning rescue, close to Blacksod Bay in County Mayo, when contact was lost at around 1am.
An extensive search mission was launched, and debris from the incident was discovered around six miles out to sea.
Captain Dara Fizpatrick was recovered from near the wreckage and rushed to hospital in a critical condition. However, the 45-year-old who trained in the North Sea – died yesterday afternoon.
Rescue teams in Ireland, including divers, continued their search for the remaining three missing crew members last night.
Officers from the Irish Air Accident Investigation Unit (AAIU) were sent to the scene within an hour of the crash to determine the cause of the incident.
Sikorsky S92 helicopters around the globe were temporarily recalled for inspections in December after one of the vehicles pitched to the side and gouged the helideck of the West Franklin platform, 130 miles off the coast of Aberdeen.
A report by the UK's Air Accident Investigation Branch (AAIB) found "it was immediately apparent that the tail rotor servo piston was damaged" when inspectors removed the helicopter's panels.
Both the S92 in use by the Irish Coastguard and the S92 that was involved in the West Franklin incident were operated by CHC Helicopter.
Mark Abbey, regional director at CHC, said: "It is with deepest regret that we can confirm that captain Dara Fitzpatrick passed away following today's accident off the coast of County Mayo in the early hours of this morning.
"We are devastated by this morning's tragic incident. Our thoughts are with Dara's family and friends, as well as those of the three crew still missing. The search and rescue mission is ongoing."
The company's incident management team has been sent to County Mayo to assist.
Capt Fitzpatrick began flying in 1990 and started working in search and rescue in March 1993, moving from Shannon to Waterford after almost 10 years.
As part of her training, she spent a year in the north-east, learning how to land and take off from North Sea oil rigs to and from Aberdeen.
Brian Strutton, general secretary for the British Airline Pilots Association, said: "All pilots will now want to ensure the Irish accident investigators, the AAIU, can thoroughly and speedily get to the bottom of the cause of this accident, especially given the type of aircraft involved, so as to ensure future flight safety in the helicopter sector across Europe."
In January 2008, Capt Fitzpatrick, the mother of a three-year-old son, appeared on a video entitled Find A Balance Dare To Dream.