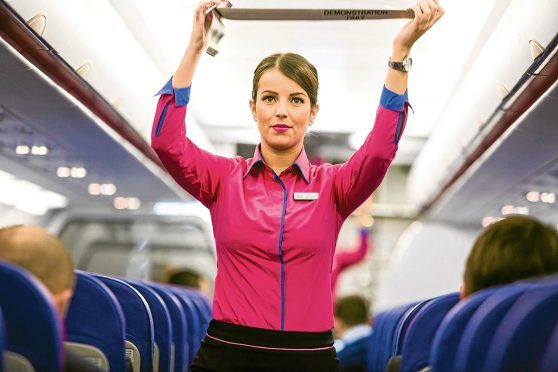 Fast-growing budget airline Wizz Air said yesterday a strong Easter and high demand for travel in eastern Europe lifted it to record results.
Wizz, which launched flights between Aberdeen and the Polish city of Gdansk in 2015 and last year added a service linking the Granite City with Warsaw, Poland's capital, reported a 16% surge in pre-tax profits to £53.5million for the three months to June 30.
The London-listed firm said revenue totalled £415million, an increase of nearly 30% from the same quarter last year.
Hungary-based Wizz Air carried 7.2million passengers in the latest period, a 25% year-on-year increase as it opened up a further 10 routes, including to new airports in Russia, Kazakhstan and Morocco.
Chief executive Jozsef Varadi said: "The company experienced a particularly strong performance from Easter traffic in the first quarter.
"Our ultra-low cost base allows us to offer the lowest fares, and that continues to stimulate the market for air travel in central and eastern Europe."
He added "As economic growth in the region continues to push ahead of western Europe, ever more customers take the opportunity to fly with Wizz Air."
The firm is pencilling in full-year net profits at the higher end of its guidance range of between £221million and £238.8million.
Wizz Air now operates more than 500 routes to and from 42 countries.
Last month, the group hailed a "major investment in the UK" as it shrugged off Brexit uncertainties to open its first British base at Luton Airport.
The move paved the way for three new services to Tel Aviv in Israel, Pristina in Kosovo and Kutaisi in Georgia.
Recent investment by Wizz in its UK operations has helped to allay concerns after the airline said last year it had started "re-adjusting" its network in the wake of the Brexit vote.
It planned to halve its rate of UK expansion during the second half of its current trading year to 15%, from the 30% growth planned before the EU referendum.
In results statement yesterday, Wizz said its first quarter performance, together with "encouraging" summer bookings and a favourable fuel price environment were setting it up for a strong year.
But it warned: "As we have seen in recent history, airlines tend to compete away the benefit of lower fuel prices with extra capacity.
"We remain cautious on the prevailing yield environment in the second half of this financial year, a period in which the company has very limited visibility."