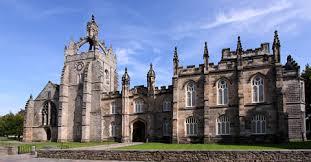 Strike action will hit Aberdeen University and a marine science centre near Oban unless a "mess" over pensions can be rapidly resolved.
The University and College Union (UCU) has announced plans for 14 days of action over February and March, culminating in a week long walkout by staff.
The industrial action was confirmed yesterday after talks between the union the employers' representative, Universities UK (UUK), broke down.
Aberdeen University and the Scottish Association for Marine Science (Sams), part of the University of the Highlands and Islands (UHI), are among the institutions set to be affected by the walkouts, starting on February 22.
The others are Dundee, Edinburgh, Glasgow, Heriot-Watt, St Andrews, Stirling and Strathclyde universities.
Robert Gordon University in Aberdeen and the other UHI colleges are not affected by the changes.
The dispute is part of UK-wide action and centres on UUK's proposals to end the defined benefit element of the universities pension scheme, which UCU insists would leave a typical lecturer almost £10,000 a year worse off in retirement.
In the recent strike ballot, 87% of UCU members in Scotland backed strike action and 93% supported action short of a strike. The turnout in Scotland was 63%.
UCU general secretary Sally Hunt said: "They feel let down by leaders who seem to care more about defending their own perks than the rights of their staff.
"Strike action on this scale has not been seen before on Scottish or UK campuses, but universities need to know the full scale of the disruption they will be hit with if they refuse to sort this mess out."
Professor Axel Miller, deputy director of Argyll-based Sams UHI, said: "We have now received the dates of proposed strike action and are working hard to ensure that there is minimum impact on students.
"We are aware of the stress that this action may cause to students and are particularly mindful of those in their final year of study."
Aberdeen University declined to comment.
A UUK spokesman said the changes to pensions were a "necessary step, made in the best interests of university staff", which would put universities on "a sustainable footing for the long-term".
It added: "The scheme will continue to offer attractive pensions through market-leading defined contribution benefits."