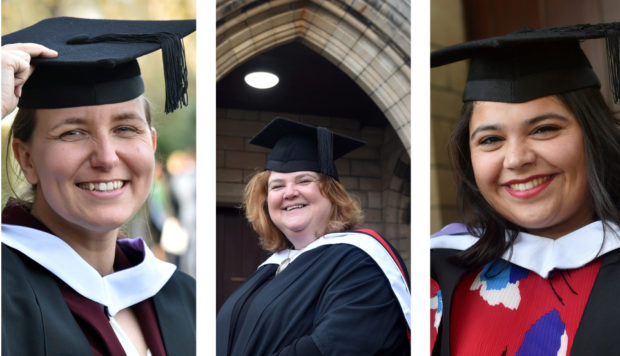 After surviving a near fatal motorcycle accident, Heather Armstead, from Udny Green, graduated from Aberdeen University with a Master's degree in Museum Studies.
The 38-year-old was left half paralysed after being knocked off of her motorbike in 2014.
She suffered a severe arm injury and, in June this year, she took the brave decision to have it amputated.
After learning to write with her other hand and drive with one arm, and despite battling with severe phantom limb pain, she resumed her studies to graduate this year.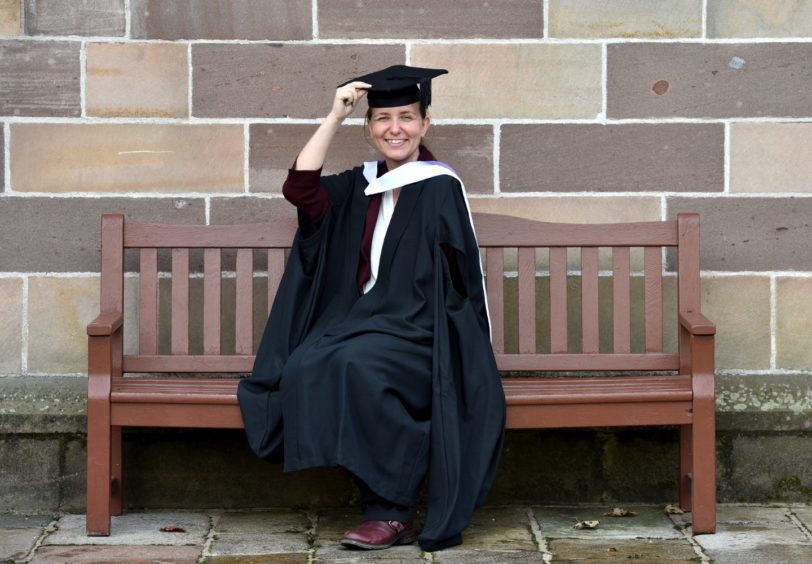 She said: "I worked in financial admin before and I was in my early 30s when I thought 'is this it?'
"I studied Archaeology at UCL but after my accident I had to move to something less practical."
After moving to Aberdeen "for love", she decided to get a Museum Studies degree so she could still pursue her passion for archaeology, but in a less physical manner.
"It's been a long road," she said.
"At the start of the year I thought I'd never have got through it – especially with the amputation.
"But my course coordinator and supervisors gave me so much encouragement and support. I couldn't have done it without them."
Lossiemouth graduate celebrates double success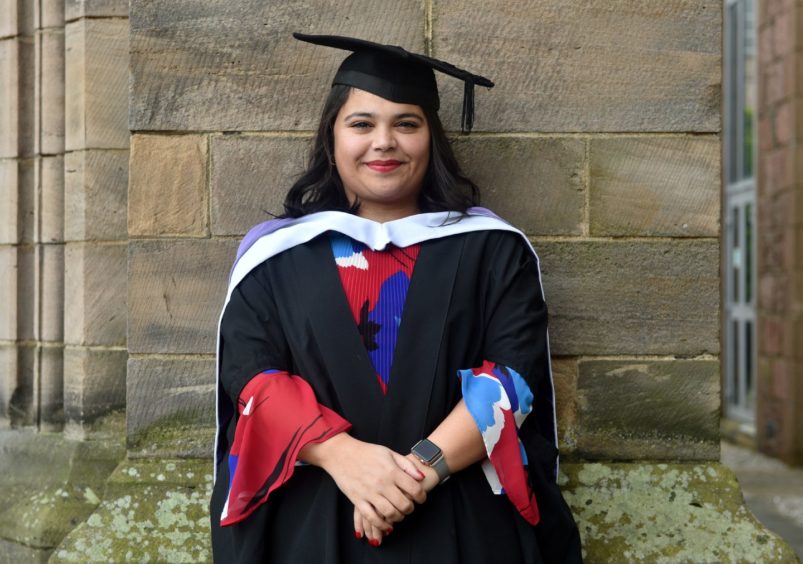 Samira Nicholson from Lossiemouth was the first in her family to go to university.
Yesterday she celebrated double success and set the standards that bit higher for her younger sister as she graduated with a master's degree in Modern History.
The 23-year-old completed an undergraduate degree at Stirling University last year where she studied History and Education.
After living in Stirling for the duration of the course, she wanted to complete further study somewhere closer to home.
She decided to come back to her "favourite place in Scotland" to complete her masters.
Miss Nicholson has now has her eyes set on a PHD, which she will also complete at Aberdeen university.
She will focus on South Asian women who emigrated to Britain in the 1960s and analyse how they have integrated into communities.
Miss Nicholson has a place to do her PHD in Aberdeen will hopefully secure funding to carry out her investigation.
She said: "I was the first person to go to university. The first person to get a masters. It just makes this day even more special. I'm feeling a lot of emotions.
"My hard work has paid off and I can proudly say that I've achieved a Distinction."
Mother of four gains distinction in Master's degree
A mother of four from Macduff was among those graduating from Aberdeen university yesterday.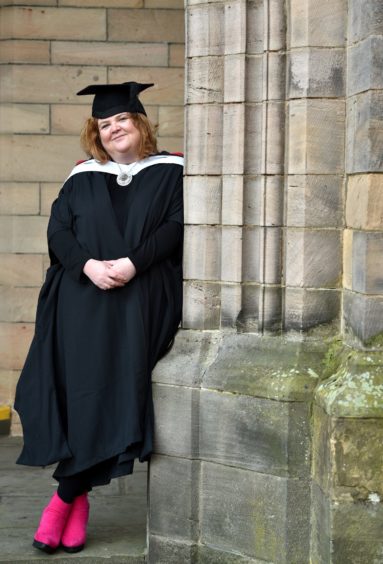 Wendy Third celebrated receiving a distinction for her master's in Social Research after a tough year.
She achieved straight As despite combining working full time and caring for her invalid father and four sons.
"I'm really chuffed – and I was amazed to get a distinction," she said.
"It's been a challenging year but a really good feeling.
"I couldn't have got through the year without my amazing supervisor, professor Bernie Hayes."
The 50-year-old said she initially "didn't even want a degree" but after a "mid-life crisis" she applied to study at college and found it addictive.
The good grades she received there allowed her to skip a year to enter the undergraduate programme at Aberdeen.
Believing in the importance of education, she now wants to give something back to the community and will be teaching social science at her former college, Nescol.
She added: "I did my dissertation on Scottish universities so it's amazing to have graduated the year that Aberdeen was named university of the year.
"I'm a testament to how good the education system in the north-east is.
"It feels amazing to be graduating. Look at the surroundings – it's a privilege to have studied here."
Aberdeen teacher hopes her graduation will inspire her pupils
Stephani Fraser always wanted to pursue a career in teaching but deciding what type of education to specialise in proved to be a struggle.
The 23-year-old from Aberdeen studied nursery teaching and didn't enjoy it as much as she'd thought she would, so she moved into primary education.
The move didn't go as planned and again she knew that it wasn't for her, but refusing to let setbacks knock her confidence, she gave it one last go and tried secondary teaching.
It proved third time lucky as she "absolutely loved it."
Following the decision to then specialise in business, she graduated yesterday with a PGDE in secondary education.
Now working as a business management teacher at Harlaw Academy, she teaches Admin and ICT, as well as business.
She said she was grateful that her hard work and achievement could be "shared with the kids".
"I'm so happy and relieved to have gradated," she said.
"Its showing the kids I teach that they can do it as well – this could be them in a few years.
"My plan was always to stay at home in Aberdeen as I didn't want to leave. I wanted to be close to family."
Beaming with pride, her mother joked: "We always knew she would be a dictator."