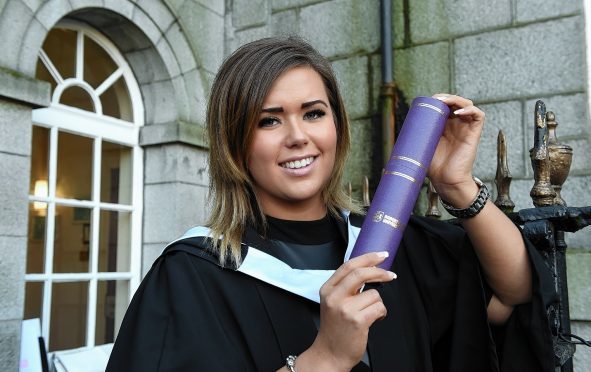 A caring Orkney student enjoyed an "unreal" experience graduating in front of hundreds of academics at the Music Hall yesterday.
Kayla Costie, 21, from Kirkwall was awarded a nursing degree in mental health at the prestigious winter ceremony yesterday.
And the former Kirkwall Grammar School pupil has already taken up her first staff nurse post at Aberdeen's Royal Cornhill Hospital in the Eden Unit, which is a specialist eating disorder ward.
It is the only inpatient unit of its kind in the north-east of Scotland, which also covers the Highlands & Islands and Tayside.
Miss Costie said she had never considered herself an academic person and that graduating with a degree specialising in mental health seemed a little surreal.
"I never thought I would go to university, that was never part of the plan," she smiled.
But after taking an interest in mental health, she decided further education was the right way to go.
Miss Costie said she loved her placement at the Eden Unit and felt very fortunate a position was advertised after she finished her studies.
She said she has enjoyed getting to know the patients and seeing the difference their work can make.
"It can affect anybody and eating disorders has the highest mortality in mental health," she explained.
"There's a lot of work behind the scenes to ensure the patients are healthy."
Miss Costie said her nerves managed to only just hold up as her family looked on from the audience yesterday.
"It was unreal. My legs were like jelly. I couldn't walk coming back down the stairs," she said.