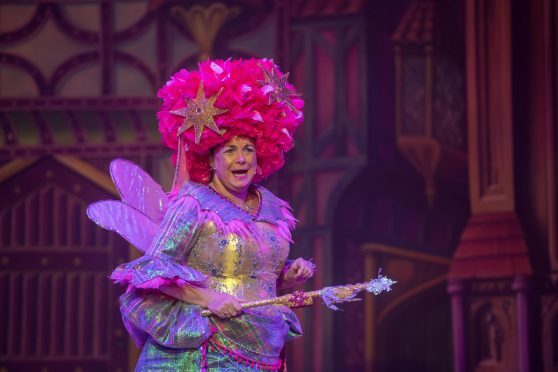 Dick McWhittington had more than an Aberdonian twist.
It had been dunked in the Dee, whirled around Codona's and thrown into a big pot of glitter for a little extra sparkle.
Pantomime is a show for all the family. It is a rare time when parents and children spend time together watching the same thing.
Or leave the kids at home and have a grown up night at the panto like many of the audience last night.
HMT's panto had plenty of jokes for everyone, including some which went completely over the heads of the under 16s but had all the others crying with laughter.
There was more than enough for the little ones too.
Elaine C. Smith dazzled in a sparkling outfit as the Spirit of the Don, or Fairy Fit Like? as she preferred to be called.
This may be her eighth year in the Aberdeen panto, but she puts on a show as if it were her first. The singing voice of the star wowed the rowdy audience into a stunned silence before getting everyone up and joining in.
Taking part is an inevitable part of pantomime, and script writer and dame Alan McHugh ensured there was plenty of that. Surprise after magical surprise had me smiling in absolute glee.
The actors must be exhausted after the energy they put into the comical scene, including the ensemble who shimmied their way through the show.
Every show has its challenges, and when there was a mishap with a trombone Jordan Young made it into something even more comical. The production values had me speechless at several points – a whole sparkly world was created, but I'll save the details to keep the surprise.
Naturally there was a sing-along as there traditionally is in pantomimes, but it was a delightfully Aberdonian one which had the whole audience on their feet.
Be prepared for a few unexpected delights, especially if you are sitting near the front, although the show extends into the whole auditorium, with the audience being just as important as one of the cast. Go along with your hands ready to clap, your singing voice warmed up and open to a world of magical entertainment.
Dick McWhittington is on at HMT in Aberdeen until January 8. See www.aberdeenperformingarts.com or call 01224 641122.