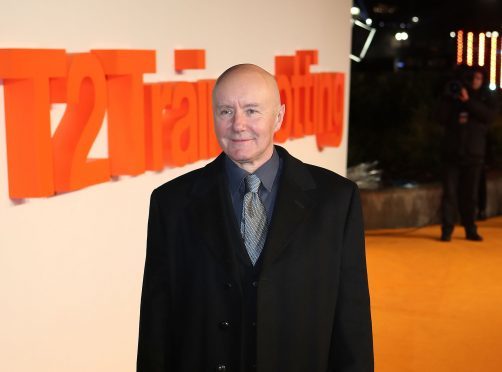 A new film by Trainspotting author Irvine Welsh has been rejected for funding — because it is not Scottish enough.
Despite the movie being about the life of the man who discovered some of Scotland's favourite indie bands and starring Ewen Bremner, it has been knocked back for funding from Creative Scotland.
The quango marked down the production because proud Leith man Welsh lives in the United States and an English director plus four English producers have been attached to the project.
Now the film about Creation Records founder Alan Mcgee, who launched the careers of Primal Scream, Jesus and the Mary Chain and Teenage Fanclub, could be outside Scotland.
It is set to star Miley Cyrus as a music journalist but could be shot in Wales or Yorkshire as producers seek alternative funding.
Lock, Stock and Two Smoking Barrels and Harry Potter star Nick Moran is directing the film, while its producers include Nathan McGough, former manager of indie outfit the Happy Mondays.
Two previous films adapted from Welsh novels – Filth and Trainspotting sequel Porno – were funded to the tune of £300,000 and £500,000 respectively.
However, the body has insisted an "experienced Scottish-based producer" works on the film about McGee, who famously discovered Oasis in Glasgow.
The biopic on East Kilbride-born McGee is billed as "a film about one of the most culturally important British figures in the movie business, written by the voice of a generation".
Nick Moran said that the movie could not be more Scottish if it tried.
He said: "The movie couldn't be more Scottish. The script is written by Edinburgh's most famous writer.
"It's all about Scotland's most successful record entrepreneur, who gave the world two of Scotland's most successful rock bands, and it stars Ewen Bremner.
"How can it not be Scottish enough? Creative Scotland basically said that since Irvine didn't live in Scotland anymore; he didn't sound as Scottish.
"Irvine was spitting teeth when he found out.
"I e-mailed Creative Scotland back to say 'What if we co-produced it with the Bay City Rollers and got Nicola Sturgeon to play Alan McGee?'.
"Irvine was saying he couldn't be more Scottish if he was in a kilt, playing the bagpipes."
Producer Nathan McGough added: "Irvine was absolutely fuming about it.
"It's no wonder when you think about what Trainspotting has done for Edinburgh and Scotland.
"We'll now be applying for funding from Wales and Yorkshire, who don't have the same funding rules."
A Creative Scotland spokesman said: "This is an interesting project with potential.
"However, in line with our published guidance, the original application was assessed as not eligible as there was no confirmed finance, and sales and distribution interest.
"We advised that a subsequent application could be considered when the project is at a more advanced stage and that the involvement of an experienced, Scottish-based producer would strengthen that application."