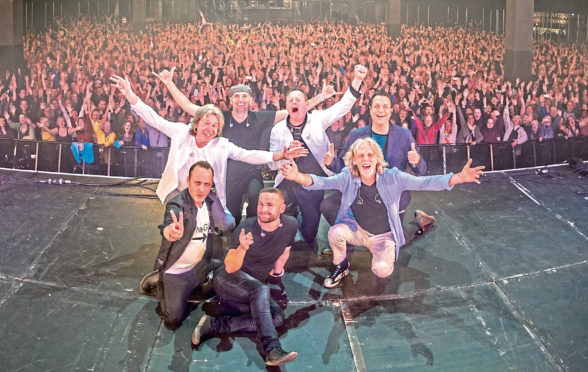 Cast your mind back some 30 years to the spring of 1990.
Madonna and Phil Collins were topping the charts, but thanks to a lack of appropriate venues, Aberdeen rarely saw big names like these come to the region.
All that changed with the opening of the AECC, which was packed to maximum capacity as Wet Wet Wet opened the venue for the very first time with a huge north-east concert.
And it seems that history is set to repeat itself as Wet Wet Wet will again be the first band to perform in the all-new P&J Live arena set to open later this year as they set off on a Scottish tour.
Selling out concerts more than three decades after first forming is a feat for any band, but for Wet Wet Wet the newly-announced shows are even more meaningful.
The Scottish four-piece lost frontman Marti Pellow two years ago, as he vowed to shift focus to his solo career.
It was a blow to the others who were forced to pause proceedings as they considered which road to take next.
"For a while we thought we'd never play again," said keyboard player Neil Mitchell.
"We decided to hold some auditions for a new singer which was pretty scary as we'd never had to do anything like that before.
"But no one seemed to quite fit the bill as it's not just about the voice, it had to be someone we wanted to hang out with and spend time with too, a friend almost.
"We'd kinda resigned ourselves to the fact that it might not happen when Kevin (Simm) came along."
Formerly of Liberty X and the 2016 winner of The Voice, Kevin heard about Wet Wet Wet's search for a frontman through the grapevine.
He met the band casually one afternoon and they got on like a house on fire.
"Kevin's a great guy with a fantastic voice," said Neil.
"He turned it all around and brought a new freshness to the band and our songs.
"That's why as a band we are really excited for these new shows and can't wait to introduce audiences to our new singer."
But with a loyal audience who have followed their career from the start, Neil is under no illusion that fans may be resistant to the change in line-up.
"If one of my favourite bands suddenly got a new singer I'd probably be the same," he said.
"But we hope people will give us a chance and I'm confident they'll be impressed by what Kevin brings to the band.
"His voice fits the songs so well, we've been really lucky to find him."
The new shows will be the band's first tour of Scotland with the new line-up, stopping off at P&J Live on November 2 before concluding in Inverness at The Ironworks on November 10.
They'll be well versed by the time they reach the north-east as this summer sees them busy with a series of festivals and shows in England and mainland Europe.
Audiences can expect to hear all the hits as well as some of the lesser-known tracks from Wet Wet Wet's back catalogue.
And according to Neil the band are already thinking about new music, with plans to schedule in some time in the studio before the year is out.
"When we lost our singer we thought we'd never play again," he said. "But we're back totally refreshed with a new vibe and can't wait to play Scotland again."
Wet Wet Wet are playing at P&J Live in Aberdeen on November 2 and at the Inverness Ironworks on November 10. Tickets go on sale tomorrow from www.wetwetwet.co.uk/live-in-concert