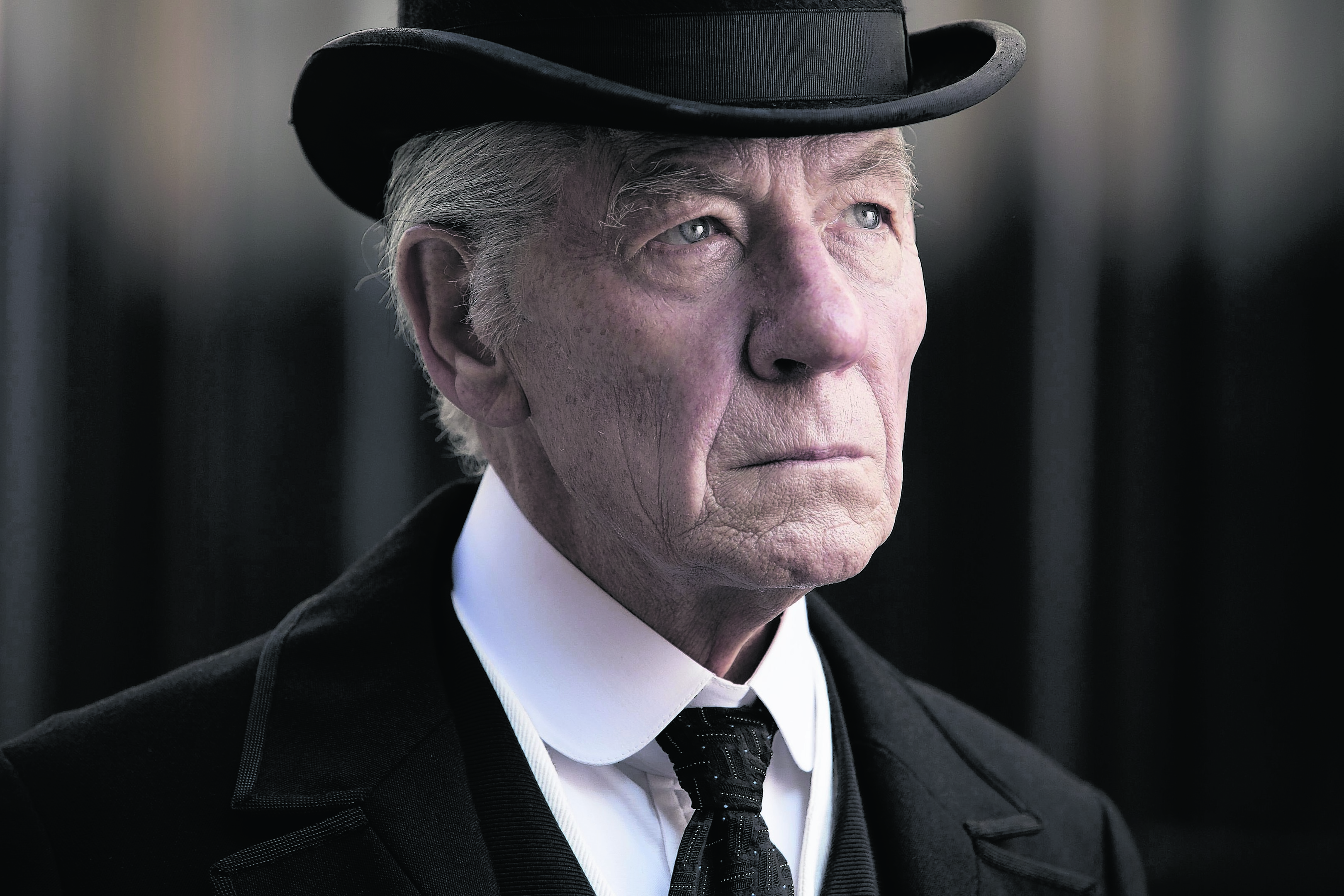 MR HOLMES (PG)
3 stars
The year is 1947, and Sherlock Holmes (Sir Ian McKellen), now 93, is a shadow of the brilliant logician who once held court at 221b Baker Street, flanked by Dr Watson (Colin Starkey) and Mrs Hudson (Sarah Crowden).
The ageing sleuth has retired to Cuckmere Haven, where he fusses over his beehives and infuriates his widowed housekeeper, Mrs Munro (Laura Linney). Her spirited son, Roger (Milo Parker), is fascinated by Sherlock and inspires the sleuth to delve into the fog of the past to recall his only unsolved case – a missing person inquiry in 1919, involving distraught husband Thomas Kelmot (Patrick Kennedy) and his beautiful wife, Ann (Hattie Morahan).
Mr Holmes imagines the twilight years of one of literature's icons, who is facing the grim reality of dementia with what remains of his once-glorious wit. Bill Condon's slow-burning drama is distinguished by McKellen's measured central performance and the strong support from rising star Parker. The script slowly unravels the myth of the literary sleuth, including one bittersweet scene of the ageing Sherlock watching a film in which Basil Rathbone portrays him with unnatural gusto.
The script tests our little grey cells with a perplexing subplot: The Curious Case of the Thrice Oscar-Nominated Actress and the Wayward Accent. Linney is one of the finest performers of her generation, but here she is undone by a vocal delivery that roams wildly between the West Country, Ireland and America. Her valiant struggles are an unnecessary distraction.

POLTERGEIST (15)
2 stars
Eric Bowen (Sam Rockwell) and his wife, Amy (Rosemarie DeWitt), move into a new home with their three children: truculent teenager Kendra (Saxon Sharbino), scaredy-cat Griffin (Kyle Catlett) and cutie-pie Madison (Kennedi Clements).
Spirits make contact with Madison through white noise on a TV and spirit her away to the netherworld. Eric and Amy turn to Dr Claire Powell (Jane Adams), a professor of paranormal psychology, for assistance. She brings in two trusty assistants, Boyd (Nicholas Braun) and Sophie (Susan Heyward), to capture evidence of the parallel spirit realm, where Madison is lost.
"Someone should go in there and show her the way back here," suggests Griffin. So Claire summons paranormal expert Carrigan Burke (Jared Harris), who hosts the reality TV show Haunted House Cleaners, to return Madison to the land of the living.
They're back! . . . the malevolent spirits from Tobe Hooper's 1982 horror resurface in director Gil Kenan's contemporary update, which supplants old-school shocks with a whirlwind of computer-generated hocus pocus. The original film was a masterpiece of sustained creepiness. Regrettably, the might of modern technology dilutes the shock of the neat setup and renders this revamp of Poltergeist an entirely scare-free affair. There are creaking doors aplenty and bumps in the night, but savvy 21st-century viewers will be wise to these hoary scare tactics.
Rockwell and DeWitt are solid, while Clements exudes sweetness like her predecessor. Harris is a poor replacement for Zelda Rubinstein's iconic spookfinder, Tangina, but the remake is already on shaky ground by the time he enters the fray, replete with wavering Irish accent.