The notion of heading up a mammoth sci-fi movie might prove daunting to some actors, but Chloe Grace Moretz, who takes on the lead in new big budget offering The 5th Wave, took it all in her stride.
"I've done action since I was 11 years old," notes the confident 18-year-old, who previously starred as Mindy Macready, aka Hit Girl, in 2010 cult classic Kick-Ass.
"Action is my second hand. It's super fun and easy for me, and it's exciting to see fighting done in close quarters."
The movie, the first of a planned trilogy, is based on acclaimed 2013 book of the same name, by Rick Yancey.
The follow-up novel, The Infinite Sea, met with similar praise in 2014, while the third book, The Last Star, is set to be published this spring.
In the story, Earth comes under attack in increasingly destructive waves: an electromagnetic pulse, earthquake, disease and so on, leaving most of the planet decimated.
Against this backdrop, high school student Cassie (Moretz) finds herself on the run, desperately trying to save her younger brother and preparing for the inevitable, and lethal, fifth wave.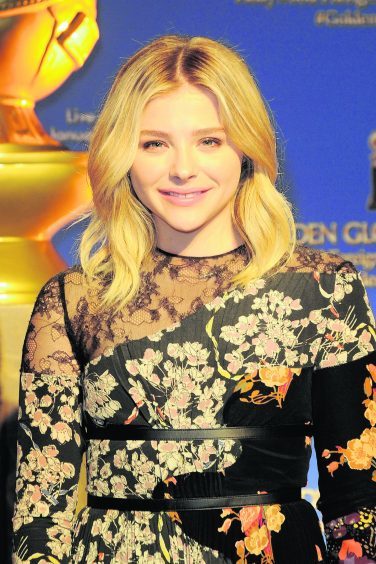 "Yes, it has amazing action and thriller elements, but it had a real, human story behind it, which I found interesting," says Moretz, who grew up with four older brothers in America's Atlanta, Georgia.
"Cassie Sullivan's a great heroine but she'd never describe herself that way. She'd say she's just a girl who has lost her brother, and will do whatever it takes to get back to him.
"You see her youthful and contemplative and confused and lost, and trying to find her way in and out of different areas. It was exciting."
The role required the actress, along with many of the young cast members, to handle a gun, and Moretz acknowledges the depiction of any young person holding a firearm is "harrowing".
"I think it's depicted very well in this film. Guns aren't exciting in this movie," she adds.
"They're very realistic. She's never held a gun before in her entire life, until her father hands her her first gun.
"J (Blakeson, the director) is British and he comes from a very interesting perspective on guns, compared to a lot of the American directors that you might talk to. And the way he depicts it was very, very smart, because he made it what guns need to be, which is that it's a life or death situation.
"There's no way out for her except for this. And when her father hands her that gun, you feel the entire movie shift and you go, 'Oh whoa, this is getting very realistic'."
At the heart of the story are the questions anyone faces as they make the transition to adulthood – not least of which is: who can I trust?
"In the movie, just like in real life, you can't tell if someone is good or bad just by looking at them," Blakeson, who helmed 2009's The Disappearance Of Alice Creed, has noted.
"Often in movies, the bad guy looks one way and the good guy looks another way, and it's easy to tell them apart. In this movie, everybody (including the aliens referred to as the 'Others') looks the same.
"Trust no one if you want to survive, but you've got to learn to trust people if you're going to win the war."
Moretz adds: "Cassie's really affected by the whole 'trust no one' idea – everyone could potentially be a threat. She wants to think she can trust people, but every time she does, something flips on its head.
"She realises she is always let down when she begins to trust someone, and so she ends up just trusting herself."
Moretz was only a child when she appeared alongside Ryan Reynolds and Melissa George in the 2005 remake of The Amityville Horror.
Over the next decade, she worked in TV and film, until landing her breakout role as Hit Girl, followed by a starring role in Matt Reeves' 2010 remake of Let Me In, which earned Moretz a place on Time magazine's prestigious Top 10 Performances of the Year list.
She's since starred in Martin Scorsese's Hugo, Tim Burton's Dark Shadows, a sequel to Kick-Ass, Tina Fey's TV sitcom 30 Rock and, more recently, a remake of the classic horror Carrie alongside Julianne Moore, plus The Equalizer opposite Denzel Washington.
She appears to be making the transition from 'child star' to 'young adult actor' look effortless.
"I've been really lucky. A lot of people have a very difficult time with it, but for me, ever since I broke with 500 Days Of Summer (she played main character Tom's straight-talking little sister) and Kick-Ass, I've been allowed into a more adult viewing world," she says.
"I feel like they never saw me as a little sister, they saw me more as a counterpart."
Despite growing up in the spotlight, Moretz has managed to retain a pretty low profile, even when she was spotted with the eldest Beckham boy Brooklyn, back in 2014.
"I feel lucky in the sense that I do have a lot of anonymity. Even now when I go to Disneyland or a movie theatre, I can pretty much fly under the radar," she reasons.
"As long as I'm not pretending I'm not famous, no one cares. You just walk around in your T-shirt and pants and everyone thinks you're a normal girl like everyone else."
Her next movie is Bad Neighbours 2, a follow-up to the 2014 original comedy, which reunites Zac Efron, Seth Rogen and Rose Byrne.
"Zac is a sweetheart, Seth's a sweetheart and Rose is amazing. It was such a fun cast and we had a really raucous, wild time together," recalls Moretz.
"When you see the trailer come out for that, you guys are going to have your minds blown a little bit with me."
The 5th Wave is released on Friday, January 22.