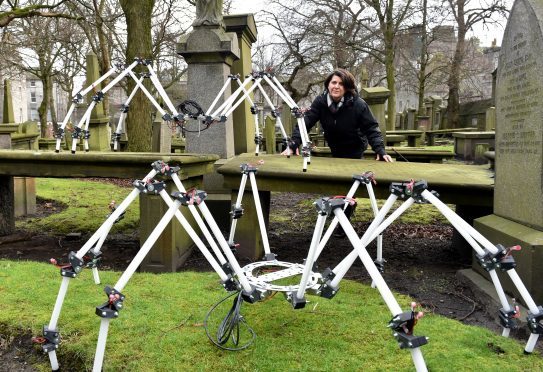 An annual lights spectacular was launched yesterday with a sneak preview of one of its star attractions.
SPECTRA – which is now in its fourth year – will run from Thursday to Sunday at the Union Terrace Gardens, the Kirk of St Nicholas Graveyard, Seventeen and Marischal College.
And organisers are hoping for a turnout in excess of last year's 35,000 over the four days.
The event features performances and light displays from local and internationally renowned artists.
One of the attractions being shown for the first time will be Les Araignees, The Spiders, designed and built by French artists Groupe LAPS.
The Spiders will be on display in the Kirk of St Nicholas Graveyard and will give the illusions that the arachnids are crawling through the cemetery.
They were created around the story of Robert the Bruce, who was inspired to continue battling the English by watching a spider's attempts to move from one beam to another after failing several times.
Thomas Veyssiere, from Groupe LAPS, said: "There is a very deep, important story between Scotland and the spider so it is good to be here with them.
"I hope people will enjoy it and being in the graveyard is very nice for us as well."
Councillor Marie Boulton, deputy leader of Aberdeen City Council, said: "I'm really excited about SPECTRA.
"There are lots of new installations this year and the public will be truly amazed by some of them.
"What's really exciting is that it's not just local artists it's international artists coming to SPECTRA and they are recognising that Aberdeen is a serious place of culture."