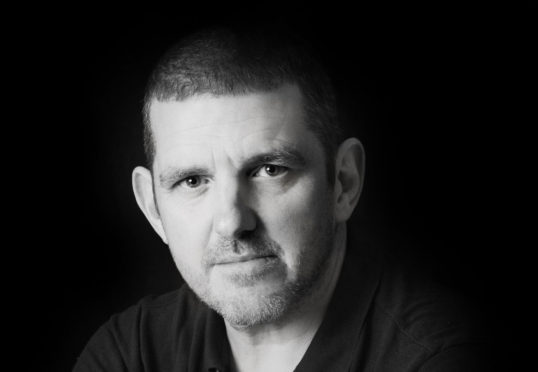 Neil Lancaster chased murderers, human traffickers, fraudsters and drug dealers during more than 30 years of his life in the Metropolitan Police and the military.
But the retired Black Isle detective, who has just written his first novel Going Dark, admitted that he had never met a worse human being than Levi Bellfield.
The serial killer, who took the lives of Milly Dowler, Marsha McDonnell and Amelie Delagrange, is now behind bars for the rest of his life.
Mr Lancaster, a surveillance expert, previously commuted from St Albans into London every day for 25 years but said he grew thoroughly "sick of it".
However, the move to the Scottish Highlands, on the edge of a forest, just 10 minutes from a beach, has revived and inspired him to move into a new role as the creator of Detective Sergeant Tom Novak, whose thrilling, twisty story closely mirrors the author's background in covert policing.
It is not a job for the faint-hearted and Mr Lancaster spoke to the Press and Journal about his involvement in helping track down Bellfield and how he had been inspired to create a book that is both gripping and cinematic in scale.
He said: "I was part of the team effort of keeping him under surveillance in the run-up to his arrest. This was perfectly represented in the recent ITV dramatisation of the case, Manhunt, based on the book of the senior investigating officer, Colin Sutton.
"This particular case was a huge challenge, owing to the fact that Bellfield really was one of the worst humans ever to have walked this planet.
"We were under no illusions that he could kill again at any moment, so the whole team had to be right at the top of their game. It was an enormous responsibility.
"Carrying out covert surveillance is very intense and it is a real challenge. The hours are long, it's stressful and it takes training, practice and teamwork to keep a dangerous career criminal, who is tactically aware, under surveillance and to be close enough to gain evidence to further the case."
Mr Lancaster has set part of his new work in the Cairngorms and was advised by local authors Margaret Kirk and Alex Walters.
One of the big lessons was accepting the contrast between the often monotonous slog of police procedure and generating the excitement to keep readers gripped to the page.
He added: "The story is totally the work of my own imagination, but one or two people may recognise bits of themselves in the characters and some aspects of the book are influenced by real cases on which I worked or managed.
"Writing police-based books is always a balance between trying to be accurate and as true to life as possible and not making the story dull.
"It might surprise people, but 99% of police work is deathly boring routine and any attempt to recreate that will mean nobody would ever finish your book. It's fiction, it's a story and my intention has been to entertain the reader and have them want to get to the end as quickly as possible – in a good way.
"Tom Novak is an ex-Royal Marine, which was an easy choice for me as my son is a serving Marine with tours of Afghanistan and Iraq behind him, so that helped keep the military aspects of the story accurate."
Mr Lancaster is currently working on a sequel, which he hopes will be published later this year, and revealed he had been inspired by relocating from London to the Black Isle – both on an off the page.
He said: "My job as a DS on an organised crime team was rewarding and sometimes exciting, but it was also very stressful and it was getting more and more wearing as time went on. especially with the commute.
"We had been visiting the Black Isle for a few years, because I have family who live in the area, and we had fallen in love with the peace and quiet, the clean air and the easy access to the great outdoors.
"Then, when my police retirement date was looming, we spotted a nice looking house for sale and we just couldn't believe that, for quite a bit less than our small, semi-detached house in St Albans was worth, we could have a spacious house with a huge garden and views all the way to the Cairngorms. It was a no-brainer."
You can order your copy of Going Dark at