It might be sweaty and exhausting work, but Gavin Spokes is proud to keep the farce flag flying, writes Andrew Youngson
"Getting farce right is all about maths and choreography, and then you have to pretend to be real in the middle of it," Gavin Spokes told me animatedly, a grin spreading across his face.
"And comedy is all about pressure: somebody trying to do something as hard as they can and obstacles getting in their way. The more you try, the funnier the audience finds it."
The comedic actor was only a couple of hours away from bounding on to the stage at Glasgow's Kings Theatre in the lead role of One Man, Two Guvnors, but he seemed to be conserving none of his energy for the performance. As we discussed his starring role and the science of comedy, the 34-year-old crackled with wit and electricity – a hilarious performance in itself, punctuated with loud "Ha!" exclamations and frequent accent shifts from his natural tones to an ostentatiously camp twang, full of the sibilant S.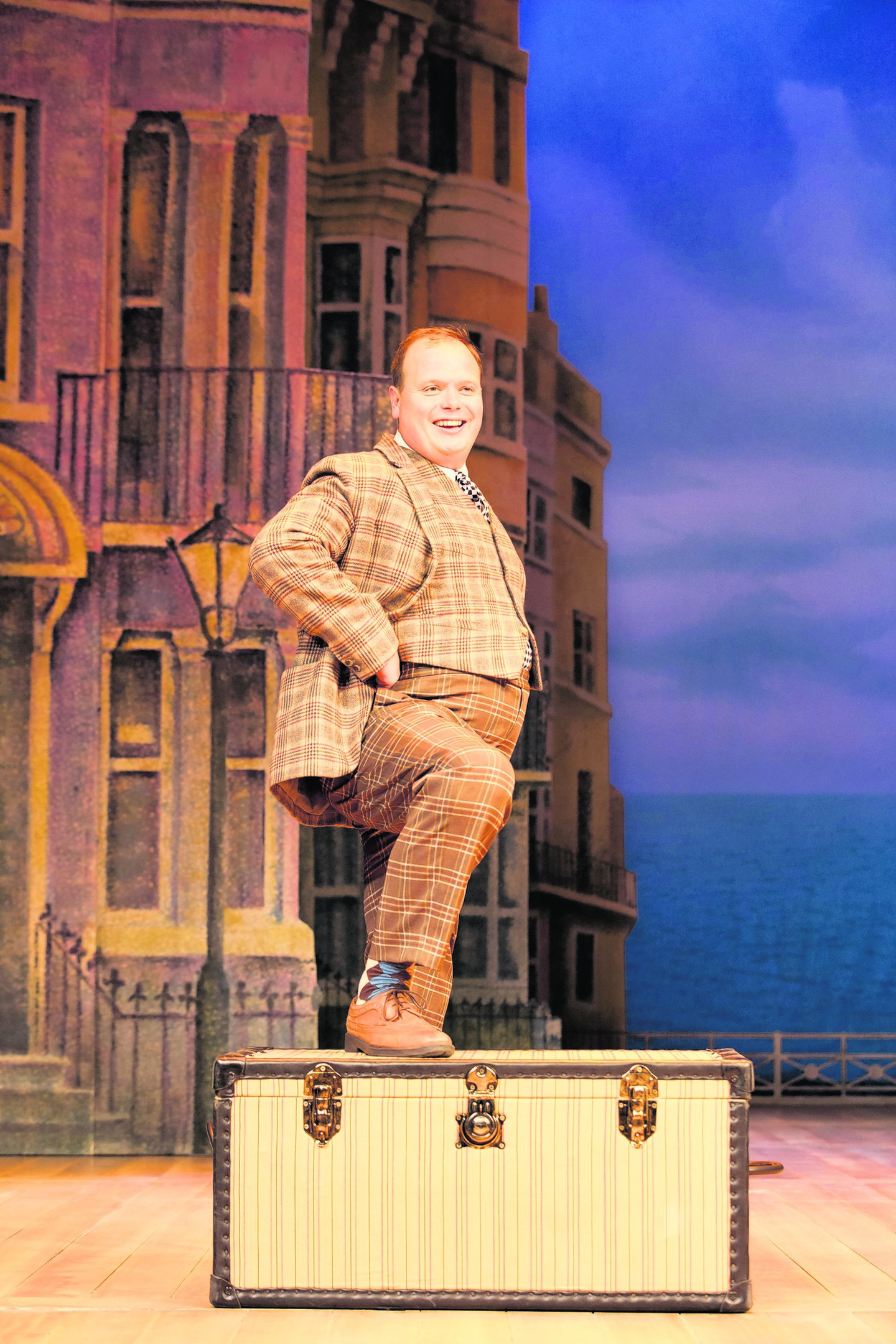 My fears for his stamina soon faded. More likely, I concluded, he always has this much vigour – especially when engaged in conversation about his beloved career choice.
A self-professed "supporting role" kind of actor, Gavin has finally been able to release his full portfolio of comedic abilities in the role of Francis Henshall – the delightful buffoon at the centre of One Man's farcical plot, which was launched originally by the National Theatre in its James Cordon-fronted production in 2011.
It's actually the second time he has played the role, having already understudied for Corden in London right back at the beginning. With the show going on to win widespread acclaim, and famously bagging Corden a Tony award for Best Actor in a Play, is it difficult to make the role of Francis your own, I wondered.
"I think it was probably more difficult at the start," Gavin admitted. "So there's a little bit of 'wow, I've got to step into really well-known shoes', but it makes you work harder. The audience come with a preconception and it's my job to make them like me. That's the hardest bit."
It also helps, he said, that it's not just James and Gavin who have played the role, with fellow comedic actors Owain Arthur and Rufus Hound also stepping into Francis's brown brogues, plaid socks and tweed suit. As for explaining how his own take on the character differs from the other interpretations, that's harder still for Gavin.
"It's hard to look from the outside. Either way, it would seem slanted. I don't know . . . I'm taller," he said, letting out another triumphant "Ha!".
Seriously, though, I pressed, to have received the hugely positive reviews you've been getting on tour, you must have brought something distinct, too.
"I'm probably a little more cheeky," he said, before quickly backtracking, "but no, I genuinely can't say. Because you don't get a real sense of what you're doing by comparison. I'm probably somewhere in between James and Owain."
Modesty aside, one thing Gavin was able to effuse unrestrainedly about was the play itself. The Richard Bean-written script takes inspiration in form and style from The Servant of Two Masters, the 18th-century comedy which sprang from the Italian Renaissance theatre format Commedia dell'arte – a style which, in turn, inspired UK pantomime.
The cobbled streets and bustling canals of 18th-century Venice are replaced with the wide piers and sharp suits of 1960s Brighton, but the comedic pressure which Gavin alluded to is as prevalent and effective as its classic Italian progenitor.
"It's a brilliant play based on a brilliant farce," said Gavin. "It has the elements of Hardy, vaudeville, musicals and proper farce. But it also has the label of being 'posh panto', and that's probably the best comparison."
And he wasn't lying. That evening, I watched Gavin and his co-stars – including EastEnders' very own Emma Barton and Jasmyn Banks – reduce the audience (including me) to
gibbering wrecks with their hilarious and oddly familiar pantoesque performances. From bawdy characters to high-octane physical comedy, and frequent breaking of the fourth wall to address the audience directly, all the elements of the British comedy tradition were used to full effect.
"When this show goes to another level, I can see people falling on the floor. If it really zings, it's quite extraordinary," he added.
To even attempt to describe the full intricacies of One Man, Two Guvnors' plot would be as farcical a process as the farce itself, but safe to say the results are fantastic. At its heart, it's the tale of Francis and his increasingly challenging attempts to keep his two employers – one a local gangster, the other an upper-class criminal – from awakening to the fact that they share a certain hare-brained employee.
For Gavin, who is only granted reprieve from his stage time by the live musical interludes played throughout the show by skiffle band The Craze, the play is a demanding and intensely technical performance. Comedic beats need to be hit with accuracy or they would quickly fall flat.
Thankfully, Gavin has become something of a Grade-A swot of farce, and has studied the scene's great performers closely to fine tune his skills for the production.
"When I came back to do this tour, I realised the influence that Oliver Hardy and Eric Morecambe have had on me. Plus Lee Evans, to an extent, but more in the earlier days," he said.
Surely you don't sweat quite as profusely as Mr Evans, though, I blurted.
"Oh, easily just as much. I have a full costume change in the interval. I've got a three-piece suit. The trousers are a type of Lycra they have made in America because, when James did the role, the trousers just kept on ripping. But the waistcoat and jacket have to be as thick as they are normally, otherwise they just wouldn't last the show."
One Man, Two Guvnors will be performed nightly at HM Theatre, Aberdeen, from next Tuesday to Saturday, October 14 to 18, with matinees also running on Thursday and Saturday. Tickets are available from www.aberdeenperformingarts.com or by calling 01224 641122.