Celebrate World Ballet Day with shows that are tu-tu good, writes Susan Welsh
Today has been declared World Ballet Day and, for 23 hours, five of the world's leading ballet companies will stream, throughout the day, live, behind-the-scenes footage of professional ballet companies in the studio, on tour and performing.
Taking part are Australian Ballet, Bolshoi Ballet, The Royal Ballet, The National Ballet of Canada, and San Francisco Ballet. Screening started at 3am this morning with the Australian Ballet live from Melbourne and concludes at 2am tomorrow with a live ballet from San Francisco. Full details of this can be found on worldballetday.com
While it's a fantastic idea, nothing quite beats seeing a ballet performed live on stage in front of you. In Inverness this weekend, there's plenty of opportunity to try that experience as the marvellous Scottish Ballet is in town and showcasing two quite different shows, including a world and Scottish premiere.
The first is a Scottish Ballet double bill, presented in Eden Court Theatre on Friday, October 2, and Saturday, October 3, both at 7.30pm, beginning with the world premiere of Motion of Displacement. by young American choreographer Bryan Arias. He's at the start of an exciting career that is sure to take him to the top and Scottish Ballet say they are delighted to be the first company to bring his distinctive blend of dance styles to the UK.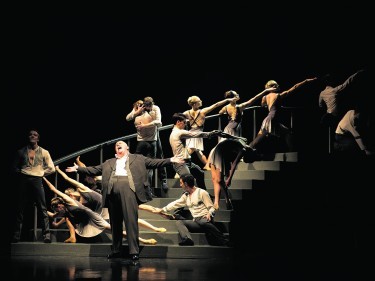 An exclusive commission from Scottish Ballet, Motion of Displacement will explore the causes and effects of storytelling, inspired by childhood memories of his mother's journey from her native land in pursuit of love. It features music by Bach and John Adams, which will be performed live by the talented members of the Scottish Ballet Orchestra.
The second piece, Elsa Canasta, is a Scottish Ballet premiere. It has been created by Javier de Frutos, who is a fascinating figure in the world of dance, with a CV that includes west-end musicals, a Turner Prize nomination, Olivier and Critics' Circle National Dance Awards, music videos and a full-length ballet in collaboration with the Pet Shop Boys. Featuring the wonderful music of Cole Porter, mixed with a touch of Music Hall magic and a singer who will share the stage, Canasta is a dark, funny and sexy evocation of Porter's music.
On Friday, prior to the performance and starting at 6.30pm, there will be a free pre-show talk focusing on dance, when those with tickets for the performance can hear all about the making of the show. After the show, stay in your seat and learn more during a free post-show discussion, when you can ask some of the dancers questions to which you've always wanted answers.
On Sunday, Scottish Ballet is back on stage again, this time as part of a collaboration with Prime Dance Base, Scotland's first semi-professional dance company for the over-60s. The new company was created as a direct response to a growing need and desire from dancers aged over 60 to see themselves represented more widely on the stage and in the world of dance.
The company aims to challenge the preconceptions around notions of age, and help establish a culture of dance in Scotland that is truly equal and representative of its population. Prime will be performing a double bill of work by Angus Balbernie and artistic director Morag Deyes.
The first is Tarn, which has been created by choreographer Angus Balbernie, in collaboration with the company, and is a reflection of the life experiences of the dancers, based around the writings of author and essayist Barry Lopez, who grapples with the idea that, to reach true adulthood, one must "accept responsibility for a life lived in the midst of such paradox".
The bill also features Rolling in the Deep, a defiant statement of intent inspired by the sultry atmosphere of New Orleans, set to Adele's modern classic and choreographed in the jazz dance style by the artistic director of Prime, Morag Deyes. These performances will be staged in Eden Court's One Touch Theatre at 4pm on Sunday, October 4. It can also be seen at CityMoves, Aberdeen, on Sunday, October 18, at 3pm (01224 611486).
Contact: Eden Court Box Office on 01463 234234.