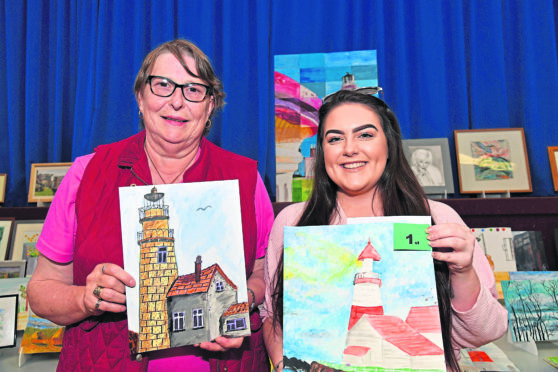 Out came the easels, watercolours, oils and pencils as the passionate painters and sculptors of the north-east battled it out in the annual Scottish Week artists challenge.
Competitors of all ages gathered in Peterhead's Rescue Hall or an entire day of competition which this year was themed on lighthouses.
The Buchan Queen, Christina Barnett, and her princesses Emma Fraser and Aylie Donoghue, were among those looking on in interest during the morning competition.
It featured the under-12s and brought together a significant number of talented young artists, all of whom were painting, drawing and colouring to win.
From 82 entries, the judges eventually selected four winners: Ethan Mitchel for the seven and under group, Noah Morrison for the seven to nine category and Eva Grace in the 10 to 12 group .
Elias Mitchell won the children's Sam Allan Prize for Originality.
After lunch, it was on to the teenage and adult competitions.
Among of those taking part was Boddam artist Lynda Enright who was also celebrating her 61st birthday.
She said: "I have been doing art for years, since I was little when my Dad did it too.
"He passed away but I kept it up and am always sketching or painting.
"I come here every year and I'm hoping my birthday luck can help this year."
And it did, as she walked away with the Bill Taylor Prize for Originality.
Kayleigh Bruce won the 13 to 18 category, while Ann O'Sullivan took the title for the adults group.
Ms O'Sullivan said: "I'm in shock. The whole day was great fun but I'm amazed my weird lighthouse has won."
Behind the busy artists was a display of other works created by an array of local artists.
Betty Buchan was awarded the Liz Mundie Prize for Best in Exhibition.
Marie Buchan, an artist from St Combs, judged the entries and said she had been blown away by the talent displayed by the 24 afternoon entrants.
"It was so hard to choose between them all that I ended up picking my favourites," she said.
"There were so many good entries and the whole event is just really nice. It's such a friendly club.
"I've led a watercolour workshop with them. It's great to see such a big group and such a great turnout today."
To join the Peterhead Informal Art Group, or find out more about what they do, head to one of their sessions in Peterhead Academy from 7pm to 9pm on Thursdays.