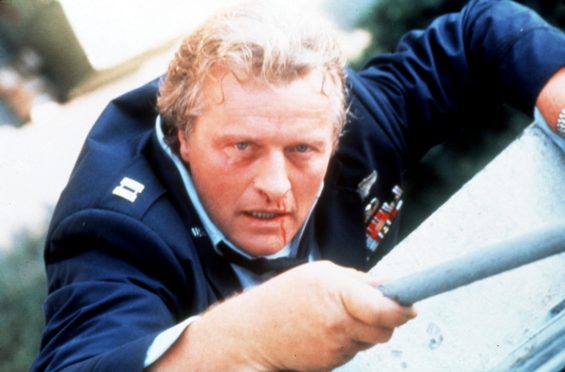 Blade Runner star Rutger Hauer has been remembered as a "true original" following his death at the age of 75.
The Dutch actor died at his home in the Netherlands following a short illness, his agent said, and his funeral was held yesterday.
Hauer received acclaim for his role as the philosophical replicant Roy Batty in Ridley Scott's Blade Runner.
The film, also starring Harrison Ford, gained cult status after being a flop on its original release.
Hauer delivered a famed monologue on memory and death in the film, which became one of its defining moments.
The Dutch actor began his career working on TV shows in his home country, and formed a partnership with director Paul Verhoeven.
He starred in a number of his productions before making his English-language debut alongside Michael Caine in apartheid drama The Wilby Conspiracy in 1975.
He also starred alongside Sylvester Stallone as a terrorist in Nighthawks and in a 1985 medieval fantasy called Ladyhawke.
His other films include another celebrated cult classic The Hitcher, Blind Fury, Confessions Of A Dangerous Mind and, more recently, Sin City and Batman Begins.
The Dutchman won a Golden Globe for Best Supporting Actor for his part in Escape From Sobibor.
Director Guillermo Del Toro paid tribute on Twitter, saying: "RIP the great Rutger Hauer: an intense, deep, genuine and magnetic actor that brought truth, power and beauty to his films."
Writer of TV series True Blood, Alexander Woo, who worked with Hauer during his time on the show, added: "He was one of the most gifted actors I ever had the pleasure to work with.
"A true original."
Born in 1944 near Amsterdam, Hauer became an actor after stints in the Dutch merchant navy and Army.
He was an active charity campaigner, was an outspoken supporter of Greenpeace and founded an AIDS awareness cause.
The 75-year-old is survived by his second wife Ineke ten Cate, who he was married to for 50 years.
He also had a daughter, actress Aysha Hauer, from his first marriage. He died on Friday.