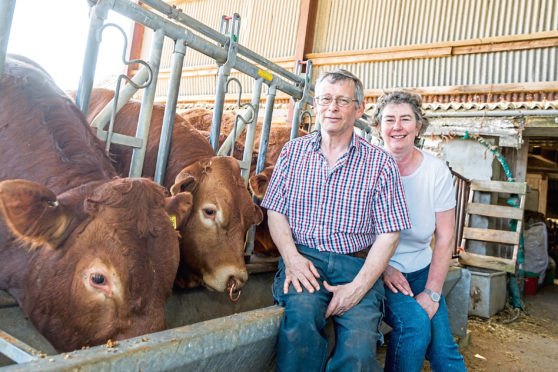 Ross-shire couple Alasdair and Gill Macnab have enjoyed their share of success with Limousin cattle, including a top price to date of 28,000gn at the society's show and sale of bulls at Carlisle in May 2016.
The couple, who farm 150-acre Kildun on the outskirts of Dingwall, established their Alagils pedigree herd in 2002 with the purchase of four embryos from former leading show cow Broadmeadows Jiji – a daughter of Broadmeadows Cannon.
One of the three bulls from the first flush from Jiji was overall champion at Perth Bull Sales in 2004 and sold for 9,000gn.
The second flush produced four females, one of which was Alagils Ainsi.
Ainsi was mainly flushed to produce females for the herd today and was shown successfully, securing three inter-breed championships at Nairn, Black Isle and Grantown, and a first-prize ticket at the Royal Highland Show in 2006.
She has produced the majority of the herd's top-priced bulls to date, including sales at 12,000gn and 7,000gn at Carlisle.
Her daughter Alagils Gille is the dam of the 28,000gn Alagils Jambon, one of the first in the herd by Cogent AI sire Netherhall Gallant.
"Limousin cattle ensure a big premium in the store ring and produce vigorous calves which are easy calved," said Alasdair.
A qualified vet, he now runs his own veterinary and risk management consultancy business, AJM Agri, which also involves helping new entrants in the industry.
He is a past chairman of RHET Highland, and is NFU Scotland branch chairman for Ross-shire and sits on the union's legal and technical committee.
"We aim to produce bulls that will calve easily for our customers and females with plenty size and shape and positive figures for milk with 200+ and 400+ day weights," said Alasdair.
"The British Limousin Cattle Society has a 10-year plan to achieve targets which meet industry needs so we have built our business plan around that."
Gill, who is self-employed as a QMS and SQC farm assurance inspector, said: "The pedigree herd has increased in size to 45 breeding females and that's to provide diversity giving us the numbers to retain and sell breeding stock.
"We also run 10 commercial cows and they're used as a tester as we try new bulls on them to see how the progeny turns out and to see what works for us.
"Commercial females are also retained to work as embryo transfer (ET)recipients."
Cows in the pedigree herd calve from late October to mid-January so that bulls fit into the right age gap of 17 to 19 month old for selling in May or June.
They spend the summer months on grass only and are wintered on straw, ammonia-treated straw, draff, a bruised barley supplement as required, and minerals.
Prior to calving, and six weeks after they've calved, they receive a high-protein supplement feed – Harbro's Ruminant Greengold which helps boost milk yields.
Half the herd is artificially inseminated, with the majority of this year's AI calves by Haltcliffe Iceman, Millgate Caesar and Mereside Lorenzo.
The couple retained home-bred bulls for the herd including Alagils Humberston and junior stock bull Alagils Libor by Netherhall Gallant.
Alagils Libor is a three-quarters genetic brother to the 28,000gn Alagils Jambon, and the Macnabs are extremely happy with his first crop of calves.
Alasdair said: "Libor is very easy fleshing and has a fantastic set of figures, being in the top 1% of the breed for 200+ and 400+ day weights, muscle depth, and carcase retail value.
"He is very easy calving and although the calves are fine-boned when born, they still have plenty shape."
Bulls from the herd are regularly sold at home, with a number of return buyers.
One particular buyer has purchased as many as six bulls and he usually goes on to top Dingwall's store sale with cattle sired by Alagils-bred bulls.
The Macnabs also recently sold an 11-month-old bull to a commercial producer who was keen to bring the bull on himself.
Aside from selling at home, it's the society sales at Harrison & Hetherington's Borderway Mart at Carlisle which have suited the type of bulls the Alagils herd produces.
Alasdair said: "We find the type of bulls we breed suit the market at Carlisle.
"If we have bulls entered for Stirling, they're usually snapped up on farm by local producers, whereas the shapely bulls which are more suited to Carlisle don't seem to sell as easily up here."
Gill added: "Last year we had six bulls entered for both Stirling and Carlisle but they all sold off-farm before the sale.
"Selling at Carlisle is also a good advert for what we breed as, when you're situated as far north as here, you don't get a lot of visitors to your herd."
With that being said, two of this year's entries for next week's sale at Carlisle have already been sold privately.
The remaining two heading to Carlisle are Alagils Nasrullah, by Alagils Humberston, out of the Ampertaine Domino daughter Alagils Indi; and Alagils Nijinski, by Mereside Lorenzo, out of Ronick Hawk daughter Alagils Jaricot.
Alagils bulls are all semen tested before sale and are reared on beef stock, before being brought out on Harbro Champion Feed.