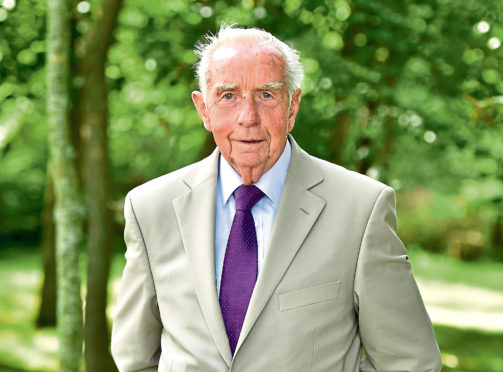 Leading Aberdeenshire house-builder, farmer and raconteur, Malcolm Allan, is this year's well-deserved recipient of the Royal Northern Agricultural Society's (RNAS) prestigious Press and Journal award for outstanding service to north-east agriculture.
He will be presented with the coveted award at the society's annual awards lunch next Friday at the Jury's Inn, Aberdeen Airport.
The citation supporting his nomination for the award states: "Mr Allan never misses the opportunity to promote north-east agriculture and, although his main business is house building, he is a hands-on farmer at Uppermill, Kintore, and widely recognised as a breeder and judge of Limousin cattle.
"His talent as an amusing after-dinner speak is widely acclaimed and he is much in demand as a speaker at agricultural dinners and functions where his sense of humour and observations on country life are always greatly appreciated."
The award has come as something of a shock to the usually effusive but modest Mr Allan who is never short of a story or two when he meets his wide circle of farming friends and acquaintances.
He said: "I'm stunned to receive the Royal Northern award and stuck for words to show my appreciation.
"I always wanted to be farmer and spent a lot of time as a youngster on a farm helping the late Donald Henderson with his Clydesdale horses. But having been brought up in Kintore and not from a farming background, I realised I had no hope of building up enough capital to become a farmer if I took a job as a farmworker when I left school at the age of 15 so decided to serve my apprenticeship as a joiner."
Not only did he learn his trade but it opened the door for him to move into business on his own account and, from a modest start converting a couple of flats, he is understandably proud to have been named UK Housebuilder of the Year in 1998 and, until the recent downturn in the north-east economy, regularly figuring in the Sunday Times Rich List.
With rampant inflation through the 1970s and his aptitude for business, it wasn't long before he had accumulated enough capital to start thinking about realising his ambition of buying a farm.
"The first thing I did as soon as soon as the business became profitable was acquire Uppermill – £140,000 for 160 acres lock, stock and barrel – when the previous owner, Jimmy Singer, who was an accountant in Aberdeen, decided to retire and was good enough to give me the opportunity of fulfilling my ambition," he recalls.
That was in 1982 and four years later his reputation as a beef farmer and breeder and judge of pedigree Limousin cattle was such that he was invited to host the Royal Northern Beef Event at Uppermill.
This was the first on-farm event organised by the RNAS and has become the model for the series of highly successful biennial on-farm events which the society has organised over the past 35 years, including another one at Uppermill, Countryside Live, in 2016.
It was at Perth Show in 1980 that he saw Limousin cattle for the first time and felt they had "beef in the right places". He subsequently founded his own herd with the purchase of two choice heifers from Albert Howie's Knock herd at Mintlaw and was one of the first to use embryo transfer (ET) to build up his prize-winning herd which did very well on the north-east show circuit.
The Limousin pedigree herd has now been phased out following the death of Chrissie Duncan, who came as part of the deal for Uppermill and, Malcolm says, was the "jewel in the crown" in looking after the herd.
Today he runs a herd of 150 mostly Salers cross suckler cows whose calves are always keenly sought-after at the January and April sales at Thainstone. He also has a flock of 200 ewes and grows 170 acres of grain which he sells to neighbouring farmer, Kevin Gilbert, for his pig unit at Womblehill, Kintore.
His support for the RNAS and the Royal Northern Countryside Initiative to give youngsters the opportunity of learning about farming, his sponsorship of NFU Scotland's North-east Unsung Hero award and the practical help given behind-the-scenes to many other farming causes, including the special parade of Clydesdale horses with traditional implements at this year's Royal Highland Show, are all factors which prompted his nomination for this prestigious award.
He is also a trustee of the Chalmers Trust which owns 1,800 acres of tenanted land in the Turriff area and provides supports for needy farmers.
At the grand old age of 84, he is still actively involved in the family business, which is now run by his son, Bruce, but his first call every morning is to Uppermill – now part of a farming business extending to 800 acres – to discuss the day's work with his staff, returning last thing in the afternoon to see how the day has gone.