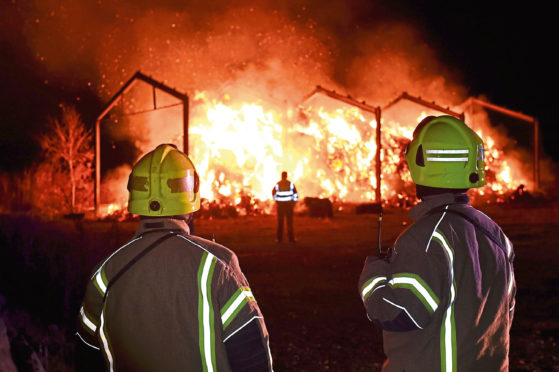 Fires cost the Scottish farming industry almost £3 million last year, according to NFU Mutual.
Figures from the rural insurer reveal the cost of fires on Scottish farms was £2.8m in 2019 – down 63% on 2018 when fires cost the industry £7.6m.
UK figures reveal the cost of fires was up by almost 6% to £49.1m, representing a five-year high.
Electrical faults accounted for more than half of all fires last year, followed by wilful fire-raising which was up 40% in the UK to £9m.
Although the Scottish figure is down, NFU Mutual says fire remains a significant risk and producers must check their fire precautions and evacuation plans.
It is predicting increased claims for 2020 due to dry weather and a difficult harvest.
"Farm fires put the lives of people and livestock at risk as well as having a huge emotional and business impact on farmers and their families," said Andy Mason, managing director of NFU Mutual's risk management services division.
"The scale of damage we are seeing shows it's more important than ever to reduce the risk of a fire.
"Farmers not only have to be mindful of the usual farm hazards such as electrical equipment, combustible material and fuel but also protect themselves from wilful fire-raising."
He advised farmers to take steps to prevent fires and put in place a fire evacuation plan for staff and livestock.
Preventative measures include getting electrical systems and equipment regularly inspected by an electrician, and ensuring adequate fire extinguishers are in place and staff know where they are and how to use them.
To reduce the risk of wilful fire-raising, farmers are urged to fence off straw stacks and farm buildings, and consider installing CCTV cameras and warning signs to deter people from lighting fires.
Farmers are also encouraged to download the what3words app, which provides specific location data for emergency services if you need to phone and report a fire or other emergency.