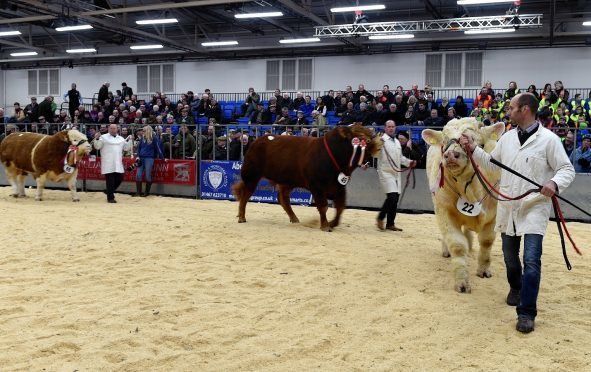 Charolais bulls led the charge at the Royal Northern Spring Show at Thainstone yesterday.
The top price and supreme champion rosettes at the show and sale of pedigree bulls were both awarded to Charolais beasts.
Leading the trade at 6,500gn was a first-prize winning Charolais from Graeme Leggat at Mormond Prop, New Pitsligo.
October 2014 born Bonnykelly Jackpot is a Kersknowe Clansman son out of Bonnykelly Annie. He heads to Peter Watson at Darnford, Durris, Banchory. Mr Leggat also achieved 5,000gn for May 2014 born Bonnykelly Jaguar. This one is by Newhouse Challanger and out of Bonnykelly Erin. He was snapped up by G. and K. Beverly, Cottown Farm, Rhynie.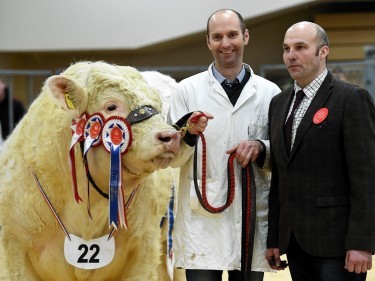 Meanwhile, the overall and Charolais champion from the pre-sale show sold for 5,000gn. Put forward by Mike Massie, of Mains of Elrick, Auchnagatt, Ellon, May 2014 born Elrick Justice is by the 16,000gn Thrunton Fearless and out of Elrick Gertrude. He sold to John Gordon, of Wellheads, Huntly.
The judge was Lee Coghill, of Muce Farm, Birsay, Orkney.
The Massies also took home the reserve Charolais champion rosettes with April 2014 born Elrick Jagger, which is also by Thrunton Fearless and out of Elrick Flordia. He sold for 4,800gn to H. and J. Riach, Barns, Crathes, Banchory.
The second best price at yesterday's sale of 6,000gn was achieved twice.
First at this price was a second-prize winning Charolais from Jock Wilson at Kinclune, Glenkindie, Alford.
Kinclune Jackass is a May 2014 son of the 20,000gn Beechtree George, out of Kinclune Flower. He heads to G. Wilson, of Fichlie, Glenkindie.
Mr Wilson also sold achieved 5,800gn for fourth-prize winning Kinclune Jackpot. This one is an April-2014 son of Beechtree George, this time out of Kinclune Gloriana. He sold to H. and A. G. Laing, of Wallfield, Lochhills, Elgin.
Another from the Kinclune herd, Kinclune Jagger, sold for 5,200gn to Kincaigie Farms, East Kincraigie, Lumphanan.
Jagger is an April 2014 born son of Beechtree George, out of Kinclune Gaynor.
May 2014 born Kinclune Joker, which is also by Beechtree George and out of Kinclune Freira, sold for 5,000gn to T. E. and M. Walker, of Newton of Mountblairy, Banff.
The second bull at 6,000gn was the reserve Simmental champion from the pre-sale show.
Put forward by Jimmy, Nan and Iain Green, of Corskie Farm, Garmouth, Fochabers, Corskie Fitzroy is a home-bred June 2014 born son of Corskie Bowen and out of Corskie Vicky 2. He heads north to A. and J. Cormack, Ha Durran, Castletown, Thurso.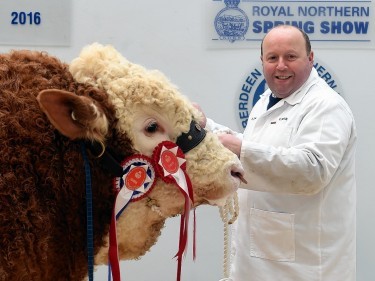 The Simmental champion – another lot from the Greens at Corskie – sold for 4,500gn to H. C. and G. Simpson, of Midtown, Freswick, Wick.
April 2014 born Corskie Faldo is by Greencap Ace and out of Corskie Chloe.
In the Limousin section, a top price of 5,000gn was achieved for a second-prize winning lot from D. Work and Son, Mains of Dumbreck, Udny, Ellon.
May 2014 born Dumbreck Jaguar is by the 22,000gn Hartlaw Excaliber out of Dumbreck Classy. He heads to W. J. and P. D. Mackenzie, of Hilton, Tain.
The Limousin champion – June-2014 born Anside Jazz from the Irvine family at Braehead Farm, Drummuir – sold for 4,800gn to W. M. and C. Alexander, of Quintfall, Lyth, Wick.
The reserve Limousin – May 2014 born Knock Jumbo from Albert Howie, West Knock, Stuartfield, Peterhead – sold for 4,000gn to D. and P. Petrie, West Maldron, Torphins, Banchory.
In the Aberdeen-Angus section the top price of 3,800gn was paid for the reserve champion from Wendy Willox, Home Farm, Drumminor, Rhynie.
March 2014 born Strathinver Master Beethoven is by Wall Elmo and out of Strathinver Bambi. He heads to D. Petrie and Son, Midtown, Strachan, Banchory.
The Aberdeen-Angus champion, March 2014 born Wrae Brave Ballesteros from Alexander J. Norrie, of Wrae Farm, Turriff, sold for 2,600gn to J. Watson, Overton, New Pitsligo.
In the any other breed section a top price of 5,400gn was paid for the champion, a British Blue from Garry Patterson, Upper Forgie, Aultmore, Keith.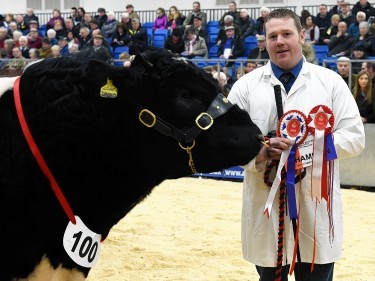 January 2014 born Aultmore Jacko is an AI son of Gregmaur Osman and out of Netherdale Deva. He heads to G. T. and S. Coghill, Muce, Birsay, Orkney.
The reserve any other breed champion, Salers bull Rigel Cassio from Messrs Pye, Rigel Pedigree, Leven Fields, Middleton-on-Level, Yarm, sold for 3,200gn.
Cassio is by Casimir and out of Rigel Cassia. He was bought by I. J. Daniel and Son, Hillhead Auchmacleedie, Strichen.
Averages: Charolais (19) £4,357.50; Limousin (13) £4,159; Simmental (seven) £3,855; Aberdeen-Angus (eight) £2,730; any other breed (three) £4,060.
Pedigree female cattle sold to 1,800gn twice at yesterday's sale.
Both lots at this price were Limousins from John and Margaret Penny at Shannas, Clola, Peterhead.
First up was April 2014 born Shannas Jingle, which is by Craigatoke Bart and out of Shannas Calypso. She heads to J. and S. Garrioch, of Rivestone, Kinnoir, Huntly.
The other at 1,800gn was April 2014 born Shannas Jette, also by Craigatoke Bart but this time out of Shannas Edette. She was bought by D W Youngson, 1 The Steading, Slacks of Cairnbann, New Deer.
In total six out of the eight females forward sold to average £1,592.50.