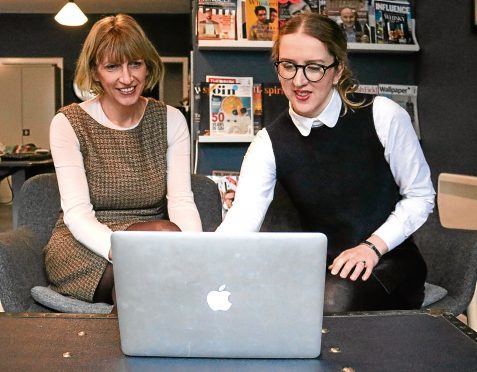 Eleanor Bradford reported on calamities, crises and casualty wards aplenty during her 15 years as the BBC's health correspondent.
But she still seemed slightly incredulous yesterday at the interest which she had aroused by raising the subject of the disparity in pay between male and female journalists at the corporation.
It is a subject which has proved contentious across Europe and the United States in recent months.
But, in many cases, women either tolerate or acquiesce in wage discrimination because of concerns they will be treated as pariahs by their peers if they blow the whistle.
However, that didn't deter Ms Bradford, who lives in Moray, from putting her head above the parapet as the only person named in a list of 14 cases "of inequality of pay" cited by the Digital, Culture, Media and Sport committee, before they questioned the BBC director-general, Tony Hall, yesterday over the corporation's gender pay gap.
As she reflected on the furore which her remarks had caused, Ms Bradford told the Press and Journal why she had taken such a public stance.
She said: "I found out that I was being paid less than my male colleagues about halfway through my tenure as BBC Scotland's health correspondent [from 2001 to 2016], and I know that several of my female colleagues were in the same boat. "For some women, the difference was a few thousand pounds, but for some of them, the difference was £10,000 and more. And, for many, that situation continues to this day.
"It's time to shine a light on this situation. Also, it's particularly easy to for the public to judge for themselves whether on-screen men and women are doing equal jobs.
"We know that unequal pay is common across many organisations but the BBC, as a publicly-funded organisation, has a duty to tackle this.
"The BBC needs pay scales which are appropriate for a publicly-funded organisation, and then pay the same amount to the people on those scales,"
Ms Bradford admitted she didn't want to "give the BBC a kicking" just for the sake of it. But she stressed that she has strong views about what needs to happen if equality is to become a reality.
She added: "As time has gone on, I am increasingly coming to the conclusion that we may need to impose quotas.
"I realise that this is controversial and many people will not agree. The argument is often used that women will be promoted to senior positions when they don't have the skills.
"But nobody seems to care that mediocre men have been promoted to these positions for decades.
"I think quotas could help both men and women because it will break down a promotions system which had historically been based on who you know, not what you know.
"It would force hiring managers to seek out new talent and develop it. That can only be good for everyone, no matter your race, gender, disability or sexual orientation."
It might be considered surprising that such opinions should be considered controversial in 2018. Yet, as recent debate has illustrated, many organisations are grappling with such concepts as equality and diversity.
Ms Bradford said: "The interesting thing about the BBC is that there are some departments which deal with diversity really well.
"I had some really good conversations with the head of children's programmes for BBC Scotland, which had to get to grips with this issue years ago because there is so much scrutiny of the messages given out to children via our TV screens.
"Yet, in other departments, there is still a lack of diversity and that leads to biased decision-making.
"It also feeds through to the output. We know that the main viewers and listeners of news programmes are men.
"But is that because women are less interested in the news, or because newsrooms tend to be male dominated and produce programmes which lean towards topics of interest to men?"
After leaving the BBC, Ms Bradford was head of communications at Aberden University until the end of 2017.
But she has just become part of a new Moray-based organisation, Spey Progressive Communications.
As she explained: "I'm really excited about the future for Spey. It has already won an award and has high-profile clients.
"There is a lack of jobs in professional services in Moray and, as well as filling that gap, we are showing that you don't need to have a central belt postcode to attract top talent and provide a really first class service.
"We are expanding, and we are looking forward to working with more businesses, both local and national."
As she moves forward in her new challenge, Eleanor Bradford recognises the gender pay issue issue won't go away. But, equally, it seems clear that it won't be solved overnight.
Aberdeenshire East MSP Gillian Martin, a member of the Economy, Jobs and Fair Work Committee, said yesterday: "The gender pay gap is about much more than equal pay.
"It's about women getting equal opportunities in the work place for promotion.
"If we don't take any action, we will not reduce the gender pay gap for 70 years.
"On Tuesday, the government and most of the political parties in Scotland supported moving one step closer to gender equality on public boards.
"But we should be looking to the private sector as well to adopt the same policy If we really want to encourage the change to harness Scotland's potential."
That is the next stage in the campaign.