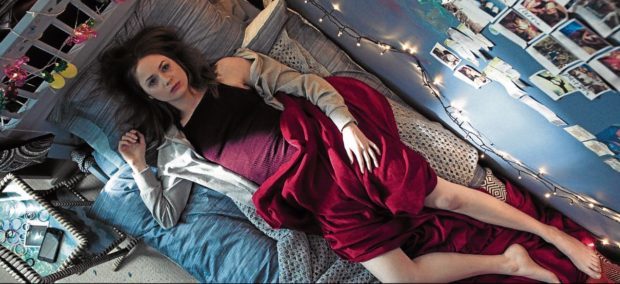 It is a subject few people want to talk about.
But new figures have revealed just why the conversation of mental health and suicide is so important.
The stark figures highlight that one person in the Highlands commits suicide almost every week of the year.
Between 2012 and 2016, there were 245 recorded cases – 173 men and 72 women – in the north of Scotland – substantially higher than in most other parts of the country.
One man, whose sister killed herself four years ago, last night said he believes there is still a veil covering the whole subject – one that urgently needs to be lifted.
This weekend, The Party's Just Beginning, by the Inverness-born actress Karen Gillan, will receive its premiere at the Glasgow Film Festival and while shine the spotlight on the topic.
The former Dr Who star has taken on the main role, and spoken of her concerns about how many lives are being affected and destroyed by suicide.
She said: "I was shocked by the statistic I read that the suicide rate among young men was higher in the Highlands than the rest of Scotland.
"One of the things I talked about with the team I made the film with was the postcard version of Inverness that everyone is familiar with and my character's version of it and her experiences.
"I hope the film affects people emotionally enough that it starts a conversation about the suicide rates among young people in all areas, not just the Highlands."
According to NHS Highland, men in the north are more likely to kill themselves without making any attempt to get help.
But the health board also revealed that women have a higher attempt rate than their male counterparts.
A spokeswoman for the health board acknowledged the scale of the problem, but highlighted the difficulties involved in striving to tackle it.
She added: "Suicide is complex and very rarely due to one factor alone.
"Risk factors span many issues, including social, medical and economic, and include having a mental health condition, substance misuse, deprivation, unemployment, financial worries, pregnancy and adverse childhood experiences.
"Recognised factors which help people include coping skills, physical activity, family connectedness and social and school support.
"NHS Highland offers a number of training courses which range from basic suicide awareness to suicide prevention. These are offered to a range of people from members of the public to frontline staff.
"People who suspect they may have a depressive illness should not suffer in silence. Talk to a friend and, if you are worried, contact your GP for advice."
Yet, for many people, there is still a stigma attached to mental health issues, which prevents them from seeking assistance in the aftermath of such incidents as losing their job, a bereavement or a break-up.
And it's that perception which organisations, ranging from health bodies to such groups as Befrienders Highland and Choose Life Aberdeen and Aberdeenshire are attempting to shatter.
Iain Murray, the coordinator of Choose Life, recognises there are no easy answers.
In recent years, he and his colleagues have launched special apps, Facebook discussion groups, and other schemes designed to emphasise the message: you are not alone.
But Mr Murray knows the culture of silence which pervades suicide is one of the biggest obstacles to tackling those in emotional distress.
He said: "When I was young, you would hear people talking about the 'Big C' and they simply didn't want to use the word 'cancer'. Thankfully, we are far more open about it these days.
"But sadly, it is still the case that we are dealing with the 'Big S' when it comes to suicide. People simply don't want to face up to it.
"And that is because there is still a massive stigma attached to the subject of mental health. It is a subject which many do not want to admit is a problem for them.
"That is why we need to accept that mental health has to be treated equally to physical health. People should feel they can be open about it, because there are others they can talk to and ask for help from."
Mr Murray visited Peterhead FC last year and was in Fraserburgh recently to meet with football players and officials at the two clubs.
Young males remain the most at-risk category for suicide and he thinks it is crucial for them to understand how many others have issues with mental health and depression.
He added: "We have taken positive steps and the more people who are prepared to talk about it, the better.
"We had a Facebook live session with SNP MP Kirsty Blackman and she was very honest and upfront about her personal battle with depression. We got nearly 200 people coming to us after that.
"So that underlines why it is so important to talk about these things and bring them out into the open."
Anyone in need of someone to talk to can call The Samaritans on 116 123 or Breathing Space on 0800 838587.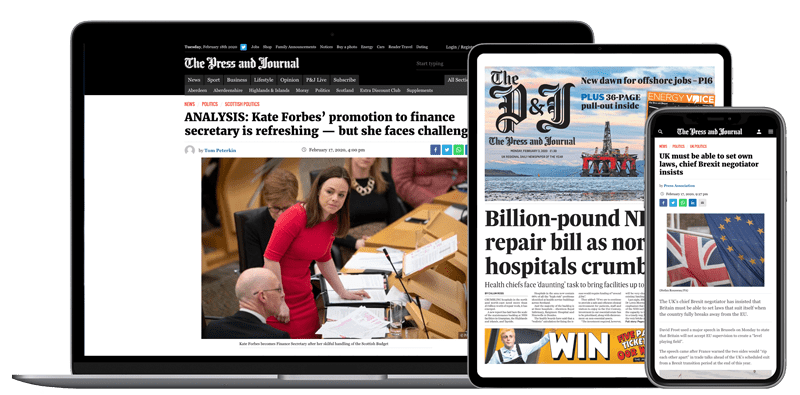 Help support quality local journalism … become a digital subscriber to The Press and Journal
For as little as £5.99 a month you can access all of our content, including Premium articles.
Subscribe