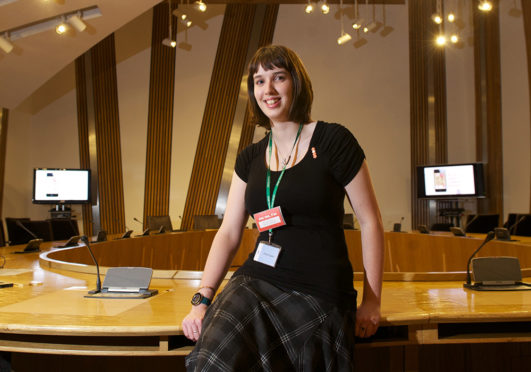 Conversations about mental health must happen more frequently if we are to stop the stigma around it. That's the view of 27-year-old Gemma Patterson who, following a childhood trauma, battled with PTSD as a teenager.
It is 12 years since she endured the darkest time of her life and now that she is in recovery Gemma, who lives in South Uist in the Outer Hebrides, is getting behind See Me's Time to Talk campaign in February to encourage people to speak out about mental illness.
Ten years ago she began volunteering for the See Me charity following her own experience with mentalhealth issues. Gemma is passionate about the organisation's message so wanted to share her story for the campaign.
She explained: "See Me isn't trying to treat people with mental-health issues. It is trying to stop the stigma around it. It is trying to raise awareness and get people talking and make it an acceptable conversation and I really liked what they are doing. My role is to share my experience and make it okay to do so.
"Speaking out about it in the press is often easier as I know I won't get immediate judgment. It's safer and has given me the confidence to have these conversations with my friends and family."
At the age of 15, Gemma was diagnosed with post-traumatic stress disorder (PTSD) after being the victim of abuse in her childhood. But it wasn't until a few years later she began hearing voices and experiencing psychosis, forcing her to take two years off school.
The former outdoor instructor, who now works as a programmer for an outdoor activity company, said: "I also had a neurological condition at the same time, so my mental health problems were more pronounced that they may have been while my neurological condition made my mental health worse."
One of the hardest things is to open up to someone about exactly how you are feeling. For Gemma, her confidant was her twin sister Charli, who then encouraged her to tell to their mum before seeking medical help. Living in remote South Uist could have been problematic when it came to treatment, but in fact it was the opposite. The only issue was logistics, but before long Gemma was flying across to Stornoway for fortnightly counselling sessions.
She explained: "I was really lucky. "The doctors on the island were amazing and found me a counsellor in Stornoway whom I saw for two years until I was 17. At that time I was very ill. Then I spent three years rediscovering myself as all my friends had moved on. I also went back to school to gain the qualifications I missed out on as well as working on building my self confidence.
"Being in a small community, I wasn't just another person with problems. The doctors cared and I knew them. Although the logistics were a problem and I had to get a flight to counsellor appointments, I felt I got the best treatment I could have had."
Gemma was fortunate in that she felt able to open up to her sister and says a twin's intuition meant "if I hadn't told her she would have known anyway". That very conversation with twin Charli was the first step in Gemma's recovery, but many others do not have such a close bond with siblings, members of their family or friends they feel they could confide in.
She advised: "Find somebody, anybody, to talk to. It gets easier each time you talk about how you are feeling. It can be your sister, friend, or a random person in work or at the end of a phone. There is even a text service now for those who don't like talking."
Today, Gemma is no longer on medication and has learned to manage her condition. She explained: "I still have trigger points from my past. I will get anxious or upset, but I am very good at helping myself now.
"I also put my own mental health first now, always. It's not selfish. I am firmly of the view that if I am not okay I can't help other people, but if I am on top form I can help the world. Technically, I will always have PTSD, but I am not mentally ill anymore and I have recovered from it because I have coping mechanisms in place and I know how to look after myself. There is always a way forward from mental illness.
"I think I have grown a lot, but I am still the same person. I now know it wasn't my fault, it was a reaction to a trauma.
"Mental illness cannot be controlled nor is it something you choose. It is like any other illness."
Gemma is one of many brave survivors of mental illness who have chosen to speak publicly about it to open the often difficult conversations, in the same way high profile celebrities and Princes William and Harry did recently in a television documentary. She explained her reason for doing so.
It is really frustrating that there still is a stigma surrounding mental illness but things are getting better and, with positive role models in the media, we are going in the right direction. It's just not going fast enough for my liking.
"If I can influence one person, then I have done what I set out to do."
Wendy Halliday, interim director at See Me, Scotland's programme to end mental-health discrimination, says too many people with mental-health problems are still made to feel isolated, worthless and ashamed. This is why the organisation is working hard to end mental-health discrimination and has launched Time to Talk Day. On February 6, people in businesses, schools and community groups across the UK are being encouraged to start meaningful conversations about mental health.
The See Me interim director added: "Conversations have the power to change lives, wherever they take place. You don't have to be an expert to speak about mental health. Just asking someone if they are okay can be a powerful thing.
"See Me wants to make this year's event the biggest and best yet, so make sure to visit our website to order your resources and get ideas on what activities you can do on the day.
"Wherever you are on the day, have your conversation about mental health."
And when you do begin to open up those conversations, Gemma has some advice: "If someone approaches you, have an open mind, be positive and open.
I would like it to be a normal conversation in organisations and elsewhere, but it's not. We need to change the culture together."
Ahead of Time to Talk Day, two See Me champions, Karen Lally and Suzanne Baines, will be visiting Inverness and Aberdeen in January and early February as part of
a tour around Scotland in a bid to encourage people to start having conversations about mental health. Follow @timetotalktour on Twitter to see where they will be going.
• For more information on the campaign, to order materials or for ideas about activities or events you can organise, visit www.seemescotland.org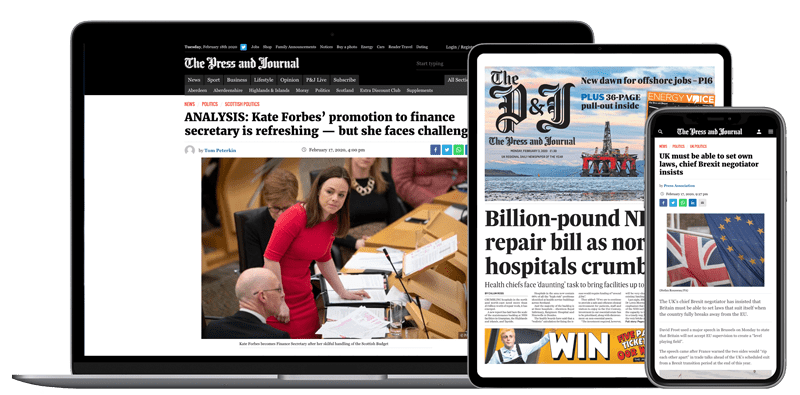 Help support quality local journalism … become a digital subscriber to The Press and Journal
For as little as £5.99 a month you can access all of our content, including Premium articles.
Subscribe