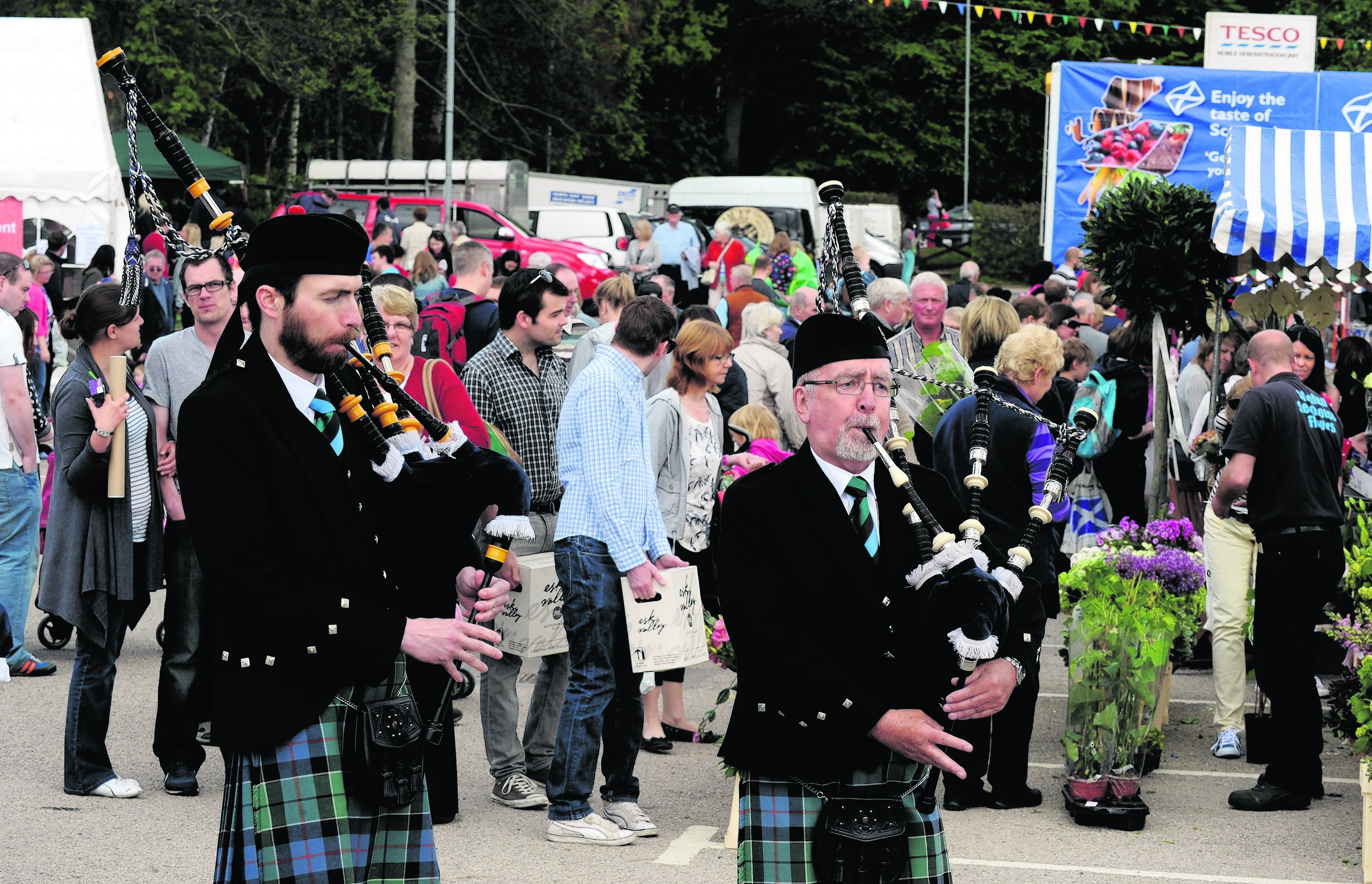 Combine a trip to the countryside with a chance to sample fine fare, writes Susan Welsh
At this time of year, there's nothing nicer than getting away from your own doorstep for a few hours.
All the better if your destination is somewhere you can also sample a selection of local produce from that area.
Over the next few months there's a host of events taking place where you can feast your eyes on fine scenery, and treat your tastebuds to a taste of Scotland.
These include:
TASTE OF GRAMPIAN
Thainstone Mart, Inverurie, Saturday, June 7, 9.30am-4.30pm
This fantastic one-day food and drink festival is a great day out for all the family and gives visitors the chance to discover – and taste, a wide range of high quality food and drink products from the Grampian region.
Local producers invite you to taste and buy the finest smoked salmon, mouth-watering shortbread, delicious ice-cream, sumptuous prime roast beef, creamy fudge and maybe a dram or two of the best Scottish whiskies from local distilleries and much more.
The festival programme also includes visits from celebrity chefs, Nick Nairn, Paul Rankin and Lady Claire Macdonald, along with children's entertainment, arts and crafts, cookery competitions and demonstrations.
Car parking costs £5 and admission to the festival is free.
Contact: 01224 646488 or visit www.tasteof grampian.co.uk
FYNEFEST
Cairndow, Argyll, June 13-15
Every year the team at Fyne Ales hosts its annual FyneFest, a three day festival which brings people from near and far for the best beer, with an eclectic mix of music and locally sourced food in beautiful Argyll.
This year there will be at least 100 different beers showcased over the weekend from 25 of the best breweries in the UK and beyond.
Serving up the best possible food to go with the best possible beers has always been a core part of what FyneFest is all about and once again it will showcase the world-famous produce from Argyll, including Loch Fyne Oysters and Winston Churchill venison.
Musically the festival is pretty diverse with nearly 20 different bands and artists performing over the weekend. Some, such as Bomskare who are headlining on Saturday night, are back due to popular demand.
Tickets are priced from £20 for a day ticket to £40 for a weekend camping ticket. Children under 16 go free.
Contact: 01499 600120 or visit www.fyneales.com
ROYAL HIGHLAND SHOW
The Highland Showgrounds,
Ingliston, Edinburgh, June 19-22
The Royal Highland Show is a celebration of Scottish farming, food and rural life.
Fabulous food and drink are one of the highlights of the show, attracting foodies from near and far. More than 100 Scottish food and drink exhibitors will attend alongside gourmet suppliers from across the UK.
There are also cookery demonstrations and produce competitions with plenty of opportunities to sample along the way.
Tickets are priced at £25 per day with kids under 15 going free.
Contact: 0131 335 6200 or visit www.royalhighland
show.org
HOPETOUN TOWN AND COUNTRY FAIR
Hopetoun House, South Queensferry,
Edinburgh, June 26-29
The Hopetoun Town and Country Fair offers visitors international sporting excellence, live entertainment, Scottish fine foods and country pursuits all set in the stunning grounds of Hopetoun House and Estate near Edinburgh.
Hopetoun farm shop is famed for its food sustainability and provenance and was selected for a new BBC Cookery series from none other than Paul Hollywood earlier this year.
Contact: 0131 331
2451 or visit www.hopetoun.co.uk
ABERDEEN ASSET MANAGEMENT SCOTTISH TRADITIONAL BOAT FESTIVAL
Portsoy, near Banff, June 27-29
The village of Portsoy transforms itself into a wonderful venue, attracting thousands of tourists to its annual celebration of Scotland's maritime and cultural heritage, with boat races, demonstrations, music and food and
drink.
The best regional food and drink will be on show again at the Wally Green Food Fayre, to sample, buy and watch being prepared in the ever more popular cookery demonstration programme.
Around the village and harbour you'll also find
a fine range of food and drink to meet every taste with, of course, the unmissable Ian Spink with his Arbroath Smokies.
Day tickets are available now priced £7 for adults and £4 for children, with concessions available.
Contact: 01261 842951 or visit www.stbfportsoy.com
TURRIFF SHOW
Turriff, Aberdeenshire, August 3-4
The Turriff Show is the largest annual event to be held in Aberdeenshire and is the largest two-day show in Scotland.
You'll receive a warm welcome in the special Homecoming Scotland 2014 hospitality marquee where local malt whisky can be sampled and family histories can be traced.
Over two days you will be able to browse 300 quality trade stands, food fair, exhibition hall, shopping mall, art and crafts, cookery demonstrations, forestry, kid's area and fun-fair.
Tickets are priced at £13 with adults with children aged under 14 going free. Other concessions are available.
Contact: 01888 562219 or visit www.turriffshow.org