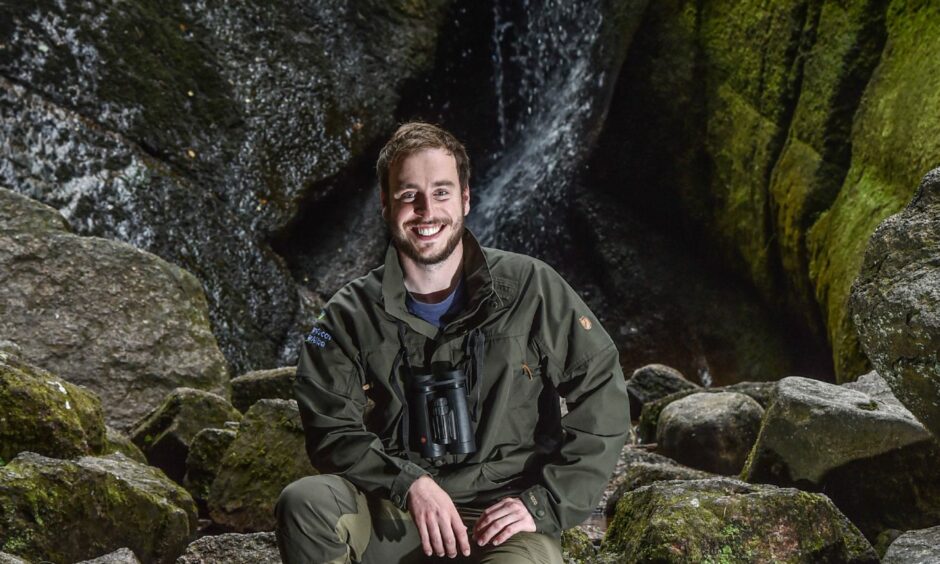 Catriona Reid has an office view which most can only dream of; farmer's fields to the left and sand dunes to the right, a blue ribbon of sea on the horizon.
Having only just got changed out of waders, Catriona is rarely in the office and has just spent the day battling Himalayan balsam, which can cause damage to habitats alongside banks and riversides.
Still, the sweaty task is preferable to the mortality count which Catriona and her team have planned for the following day – a grim tally of the number of dead birds who have perished due to bird flu.
Her eyes glisten as she describes the devastation to the numerous species living on Forvie National Nature Reserve, and she admits that her team have been reduced to tears.
Avian flu has been confirmed on the much-loved site, and more than 1,000 dead birds have been removed from beaches in Aberdeenshire.
Between the deadly disease and a biodiversity crisis, it's not quite the idyllic job that you might expect.
But Catriona, who started off as a tern warden in the 90s, will never part with the stark beauty of the reserve which is renowned for one of the largest breeding colonies of eiders in Britain alongside four species of breeding terns.
From the wild sand dunes to deepest Deeside at Muir of Dinnet, alongside a reserve managed entirely by volunteers in Inverness, we found out what it really takes to protect and promote nature, 365 days a year.
Catriona Reid, manager of Forvie National Nature Reserve: 'It's not all rare birds and roses'
Catriona has been in her current post for two and a half years, having also worked as reserve manager at Muir of Dinnet.
She does not come from a family of nature lovers as such, both her grandparents and parents worked at the paper mills prior to their closure.
But Catriona chose a different life after getting a degree in life sciences.
Managing a reserve which covers almost 1,000 hectares is not for the faint hearted, especially as the terrain largely consists of sane dunes, dune heath and the estuary of the River Ythan.
There's around 60 breeding bird species alongside rare plant species, and the reserve also has a fascinating history.
People lived at the edge of Forvie's shifting sand dune system for hundreds of years; legend has it that Forvie village was abandoned after a catastrophic nine-day storm in August 1413.
Every day is different
"The buried village comes with the associated curse, you've got to a have a curse with a buried village," says Catriona with a smile.
"We do everything on the basis of pure science, and this includes our bird and plant surveys.
"We're home to four different species of breeding terns.
"Our Arctic terns make an incredible journey; their pole to pole migration is the longest known annual journey by any animal."
Catriona and her team help the terns from egg to first flight, in the hope that the next generation will return to breed within four years.
Black headed gulls, eiders, plovers and oystercatchers can also be found at Forvie, and for Catriona, every day is different.
"Today we've been battling Himalayan balsam which can grow two to three metres tall; it's one of the tallest annual growing plants in the world but it doesn't actually belong in the UK," she says.
"The seedpods explode, and then it gets in water courses and can wind up on the reserve.
"It's sweaty, hard work complete with chest-high waders. A lot of our work is conservation and habitat management.
"We erect and maintain 1,000 metres of predator-proof fencing for example, and we're also involved with education from primary school right through to university."
You might imagine that Catriona's favourite time of year on the reserve is summer, when the unforgiving winds at least have a hint of warmth.
But for Catriona, the onset of autumn offers a brief moment of reflection.
Giving nature a chance
"It's the tail end of the wild flowers, and autumn brings a bit of relief," she says.
"The birds have bred and fledged – I often think well done guys.
"That's why it's so hard to see the impact of avian flu, in this job we care deeply for the natural world.
"Terns, for example, are a beautiful, delicate bird, and yet they must survive the rigors of life at sea.
"They're facing climate change, low food stocks, we're here trying to give these birds a chance.
"We can only hope the North Sea can sustain them."
Despite the challenges, it is clear Catriona is completely dedicated to her job.
It's not so much a career as a calling, no matter the weather or obstacles ahead.
"There's a different face to the place in the winter, it feels like you have the world to yourself," she says.
"When the haar rolls in, everything seems to go silent.
"Sometimes a deer will emerge from the mist, nature will forever be a free and simple pleasure.
"I can look at an Arctic tern for example, and I'm not expecting anything from it.
"I am just glad it exists; reserves show us what nature can be."
Simon Ritchie: 'There is a disconnect from nature in today's society'
Having volunteered as a teenager at St Cyrus, it's perhaps no surprise that Simon Ritchie was determined to forge a career working alongside nature.
He recently relocated from Montrose in order to take up his post as reserve manager at Muir of Dinnet National Nature Reserve.
He believes the site is the "jewel in Scotland's crown", and more than 90,000 visitors marvel at its beauty each year.
Found within the Cairngorms National Park, it consists of wetlands, woods and moors.
It also offers the stunning Burn O'Vat, alongside Loch Kinord and Loch Davan.
Forvie has faced the devastation of avian flu, but there's still hope to be found after Muir of Dinnet saw a bumper breeding season for rare goldeneye ducks.
Goldeneye triumph
More than 25 young goldeneye have fledged at the reserve this year – the best breeding return in more than a decade.
Simon and his team can take some credit for the success, having taken measures to keep people off the water during the breeding season.
He believes his role enables him to help people engage with nature at one of the most stunning spots in Royal Deeside.
Connecting with nature
"I did countryside management at SRUC, and I was previously the reserve officer at Loch Leven," he says.
"I've also worked as the seasonal warden at St Cyrus, and I volunteered at the Montrose Basin when I was at school.
"Muir of Dinnet covers approximately 1,163 hectares, and extends from the River Dee to the high slopes of Culblean Hill."
From heaths to kettle hill lochs, Simon works alongside seasonal staff and covers everything from dedicated bird counts to invasive species management.
At just 27 years old, he is one of only two reserve mangers under the age of 30 in Scotland.
"I love helping people connect with nature; if you don't know what you're looking at, you won't want to protect it," he says earnestly.
"The reserve is home to a wide range of species, including pine martens, foxes, roe deer and of course goldeneye ducks.
"It's a privilege to follow them until they fledge, and to work with some of the most iconic Scottish wildlife on the reserve.
"People come here from all four corners of the world, we welcome more than 90,000 visitors every year."
But with people, comes a minority who put wildlife at risk.
Visitor management
"We do a lot of visitor management," says Simon.
"There are a minority who have fires in the woodland or try to kayak on the lochs, so much of our work is engaging with people."
Come the autumn and Simon waits for the return of the geese alongside winter thrushes who migrate to the reserve from Scandinavia.
There isn't much time to stand and stare however, and work continues regardless of the weather.
"There's a huge variety, from trail maintenance to damning ditches and fixing bridges," says Simon.
"The job gets done no matter what, even in adverse weather.
"We're rarely in the office and I enjoy being outdoors, the reserve is a very special place to be."
And when it comes to future-proofing, Simon has turned to the next generation.
Hope to be found
"I think there's a disconnect from nature in today's society; by engaging with people we want to be reaching young families because children are the future," he says.
"We also use social media to promote the reserve and provide updates.
"When I was at school, very little was mentioned about biodiversity for example.
"It is now on people's radars, as is the conservation work which takes place at reserves."
It's not all doom and gloom however, and Simon finds glorious slithers of hope at Muir of Dinnet most days.
"I love doing a bird count early morning, or looking from the shores of Loch Kinnord to Upper Deeside," he says.
"Just the other evening I was out looking for the purple hairstreak butterfly, not many people can say that."
Ali Locke: 'Our biggest challenge is funding'
It's all very well protecting a site which doesn't have to try hard in the natural beauty stakes, but how do you create an sanctuary amidst deprivation?
Determined volunteers in Inverness have done exactly that, and Merkinch Local Nature Reserve is the only local reserve in the whole of the Highlands.
Coming up against national sites, people from all walks of life have poured love and dedication into just 54 hectares of land.
The area is known for being one of the most deprived in Scotland, which is all the more reason to have a place of solitude in the eyes of Ali Locke.
He has been chairman of Friends of Merkinch Local Nature Reserve for almost 16 years, and juggles volunteering with working at Tesco.
Co-exist with nature
He believes the reserve is a "hidden gem" and has dedicated his spare time to maintaining the much-loved paths for future generations.
Quite unlike any other reserve in the Highlands, it consists of tidal pools, marshes, reed beds and scrubland.
The boardwalk is popular both with those on foot and via bike, and provides a thoroughfare from the estate to the Caledonian Canal and the Carse.
And it's not just humans who have thrived, with a whole plethora of wildlife now calling the reserve home.
"We have roe deer, owls, weasels, herons, cormorants and various wading birds," says Ali.
"Our heron population is really quite unusual, a heron is normally quite a solitary bird.
"You can often see 20/30 herons clumped together; it's our belief that they are closely related so tolerate each other that bit more.
"We also get the odd osprey coming for a wee bit of fishing."
The site officially became a designated reserve in 2007, having previously been ad-hoc managed by the community.
"The vision was a place where humans and nature could co-exist together," says Ali.
"The work is incredibly varied, and our volunteers meet every week."
Invasive species management, litter picking and never-ending maintenance is all part of the job, but funding is an ongoing problem.
Mental health benefit
"The reserve is such a valuable asset, especially in an area of deprivation," says Ali.
"I've always thought of it as a hidden gem. Some people in Inverness are still only just finding out it exists.
"It's very difficult to get funding for maintenance however, be that repairing paths or the equipment needed to sand and paint benches."
Ali and his fellow volunteers, including his wife Amanda, all give up their time for free.
He believes it's a sacrifice worth making, no matter how many litter picks the team have to embark upon.
"The reserve completely and utterly relies on volunteers, and I think we all have to feel a bit of ownership," he says.
"There are a lot of mental health problems today, and some of our volunteers come to de-stress.
"You could honestly pick any spot on the reserve, where you can forget about the world."