 Published by Black & White Publishing
From Chapter 31
'Here it is, this is us,' said McCormack. She turned to face her boss, then spoke again with her hand poised over the door, ready to knock. 'Will I do the honours, sir?'
Valentine nodded and took a step back, making sure his mobile phone was switched off. They faced a faded net curtain in the door's window; its movement was almost imperceptible as the DS made two delicate taps on the doorframe and retreated to stand beside her boss.
As a light went on behind the curtain, the net went from a dull grey to a luminous yellow and then the silhouette of a man appeared in the frame.
Valentine's stomach clenched and then released, and he brought the flat of his hand up to his chest in an almost Pavlovian response to the unknown. The musty smell that percolated the stairwell seemed to vanish as the door opened and Billy Cooper waved them in.
Billy's face was stolid as he closed the door behind the officers and began to run the palms of his hands over the sleeves of his T-shirt. He was nervous, clearly, but this was someone who had learned to deal with simple emotions and some that were obviously far more complex – that much was displayed in the way he took control of the situation, extending a hand to the officers and flashing blue-grey eyes tinged with both a welcome and forlorn sadness.
He was broad-shouldered and angular, but his frame looked burdened with the approaching bulk of middle age and the strains of a life given to manual labour; it was, again, a cross he bore lightly, almost blithely. The city could fall, nations and empires crumble, but Billy Cooper would be unmoved by anything else this life of man had to offer, not now, not ever again.
He had survived a hurt that few would dare to imagine and there was nothing left for the fates to throw at him while he endured the remainder of his time in this existence.
The officers stood facing Billy for a moment, Valentine was unsure how to effect introductions: were they even there on official business? He doubted it and knew CS Martin would doubt it too. He was following a hunch that was more visceral than anything else, yet he believed he was in the right place to advance the case.
The DI dipped his head. 'Can I introduce myself – Detective Inspector Bob Valentine.' He turned to face his colleague.
'And this is Detective Sergeant Sylvia McCormack.'
Billy Cooper took the hands as they were offered, but his face told them that no connection had been made beyond the surface of the skin. He was a man who had cut all ties to the outside world, even the most ephemeral.
'My wife's through in the front room,' he said.
'We'd like to meet her, Billy,' said Valentine.
As they walked towards the living room at the top of the flat, the detective became vaguely aware that he was not in a home. It was a shrine to the memory of a home.
There were pictures on the walls that would have been out of fashion a decade ago: rural scenes of hunting, shooting and fishing set in gaudy brass frames – they were the type of pictures you saw in charity shop windows, or cheap student bedsits, certainly not anywhere where people would want, or choose, to live.
The carpets were threadbare and coated with such a heavy layer of dust that they would have greeted a vacuum cleaner as a long-lost stranger.
As they rounded the hallway into the living room, a shelving unit made of chrome and smoked glass spied on them from the facing wall.
Valentine at once gazed directly at the row of pictures that had been lined up like unholy babushka dolls in ascending height. To a one they contained photographs of Janie Cooper.
She had a broad, say-cheese grin that shouted her personality to the world at large. Her round eyes were a violet-blue and shone beneath the shock of white-blonde hair that hung in a heavy fringe and was long enough to be tied in a neat ponytail.
In every image the girl proclaimed her love of life, she brimmed full of it, looked in awe of an awesome world where she was happy to exist in the company of her beloved family.
The sight of Janie jolted Valentine's senses and a deep, yet somehow hollow, pain erupted in the depths of his chest, telling him he was in a new place now, somewhere he had never been before. The detective felt like he stood at the threshold of the kind of life discovery that changed a man, made him anew, and not always for the better. He knew this, and yet despite all his reservations, all the consequences he foresaw, he was compelled to cross the line.
As Valentine turned to Diane Cooper where she sat huddled on a corner seat, she seemed held together by only a thin thread of life, which, under tremendous stresses already, threatened to snap.
'Hello, Diane,' he said. 'The pictures of your daughter are just beautiful.'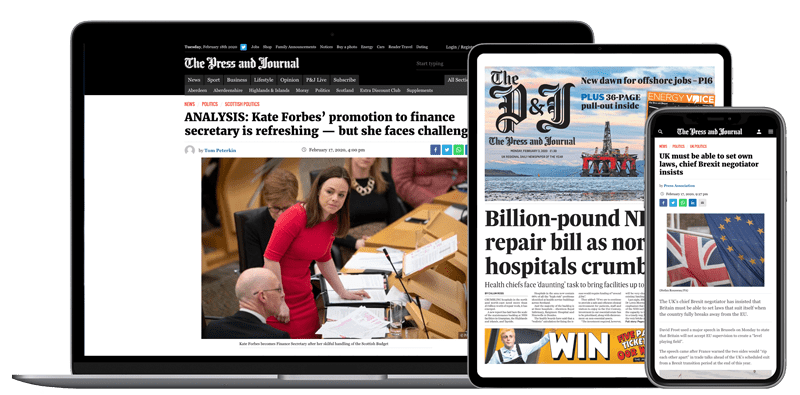 Help support quality local journalism … become a digital subscriber to The Press and Journal
For as little as £5.99 a month you can access all of our content, including Premium articles.
Subscribe