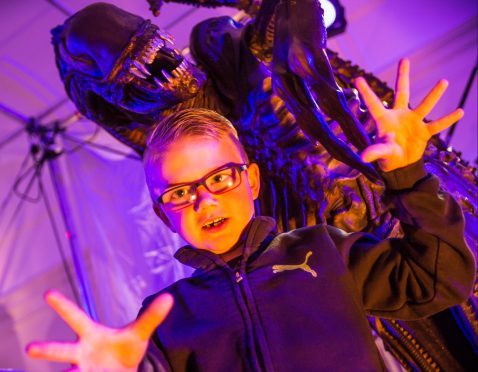 An ambitious science fiction exhibition including props from Star Wars and Planet of the Apes has been extended after attracting thousands of fans to the north-east.
The Invasion show at Peterhead's Arbuthnot Museum is one of the UK's largest collections of props and costumes from sci-fi productions including Alien, Red Dwarf, Star Trek and Lost in Space.
More than 4,700 visitors have passed through the museum doors since the beginning of July to take a look inside the famous sleep chamber from Ridley Scott's seminal space horror Alien as well as Matt Le Blanc's spacesuit from Lost in Space.
Staff have also laid on creative activities for youngsters – including mask-making and design-an-alien workshops – which have been running alongside the displays.
With only a week to go before the collection is put back into storage, organisers have extended the opening hours to ensure every sci-fi enthusiast in the north-east gets the chance to see the artefacts.
Arbuthnot Museum is overseen by Aberdeenshire Council and Gillian Owen, chairman of the region's education committee, said: "Invasion has been incredibly popular, not just with children but adults as well. It's all down to the theme and just shows that we are hosting the kind of exhibition everyone can relate to.
"We've had all sorts of people queuing up with their families and friends to introduce them to Doctor Who, Star Trek, Star Wars, the list goes on."
She added that the exhibit has inspired "a whole new generation of sci-fi fans" and encouraged people to visit before it closes on August 1.
To cope with the increased demand the museum is now open during lunchtime and on Wednesday – when it normally closes.
A series of workshops has been held with local school pupils about routes into film and theatre and the exhibition was launched with an "invasion" of Star Wars stormtroopers, played by local academy pupils.