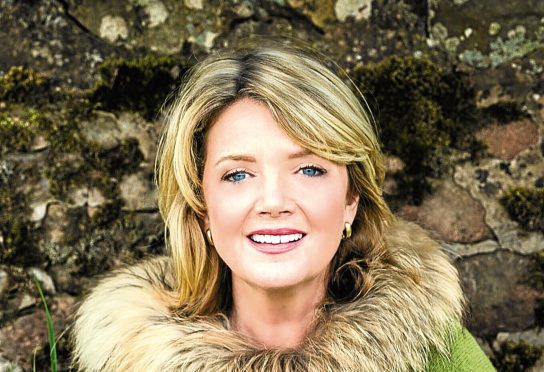 When Fiona Kennedy recorded a song for her husband, Francis, for their wedding anniversary it's fair to say his reaction was distinctly underwhelming.
Indeed as family members shed a tear whilst Fiona performed, Francis mulled over the lyrics before describing the gesture as "commendable."
"I felt like a teacher was giving me a tick for good work. It was nearly grounds for divorce," Fiona recalls, but put the reaction down as typical behaviour for her husband of 30 years.
The OBE singer, actress and broadcaster had decided to put together the special track knowing that Francis hated romantic gestures and even disliked holding hands in public.
The song was to serve as a happy medium, and Francis has thankfully conceded that it is in fact "quite catchy."
But it also served as the catalyst for Fiona's first solo album, Time To Fly, which is set for release next week.
With 12 tracks it is a look back at her remarkable life so far and she believes the title is befitting as she tackles fresh projects.
When we meet at Easter Anguston Farm, near Peterculter, she is brimming with enthusiasm and is greeted by the staff like an old friend,
The farm, which provides trainee roles for those with learning difficulties, is run by Voluntary Service Aberdeen (VSA), of which Fiona is honorary president and she is close to many of the trainees. Its success is entwined in Fiona's music and she passionately believes that more people should be aware of VSA and the work it does for both the elderly and young people facing mental health and learning difficulties.
"When my grandchildren came to visit they wanted to come to the farm every day, and when I went to see them in France it was the very first question they asked, how were all the animals getting on," she said.
"It's a wonderful place and the people here have been a major inspiration behind my music. The trigger was, of course, the anniversary song I put together, called Who Would Have Thought.
"I recorded it in Nashville and it was the catalyst for putting an album together, although that took two years in total.
"It was all a big surprise for Francis and whilst my family found it all very emotional, he was far more measured in his response.
"He actually says now that he can't get the stupid song out of his head, another reason to divorce him."
Fiona is no stranger to the music industry, having performed with her parents from childhood. She is also behind Sing Sing Sing, a VSA initiative which brings together more than 100 people with no singing experience to form a choir.
But where did Fiona get all her ideas from to produce a sound which she admits is different from previous albums?
"I think everyone reaches a stage in life where you take stock and I realised this really was my time to do the things that have been pushed to the back of my mind," she said.
"I willingly focused on other things in the past, including motherhood, and now I'm raring to go.
"This certainly isn't my last swansong though. I'm only just getting started."
It hasn't been an easy journey and Fiona has veered from moments of intense creativity to writers block.
She credits forensic anthropologist Dame Sue Black for giving her that extra push to keep going.
"I was attending a dinner where she was speaking and obviously through her job she is confronted with death every day," said Fiona.
"She said it is never too late to do something which makes you happy, and if there are things you've always wanted to do then you shouldn't hesitate.
"Don't let that inner voice put you off.
"I was in the process of making the album and that was a real boost to keep going during tricky periods.
"It has been a time to recap and reflect on my life but I've got such a love of what I do, this is just the start of things.
"I'll have to be knocked out and carried out in the end. I'm going to be like Dolly Parton and carry on with my to do list.
"VSA has been a major part of my life for the past 33 years and I hope more people become aware of the amazing work which goes on all year round."