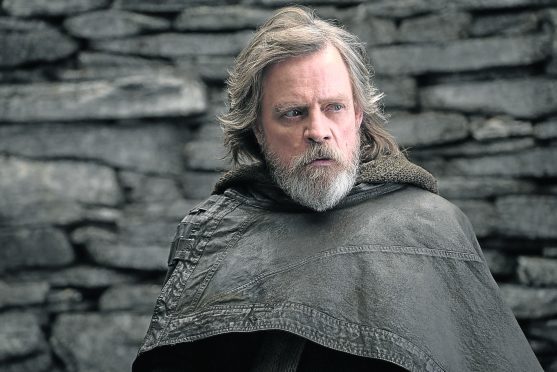 The latest instalment in the Star Wars franchise is here.
Episode VIII: The Last Jedi has only been seen by a handful of critics ahead of its release in the UK.
The line-up of stars is impressive, with Mark Hamill, Carrie Fisher, Daisy Ridley, Adam Driver, John Boyega, Oscar Isaac, Kelly Marie Tran, Domhnall Gleeson and Andy Serkis. It's directed by Rian Johnson, best known for 2012's Looper, starring Bruce Willis and Joseph Gordon-Levitt.
What about the storyline?
As the end credits roll, replete with a poignant on-screen tribute to "our princess Carrie Fisher", a bell tolls on nostalgia-steeped memories of George Lucas's epic space saga.
If Episode VII: The Force Awakens crammed everything fans love into one giddily entertaining origin story, the next chapter accelerates towards a different kind of Star Wars experience.
"Let the past die. Kill it if you have to. That's the only way we can be who we are meant to be," proclaims masked antagonist Kylo Ren (Adam Driver) during one breathless stand-off.
His doom-laden words reverberate throughout Johnson's bloated, special-effects-heavy picture.
Knockabout humour is imported from a Marvel Comics galaxy not so far, far away. Classic slapstick between the Rebellion and First Order feels awkward when the punchline, hanging over the verbal to and fro, is genocide.
Cute new creatures the Porgs are employed to broadly comic effect, but are essentially a lucrative line in merchandising.
The Last Jedi doesn't sever ties with the past completely. There are reverential bows to A New Hope and The Empire Strikes Back, and Mark Hamill and Carrie Fisher confidently bear the film's emotional weight to heart-tugging effect.
But their triumphs are at the expense of fresh-faced fighters on both sides of the conflict.
Performances vary wildly between wooden and milking tears of genuine emotion in gorgeous, glistening close-up.
Johnson's film is nothing if not frustratingly inconsistent.
The balance of power is delicately poised as Rey (Daisy Ridley) implores island recluse Luke to stand with his sister General Leia Organa (Fisher) in the war against Supreme Leader Snoke (Andy Serkis) and his vengeful protege, Kylo Ren.
Leia attempts to rein in reckless X-wing fighter pilot Poe Dameron (Oscar Isaac) as the rebels are stalked by General Hux (Domhnall Gleeson) and the First Order.
Meanwhile, stormtrooper Finn (John Boyega) and rebel crew member Rose Tico (Kelly Marie Tran) embark on a secret mission, and Snoke openly questions Kylo Ren's devotion to the dark side.
"You have too much of your father's heart in you," snarls Snoke. "You're no Vader. Alas, you're just a child in a mask!"
So what is the final verdict?
The Last Jedi is certainly not a misstep on the scale of The Phantom Menace. But more is less in a flabby caper of contrivances and coincidences.
Some big questions that lingered at the end of Episode VII are answered. But others remain tantalisingly out of reach. There's two years to wait for the cataclysmic storm of Episode IX to break.