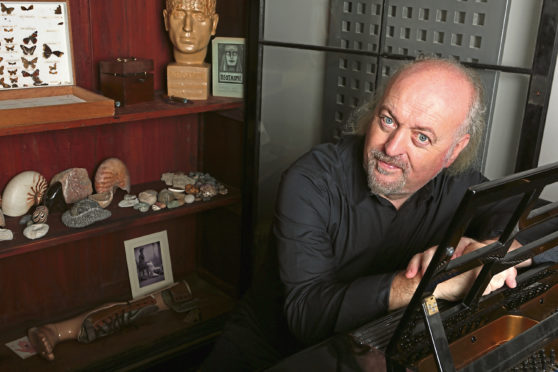 In his 25 years on the UK comedy scene, Bill Bailey has gone through various incarnations.
Alongside stand-up comedy, he has spent time working as an actor, a panel show host, a TV presenter and even, when times were tough, a telesales customer assistant – albeit for little more than a week before refusing to wear a tie saw him politely told not to return.
"Customers couldn't actually see me, so what was the problem?" he says, still indignant.
In any case, it's unlikely that a tie would have done much to distract from his signature look; with long wispy hair and a circular beard serving as his trademark for as long as anyone can remember.
But regardless of his unchanging appearance, as the years rolled by, Bill's stand-up musical comedy show began to evolve.
Small local venues eventually grew into big local venues, which in turn spilled over into theatres and concert halls, before eventually becoming arena tours and international bookings.
It has by no means been a meteoric rise to the top, but it's the top all the same, with Bill having been recognised in several official lists as one of the top 50 British comedians of all time.
For Bill himself, it feels like only yesterday he was a struggling comic trying to break on to the scene.
"I was a white van man," Bill laughed.
"I used to drive myself to gigs in a white Transit where I'd turn up with my keyboard and amps ready to set up.
"Then I'd do the gig and pack everything up before heading back home.
"The difference now is that I have a crew to do most of that for me," he chuckled.
"My shows have been quite varied over the years.
"At one point I was getting more and more props, instruments and bits of set that it was getting ridiculous.
"I remember touring with three huge LED screens at one stage and it suddenly occurred to me that it had got a bit out of hand.
"I watched all the trucks carrying my stuff from gig to gig and thought back to the time when everything I needed fitted in a Transit van.
"I wanted to get back to that and sort of prove that I could still do it with just me and my keyboard, so a couple of years ago I did a scaled-back tour of the Scottish Highlands playing all these little venues.
"It was just what I needed and I feel like I've got a happy medium now.
"I really loved that tour and getting to explore the north of Scotland."
Bill explains that Shetland and Orkney were two of his particular favourites, citing the ample fishing and bird-watching opportunities as the reasons behind their special mention.
A keen naturalist, Bill has written books and presented documentaries about British wildlife, injecting his own comfortable humour into what may be considered by some as a rather dry subject.
But Bill's stories are rarely dull.
"One afternoon before a show I was out fishing somewhere off the cost of Lewis in the Outer Hebrides," said Bill.
"Miraculously we'd caught some fish and I happened to mention it to the manager of the Stornoway venue I was playing a gig at that evening.
"Casual as anything, he offered to cook the fish up for us – an offer I was thrilled to accept – and we all sat round eating the fish before the show.
"I loved it. You just wouldn't get that anywhere else in the UK."
Much to Bill's disappointment, however, his current tour isn't likely to see much in the way of fishing.
Larks in Transit has seen him return to big arena venues, playing the AECC in Aberdeen on Saturday June 1.
He didn't mention if the tour title is a nod to his white van days, but nonetheless there is plenty of the original, authentic Bill up on stage each night.
"I move around topics a lot," he said.
"The show does have a running order but I don't tend to stick to it strictly.
"I address Brexit of course, it would be the elephant in the room if I didn't, but I don't focus on it.
"In terms of instruments (Bill can play just about anything he can get his hands on) I have a new one for this tour; the handpan, which is sort of like a metal convex drum.
"There are old instruments in there too, like the mandolin and other classics that I like.
"The music I play is varied, from rock and metal to folk and jazz. Essentially it's every kind of music I like to listen to, interspersed with stories and jokes.
"A voyage around my mind, I suppose you could say."
And a very pleasant place it is too.
Bill Bailey is playing at the AECC in Aberdeen this Saturday June 1. For tickets, see ticketmaster.co.uk