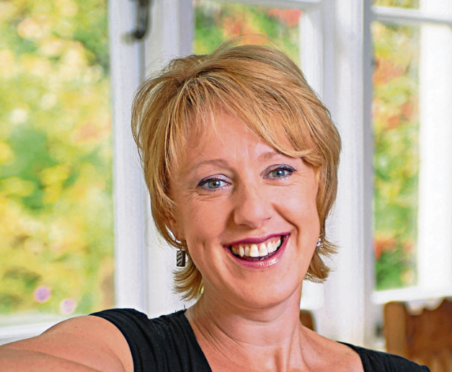 Wine expert Susy Atkins is on a mission – and the message she wants to get across is that wine is not stuffy, but something everyone can have some knowledge of and talk confidently about.
She will make her second visit to the Taste Of Grampian Food And Drink Festival, which takes place at the Thainstone Centre, Inverurie, on Saturday June 2, where she will host four wine-tasting masterclasses in the event's wine marquee.
Susy is an award-winning wine writer and broadcaster. She writes a regular column on wine and drinks for the Sunday Telegraph's Stella magazine and is wine editor of Delicious magazine.
Susy, who is the author or co-author of 11 books on wine and a familiar face from her many appearances as a wine expert on BBC1's Saturday Kitchen, made her Taste Of Grampian debut last year.
"I'm delighted to have been asked back and was very keen to return, as last year's show was one of the highlights of my summer," said Susy, 53.
"This was partially because it was very well organised, but also because of the sheer enthusiasm of those taking part, and attending was just extraordinary.
"Food festivals are generally happy places, but there's something about Taste Of Grampian that is particularly lovely that results in a great atmosphere," said Susy, who is mum to two teenage lads.
A return visit to Taste Of Grampian will also allow her to meet up with an old chum – and housewives' favourite – celebrity chef James Martin, who also returns to the festival for the second consecutive year.
"I know James from many years of working on Saturday Kitchen and also the Live BBC Good Food shows, as sometimes I'd be the wine expert working with him there," said Susy.
"We rub along pretty well, so I'm looking forward to seeing him again this year at Taste Of Grampian."
But the main man she'll be working with is Gordon Davidson, of Corney & Barrow, one of the longest-established independent wine merchants in the UK.
"Gordon and I get together and carefully choose the wines for the tastings. We will be starting with fizz – sparkling wines and Champagnes, then going to the other side of the world to look at wines from New Zealand and Australia," said Susy.
"Then I'll look at some of Corney & Barrow's own label wines, which are particularly good value for money and include classics from Europe.
"The last class of the day will be old world versus new world wines and different grape varieties. We'll take wine from say, California, Chile or Australia and pair it with a European wine and see which characteristics show."
Those going along to the masterclasses will be able to taste all the wines Susy is discussing.
"These are tutored tastings and quite informal. There's nothing to be scared of – guests just sit down, we pour the wine and they taste it with me," she said.
"I'll be sharing lots of food matching tips and talking to guests about how to pair wine with food at each of the tastings. I'll also teach them how to taste wine like a pro, but the keywords for me in all of these classes are fun, informal, lively and, hopefully, informative – the opposite of stuffy!"
Following her appearance at Taste Of Grampian, Susy will attend a special Sunday lunch at Banchory Lodge Hotel.
The three-course lunch with coffee includes a glass of fizz on arrival, with wines from Corney & Barrow complementing each course.
Susy will host masterclasses in the wine marquee at Taste Of Grampian at the following times:
11.30am: Fascinating Fizz, when some of the wines being sampled will include Prosecco Cecilia Beretta NV, Ruca Malen Fizz, Champagne JM Labruyere Prologue Brut NV and Delamotte rose.
1pm: Corney & Barrow European wines. A selection of Corney & Barrow's own label wines including a sparkling wine, White Burgundy, Rioja, Cotes du Rhone, Claret Reserve and Sauternes.
2.15pm: Old world and new world wines tasted will include old Pinot Grigio and new Pinot Gris, old Syrah and new Shiraz, old and new Pinot Noir.
4pm: The Antipodeas. Wines to be tasted will include Australian, Chardonnay, Shiraz and Shiraz/Cabarnet and New Zealand Sauvignon Blanc, Pinot or Syrah.
Visit www.tasteofgrampian.co.uk