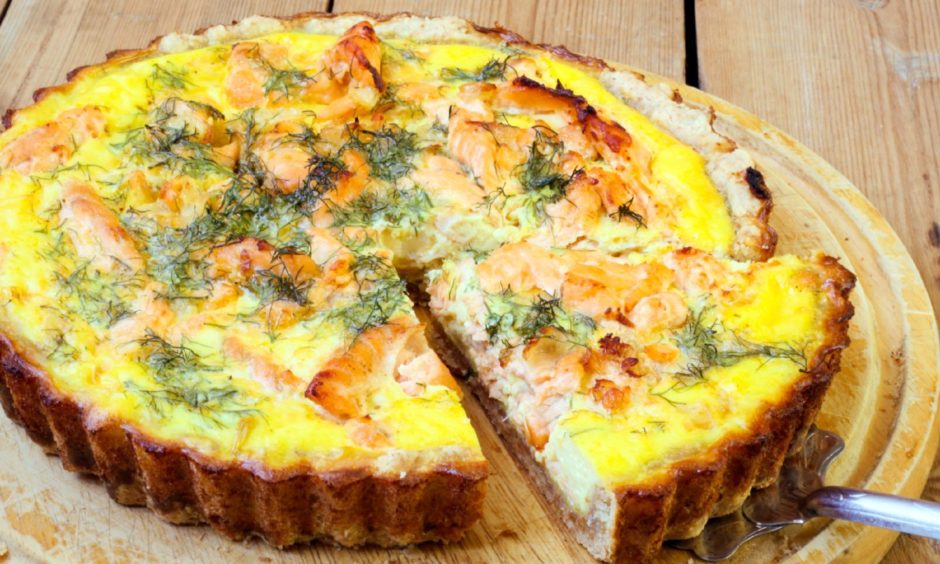 A salmon tart is the ideal dish to bring along to outdoor family gatherings
We are able to get together now, at long last, yet for some, gatherings of family and friends still means meeting outside.
As for me, no gathering – which is really, after these many weeks, a reunion of family or friends – is complete without food being a major part of the occasion.
I have been thinking of dishes which can be prepared completely, transported with ease and without deterioration in transit, and eaten easily – which means on sturdy paper plates and which require no knife and fork or needing to be cut.
Slices of ham or chunks of cold chicken are not eater-friendly food, and nor are salads consisting of huge leaves which cannot be put into your mouth without unseemly cramming.
Halved hard-boiled eggs with their yolks mixed into a tuna and mayonnaise mixture then spooned back on to the eggs, is a possibility.
When it comes to salad, snip all leaves to forkable small sizes. Slice cherry tomatoes in half or quarters to make for easier eating.
And when it comes to the sweet course, avoid anything covered with whipped cream which can slide off if the weather is hot, or in a layer of chocolate, which soon melts and becomes a mess potential.
You really can't beat chocolate brownies and a bowl of local strawberries.
For a perfect savoury dish, this salmon tart is perfect. Slice it before you leave home. It is easily forkable and it tastes so good.
---
Pink peppercorn pastry salmon tart with dill
(Serves 6) 
Ingredients
For the pastry:
175g/6oz butter, hard from the fridge, cut into small bits
220g/8oz plain flour
1 rounded tbsp dried pink peppercorns – which have a great affinity, taste-wise, with fish
1 tsp salt
About 10 grinds of black pepper
Method
Put the bits of butter, the flour, salt and black pepper into a food processor and whizz to fine crumbs.
Add the pink peppercorns and whizz briefly, to break them up, but not to pulverise them.
Tip this mixture into a metal flan dish. Press the pastry crumbs firmly and evenly over the base and up the sides of the flan dish.
Put it into the fridge for at least an hour, before baking in a moderate temperature, 180°C/gas 4, for about 20 minutes.
With a teaspoon, scrape the sides neatly into place, and bake again for a further few minutes – the pastry should be lightly coloured.
Cool completely. You can do this up to three days in advance.
When it is completely cold, wrap the tart dish in a double thickness of clingfilm.
For the filling:
750g /1½lb raw salmon, which can be lightly smoked if you prefer, cut into small chunks
300ml/½ pint single cream mixed well with 2 large eggs plus 2 egg yolks
1 level tsp salt
About 10 grinds of pepper
1 tbsp torn dill
Method
Put the small pieces of salmon evenly over the base of the cooked pastry.
Pour the cream and eggs mixture over the salmon.
Scatter the dill over the surface.
Bake in a low-moderate temperature, 165°C/gas 3, for 30-35 minutes or until when gently shaken the centre of the tart no longer wobbles.
Cool, slice and serve with either a mixed leaf salad or roasted asparagus.
---
More in this series…
Lady Claire Macdonald: Be inspired by the wild and make these recipes using foraged foods
Main course: Lady Claire Macdonald shares her recipe for smoked haddock chowder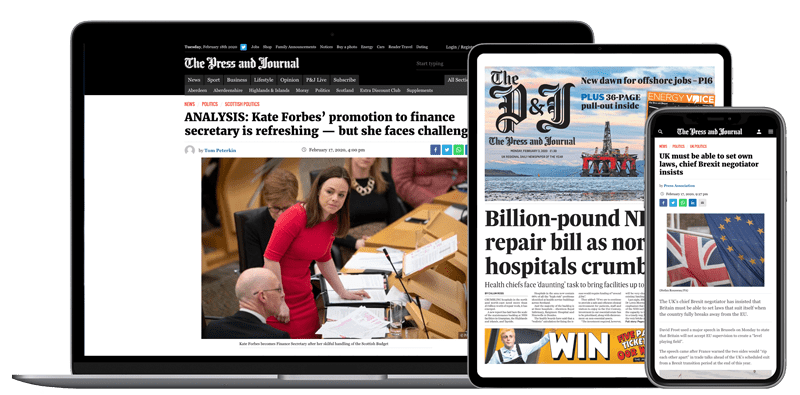 Help support quality local journalism … become a digital subscriber to The Press and Journal
For as little as £5.99 a month you can access all of our content, including Premium articles.
Subscribe