A unique cheese made with local whisky has been created at a Highland dairy to celebrate Homecoming Scotland 2014.
Whisky Dunlop has been developed based on the award-winning Connage Dunlop – a Scottish Cheddar-style cheese – with the addition of Benromach Organic whisky.
Fully organic and made using traditional skills, the artisan cheese is produced at Connage Highland Dairy in Ardersier, near Inverness.
Bathed and wrapped in bandages before setting down to mature over five to seven months in controlled temperatures, this cheese has a delicious warm nutty texture with a hint of whisky.
Made with milk produced by their own cows at the dairy, Connage Dunlop is available to buy from the Cheese Pantry, Ardersier, and online at www.connage.co.uk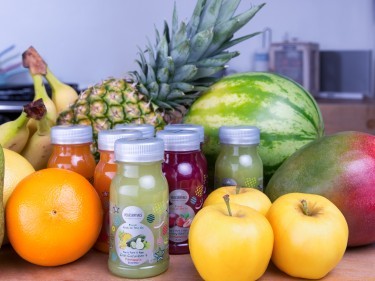 Intended to overcome the everyday struggle of encouraging children to eat fresh fruit and vegetables is the, 'Fresh Kids On The Go range from Vegesentials, the UK's first raw, unpasteurised fruit and vegetable drink brand.
Created by mum of three, Patience Arinaitwe-Mugadu, and her husband Dr Andrew Mugadu, the recipes for the new children's range have been created with the help of their own youngsters.
The range comes in handy lunch-box sized 125ml bottles with flavours such as Cool Cucumber & Pineapple, Groovy Beet & Strawberry Juice and Cheeky Carrot & Peach to try.
Contact: www.vegesentials.co.uk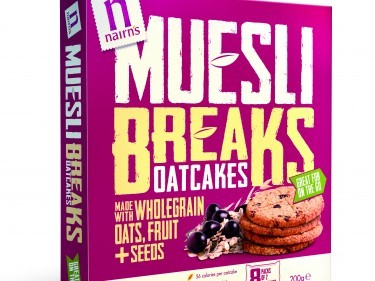 Scottish brand Nairn's has launched new Muesli Breaks – tasty oatcakes designed to be the ultimate, healthy on the go snack.
With 41% less sugar than your average cereal bar and free from wheat and dairy, these delicious oatcakes are loaded with good things; wholesome wholegrain Scottish oats, currants, sunflower seeds and pumpkin seeds.
These wholesome oatcakes are individually portion packed, making them easy for busy people to throw in their bag and enjoy as a breakfast, on-the-go, or a healthy snack.
Available from Sainsbury's, Waitrose and independent health food stores they are priced at £1.69 for an eight portion pack and 50p for single serve pouches (two oatcakes).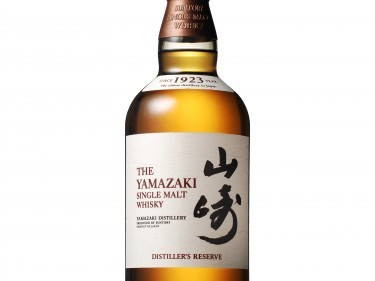 If you're looking for an unusual dram to present your dad with on Father's Day (June 15) then this intriguing single malt whisky from Yamazaki Distillers – Japan's first distillery, may hit the right note.
Yamazaki Distiller's Reserve, priced £42 and available from The Whisky Shop, is different to its Scottish cousins as it is a vatting of different styles of whisky as well as different cask types in comparison to Scotch malt which is predominantly from distilleries specialising in one style of whisky.
Tasting notes suggest a gentle, elegant fragrance topped by soft fruit – strawberry, white peach, cherry – and backed by sweet tobacco leaf.
A smooth texture and a sweet taste, with a crisp acidity, traces of coconut and a medium-length, warming finish, leaving a hint of planed oak.
Contact: www.whiskyshop.com