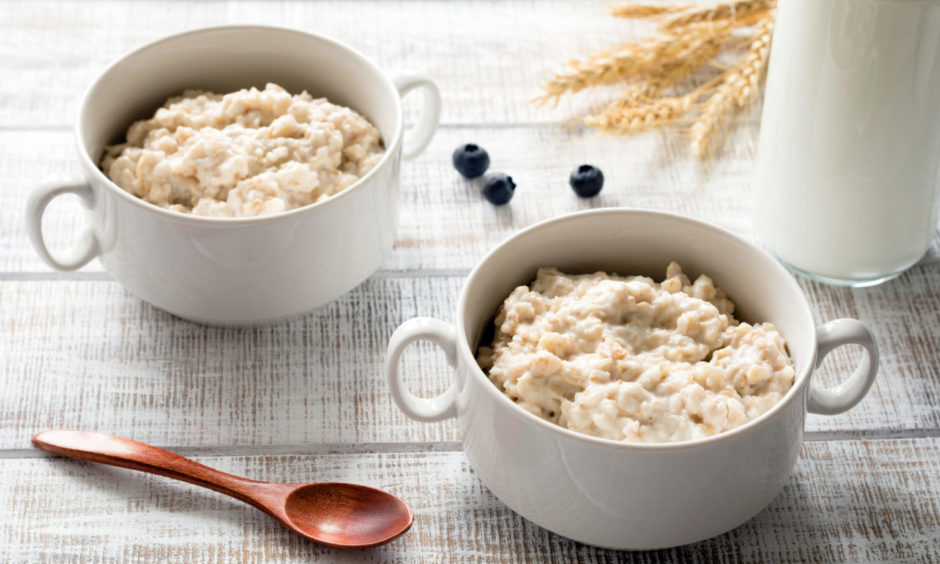 With porridge still a regular at breakfast tables across the land, Brian Stormont looks at the history of a true Scottish classic.
Scots have been growing and eating porridge oats since medieval times and it remains one of the most popular meals for people to start the day – particularly in winter.
As with all amazing meals prepared by us Scots, its beauty is in its simplicity – all you need is oatmeal or rolled oats which you boil and then you can add whatever you like to it whether that be milk, fruit, sugar or salt (more on the sugar and salt debate later).
Now, I must confess I didn't eat porridge as a child and I only eat it occasionally now, but I have many memories of the oats-based dish.
I recall my grandparents all eating porridge each morning if I was visiting during school holidays, but my strangest memory was The Broons.
The Sunday Post comic strip legends would often make an enormous pot of porridge and then pour it into a drawer which meant it could be eaten throughout the next few days as a solid bar by simply cutting off what you needed.
I later found out that with my family being of farming stock that this indeed was a common occurrence back in the day and not just something The Broons enjoyed at the But 'n' Ben!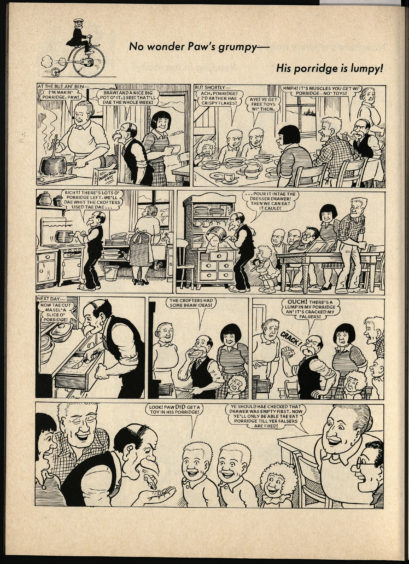 Tradition
Many people like different tastes and textures of porridge which are all dependent on whether it is oatmeal or rolled oats that is used.
Soaking the oatmeal overnight releases more of the nutritional value of the porridge and makes it easier to cook in the morning.
In Scotland, the traditional way of stirring porridge is using a spurtle and many people believe that it must be served in a wooden bowl.
The spurtle is carved at one end often into the shape of a thistle, while the other end is smooth and rounded which is ideal for getting rid of lumps.
Porridge sets
Food writer Liz Ashworth said: "My Orkney grandmother had what she called her porridge sets which consisted of a large soup plate in which the very hot oatmeal porridge was served and  a matching jug about 7.5cm (3inches) tall and 4cms (1½ inches) wide filled with ice cold cream, milk or buttermilk.
"My grandfather scooped a hot spoon of porridge in his left hand and poured a little of the milk from the jug with his right.
"There is a belief stemming from Druid times that stirring or passing round food must be done clockwise, following the sun, known as Deiseal. It was thought unlucky to stir in a left-hand direction or Widdershins.
"It was traditional to eat porridge standing up which showed respect for the dish.
"Brochan was the name used for porridge in the Highlands, Bleirie and Lewlands and was made from oatmeal and buttermilk boiled to a porridge consistency with an added knob of butter before serving – common in Lanarkshire.
"Bluthrie, Gogar, Whey-whullions , Mea-and-milk, Milk-meat were all different regional names and recipes for porridges."
Watch Liz make traditional porridge
Health benefits
There are many health benefits of eating porridge.
It is a good source of complex carbohydrates which are slowly released into the body throughout the day and the wholegrains have a natural goodness that isn't present in processed cereals, therefore helping to lower cholesterol.
Recognised as helping to reduce the risk of diabetes, obesity and high blood pressure and also thought to support the immune system, many people swear by porridge as a "super food".
There are many great arguments created by porridge and how you prepare it and serve it.
The preparation of the dish is a controversial one, with some insisting that a proper porridge recipe consists of only oats, water and a pinch of salt.
Others, however, prefer the creamier result of mixing milk and water to soak and cook the oats with.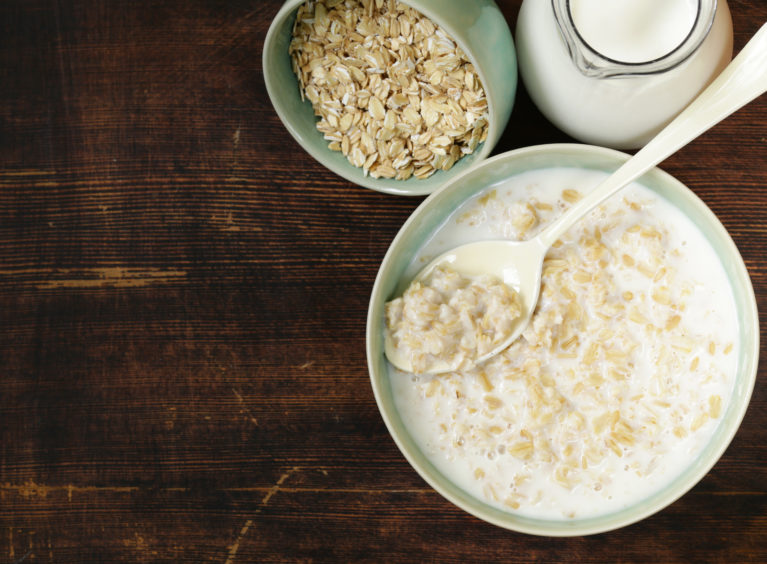 F Marina McNeill wrote in the Scot's Kitchen: "The only way to serve porridge is in large soup plates with small bowls of cream, milk or buttermilk at the side. The porridge must be very hot and the bowl of cream or milk in contrast quite cold."
She added: "Oats are the flower of our Scottish soil and through that magic cauldron the porridge pot Scottish oatmeal has been transmuted through the centuries into Scottish brains and brawn."
Salt or sugar?
But one of the greatest divides is whether sugar or salt is sprinkled over it.
Many people argue that it must be salt to give balance to the porridge and correct the flavour, while others favour sugar to sweeten it up.
The argument for using salt is that it is a test of Scottishness and it is only the Sassenachs who would put sugar on their porridge!
World Porridge Championships
Saturday October 10 is World Porridge Day when enthusiasts converge on the Highland village of Carrbridge where the World Porridge Championships take place and contestants battle it out for the much sought-after Golden Spurtle.
But in common with so many events this year, unfortunately the championships have been curtailed by the coronavirus pandemic.
However, competition sponsors Hamlyns have stepped in to ensure that the show does indeed go on, virtually at least, by creating an online speciality contest.
Organiser Charlie Miller said: "We have done an online contest where we have invited people from all over the world to submit videos of three-to-five-minute duration of them making a speciality porridge dish.
"The speciality is part of the normal tournament anyway and we had 26 competitors from six different countries.
"They have been judged and we will award the virtual Golden Spurtle as a prize on the 10th of October which is World Porridge Day.
"The virtual competition is the best we could do under the circumstances I think. It's a pretty reasonable entry.
"On a good year we have over 80 people who would go into the draw for the competition. We can only accommodate 32 contestants normally and we draw them out of a hat and the 32 would compete, but this year we just invited people to submit their videos and we have the top 10 ready to go on the website."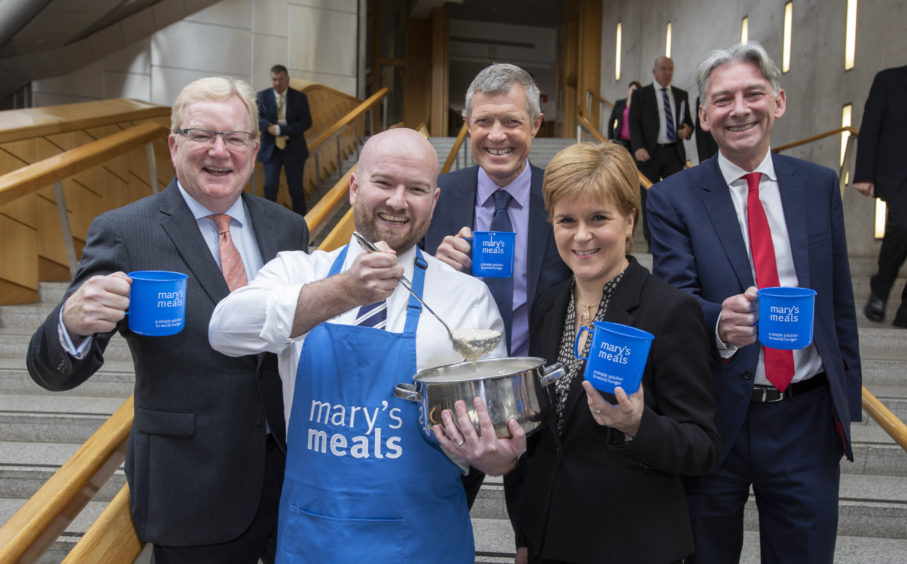 Popular annual event
The contest is an eagerly awaited event in Carrbridge where it has been held every year since 1994 until now.
"This is our 27th year and it is incredibly hard work, but there is a good team of people involved," added Mr Miller.
"You have to remember the whole thing is run by volunteers and we have a very enthusiastic bunch of people who are keen both for the competition to succeed and for the village to be promoted."
I'm very much of the belief that the dish we are talking about as a nation contains porridge, water and salt, nothing else.

Charlie Miller, World Porridge Championships organiser
But what does the organiser of the World Porridge Championships believe should go into a bowl of oaty goodness?
Mr Miller revealed: "I am a porridge eater. I wouldn't say I have it every day, but I am a frequent eater of porridge.
"I'm very much of the belief that the dish we are talking about as a nation contains porridge, water and salt, nothing else.
"You put that down in front of anybody and they can do what they like with it – they can add sugar, they can honey, they can add molasses, but the making of the dish is porridge, salt and water – nothing more."
The organising committee is optimistic that the current Covid-19 pandemic eases to allow them to return to normal service in 2021.
"The hope is that we can get back to normal next year. I think we have another year of lockdown all going stir crazy," added Mr Miller.
"Carrbridge is a fairly small place but we have people coming in first thing in the morning at 10am and they stay there until 6pm until it is all over.
"We take roughly 100 people in the village hall, but we probably take three or four hundred transient people coming through the hall on that day."
Lisa strikes Gold-en Spurtle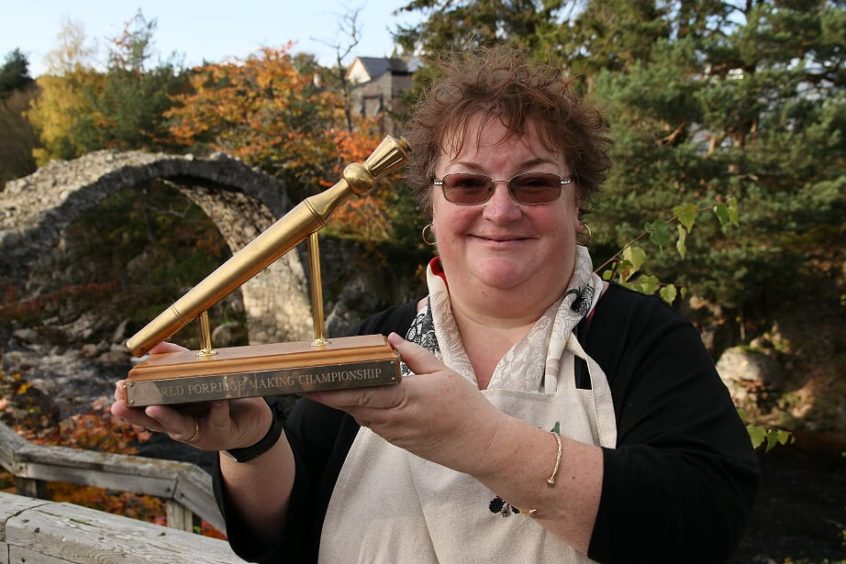 Last year's winner was Lisa Williams, from Suffolk, who claimed the Golden Spurtle in the competition's 26th year.
Speaking after her success, Ms Williams said: "I am surprised and thrilled to win the championships.
"I discovered the Golden Spurtle in 2015 and immediately fell in love with the competition.
"In 2016 I made it to the final six and have been chasing the dream ever since.
"I absolutely love the competition. From the moment you step into the hall you are welcomed like family.
"It's hard to describe, but from the flags and the tartan, to the people from the village who organise everything, the ladies who serve the porridge, the volunteers who wash up our equipment, the porridge parade, the bagpipes – it's just magical."
Read more about traditional Scottish classics …
Cullen Skink: A hearty Scottish delight that keeps you coming back for more
It's the original comfort food, but where did Stovies come from and what's the best way to make them?