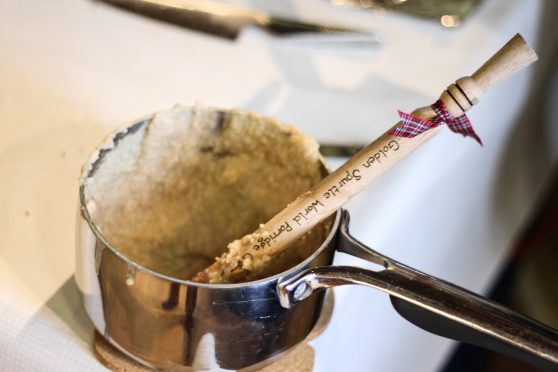 The coveted Golden Spurtle will not be awarded this year after organisers were forced to cancel the face-to-face version of the World Porridge Making Championships.
The famed event, which attracts competitors from across the globe to the Highlands, had been due to take place in October for the 27th time.
However, the decision has been made to cancel the event proper due to the coronavirus pandemic.
Organisers are making sure the event is not completely forgotten with an online speciality porridge competition.
In recent years, competitors have come from all over the globe with the Golden Spurtle even taking a trip across the North Sea to Sweden before heading south of the border in 2019 after it was won by Lisa Williams from Suffolk.
Carrbridge Community Council is asking competitors to submit a video of their efforts for the speciality section of the competition, between three and five minutes long, outlining how they construct their sweet or savoury dish from start to finish.
Organisers have stressed they are not seeking professionally cut cookery videos with competitors encouraged to submit footage filmed from mobile phones.
Judges will run their expert eyes over the blending and harmony of the porridge with other ingredients.
The winning recipes, of which 10 will be selected, will be revealed on the golden spurtle website on World Porridge Day, October 10.
Each virtual winner will receive a perfect porridge pack from the championships' sponsors, Hamlyns of Scotland.
Charlie Miller of Carrbridge Community Council, organisers of the competition, said: "The World Porridge Making Championship is one of the most popular annual foodie events in Scotland.
"Everyone associated with the event is hugely disappointed that we are unable to go ahead, but the rules around movement, social distancing, crowds and quarantine make it impossible to have a normal competition this year.
"Last year we were delighted to welcome competitors from 11 different countries to Carrbridge, and we hope that opening it up to a virtual competition this year will mean that we can attract a wider worldwide audience, who might not otherwise have been able to compete."
Alan Meikle, managing director of sponsors Hamlyns of Scotland, said: "We're very pleased that the organisers of the World Porridge Making Championship have come up with a creative alternative for this year, and we look forward to seeing lots of interesting recipe videos, hopefully from all over the world."