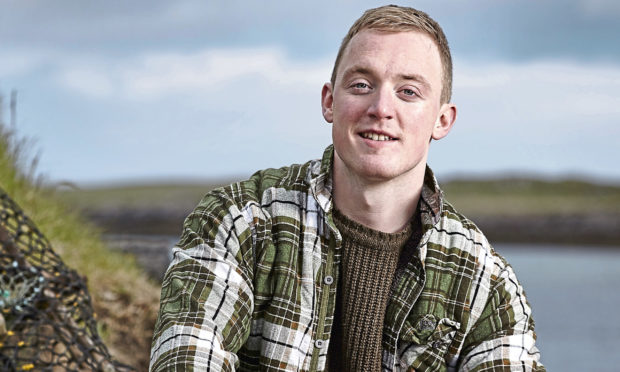 Susan Welsh discovers two warming dishes to chase away the autumn chills
Having a dad who worked as a lobster fisherman helped shaped Douglas Stewart's love of local food.
From the age of 10 he helped out with the family business in North Uist, then followed in his father's footsteps, becoming a crewman at sea during the summer months.
Seven years ago, he formed the Hebridean Food Company, with the aim of encouraging more local people to eat and enjoy the fresh shellfish, mussels, venison and various goods produced on their doorstep.
Now aged 29, and in the middle of a pandemic, this young entrepreneur defied the odds to set up Stewart's Kitchen, underneath the umbrella brand of the company.
It offers customers a range of quality, pre-prepared meals, all made with love by a small team of talented chefs, using only the finest and freshest ingredients, including Stornoway black pudding, Isle of Mull cheddar and Ayrshire ham.
Here, Douglas, who says he's on a mission to bring the best of Scotland's larder to more kitchen tables, shares two of his popular recipes with menu readers.
You can find his ready-made meals in branches of the Co-op.
---
Ham and vegetable bake
(Serves 4)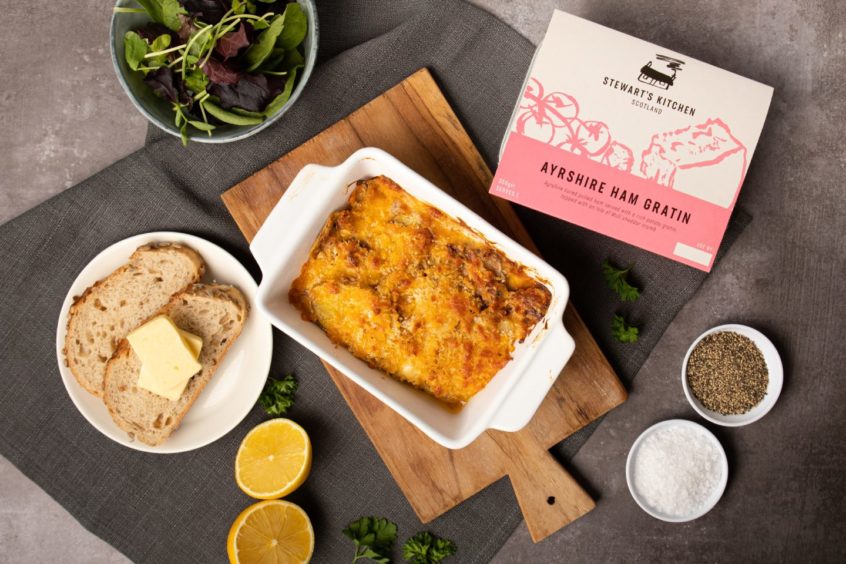 Ingredients
100g butter
2 leeks, chopped
3 carrots, chopped
3 parsnips, chopped
200g plain flour
500ml hot chicken or vegetable stock
400g cooked ham from a joint, cut into chunky slices then shredded
200g tub low-fat crème fraîche
2 tbsp wholegrain mustard
Method
Melt 2 tbsp butter in a large frying pan, chop the remaining butter into small chunks and put in the fridge.
Add the leeks, carrots and parsnips to the pan with a splash of water.
Season, cover with a lid and cook for 10-15 minutes, stirring now and then, until the veg begins to soften.
Stir in 2 tbsp plain flour, then add the stock bit by bit, stirring as you go, until all incorporated and smooth.
Cover with a lid and simmer for 20 minutes until the vegetables are tender.
Heat oven to 220C/200C fan/gas 6.
Add the ham, all but 2 tbsp of the crème fraîche, and the mustard.
Season with plenty of black pepper and transfer to an ovenproof baking dish.
Put the remaining butter and flour in a bowl and season. Rub together with your fingers to a fine, crumbly texture. Add the remaining crème fraîche and mix with a cutlery knife until the crumble clumps together in places.
Sprinkle the crumble mixture over the filling, then bake for 35-40 minutes until crispy and golden on top.
---
Bacon and lentil soup
(Serves 4) 

Ingredients
1 tbsp olive oil
1 onion, diced
140g bacon, sliced
1 carrot (about 120g), finely diced
1 tsp ground cumin
½ tsp turmeric
2 garlic cloves, finely chopped
1 chilli, sliced
2 low-salt stock cubes
250g red lentils, rinsed
Method
Heat the olive oil in a large saucepan then add the onion, bacon and the carrot.
Cook on a low to medium heat for 10 minutes until the onions are soft.
Add the cumin, turmeric, garlic and chilli and cook for a further 1-2 minutes until the aromas are released.
Pour in 1.25 litres of boiling water, crumble in the stock cubes and add the lentils.
Bring to a simmer and cook for 20 minutes, stirring occasionally to ensure the lentils aren't sticking.
Serve with crusty bread.