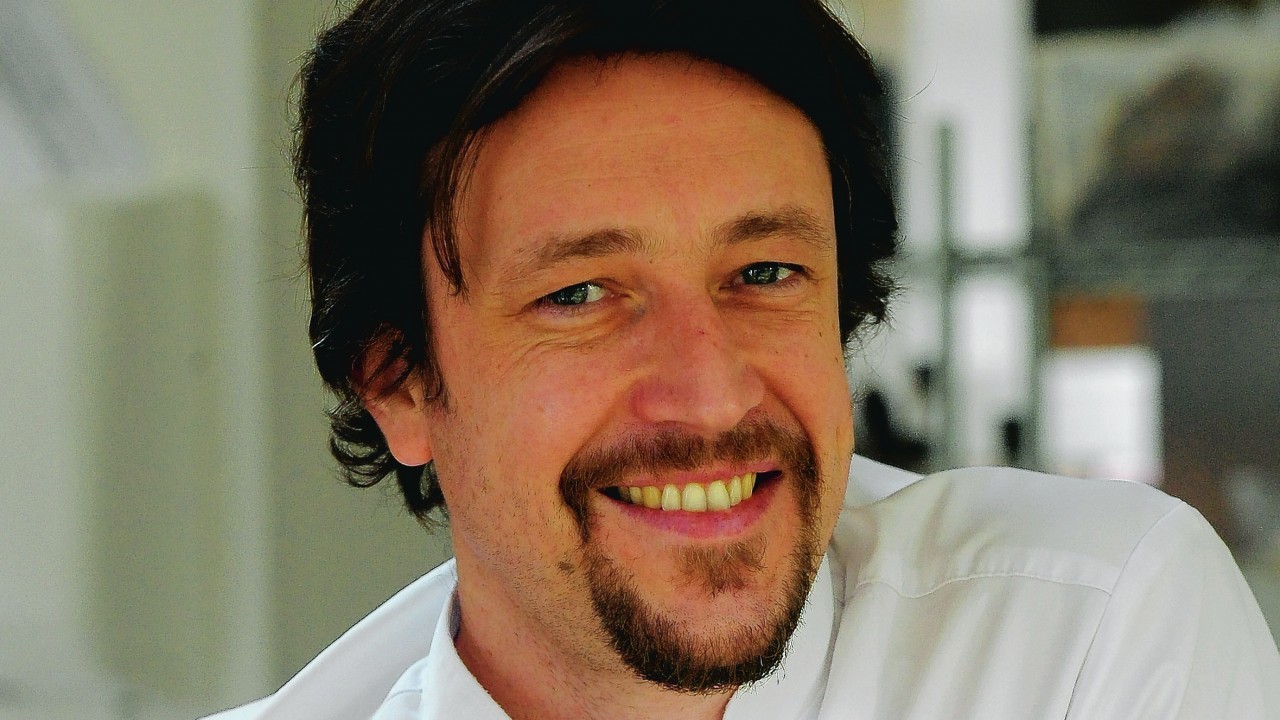 The festive season is here and my canape recipe is the perfect way to get the party started as they are fantastic with a glass of chilled white wine or bubbly. The topping is a variation on the Kipper and Crowdie Dip featured in my May column but here I've swapped kippers for trout, but any good-quality smoked fish will work just as well.
The light and fluffy scones are made with strong Mull Cheddar, Scotland's answer to Parmesan. They are a doddle to make and great to have ready during the festive season as, once the dough is made and shaped, it can be kept in the freezer for weeks.
Then, if guests arrive unexpectedly, all you need do is whip them out of the freezer and pop them into a preheated oven – and 20 minutes later you have wonderful fresh, home-made cheese scones.
They can be eaten alone or split and crowned with a topping such as the one featured here today, and which can also be made in advance.
Once made, top the scones with the trout and crowdie mix, using a piping bag. It's also possible to make larger versions of the cheese scones and serve with a bowl of home-made soup such as the flavour-packed Jerusalem artichoke and chestnut soup shown here.
Jerusalem artichokes, a tuber and close relative of the parsnip and potato, are easy to grow and a delicious winter crop. Use them with the addition of chestnuts, and top with artichoke crisps, chestnuts and pureed cranberry, to make a special soup for the festive season. The soup is filling, but served in an espresso coffee cup it makes a wonderful amuse bouche.
Today's dessert is another show-stopper, but easy to make. Decorating is the fun part and you can let your imagination go wild here. Once made, it keeps in the fridge for days but, as the chocolate is tempered, it's essential to have it at room temperature for as long as possible on the day you intend eating it, as this allows the full flavour of the chocolate to be released.
A lot of vegetables can be turned into crisps, which taste much better than store-bought crisps. You need to have access to a deep-fat fryer, one that regulates the temperature, as it's essential the veg is cooked at 150C.
Simply peel the veg (artichoke, carrot, beetroot etc), then keep peeling, dropping the pieces into the fryer until they are slowly cooked.
The biggest mistake people make is having the temperature of the oil too high. Then once cooked, drain, sprinkle with salt and serve.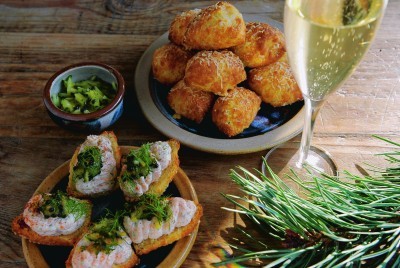 MULL CHEDDAR SCONES WITH SMOKED TROUT AND CROWDIE PATE
SERVES 6
250g self-raising flour
1 and a quarter tsp baking powder
65g slightly salted butter
140g mature cheddar (Mull) finely grated, keep 20g aside for top
1 egg, plus milk to make 175ml total
1 egg yolk to glaze
Sieve the flour and baking powder together in a bowl. Grate in the cold butter and mix until like breadcrumbs. Add the grated cheese. Pour a little at a time, three-quarters of the egg/milk and mix gently to form a soft dough.
All the liquid may be required but it must not get too wet. Roll the dough into a rough rolling-pin shape. Cut into 6 rounds and gently flatten into a cake shape.
Brush the tops with egg yolk and sprinkle with grated cheese. Cut and quarter each round. Place on a baking tray and bake in a preheated oven for 8-10 mins.
SMOKED TROUT AND CROWDIE PATE
2 Smoked trout (or any other smoked fish)
130g Crowdie
100ml Rapeseed oil
120ml Buttermilk
1 peeled clove garlic
1 tsp smoked Pimenton (Dulce)
Squeeze of lemon juice
Remove the skin from the fish and chop the flesh into small pieces. Place in a liquidiser along with all the other ingredients and blend until smooth. If the mix is a little thick, pour in a little hot water from a freshly boiled kettle. Pass through a fine sieve to a achieve a smooth texture. Cut the scones in half and spread each half with a generous amount of topping.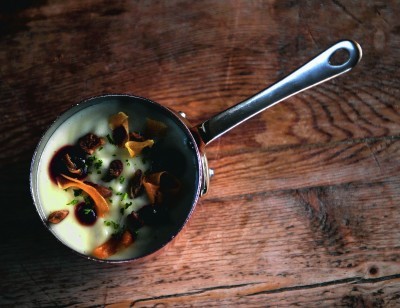 JERUSALEM ARTICHOKE AND CHESTNUT SOUP
SERVES 6
550g unsalted butter
50g olive oil
200g shallots
2 cloves garlic, peeled and crushed
500g Jerusalem artichokes, peeled and chopped
200g peeled chestnuts, chopped (reserve 3-4 for garnish) – you can use fresh or pre-prepared
2 large bay leaves
800ml chicken stock
150ml milk
A few sprigs of fresh thyme
Sea salt
Freshly ground pepper
If you are using fresh chestnuts, prepare them first. To make peeling easy, make a slit on the rounded side of the nut, bring to the boil in plenty of cold water and cook for 20 minutes.
You should then be able to slip the hard outer skin and softer inner skin off easily. Remember to leave the nuts in the hot water so they stay soft and easy to peel.
Meanwhile, melt the oil and butter in a large pan. Add onions, garlic and about 2tsp chopped thyme with a good pinch of salt and cook until soft (about 4-5 minutes).
Add the artichokes and cook for a further 4-5 minutes.
Add the peeled chestnuts and cook for a further 2 minutes. Add the chicken stock and bay leaves and cook until artichokes and chestnuts are soft enough to blend.
Remove bay leaves from the cooked artichokes and chestnuts. Add milk (if desired, for extra richness, substitute 50ml cream for the same quantity milk) and liquidise until smooth.
If necessary, adjust thickness of the soup to suit your taste by adding a bit more stock. For extra smoothness, pass through a fine sieve before serving. Garnish with chestnuts and a sprig on thyme. For extra taste try drizzling the soup with a little cranberry jelly. Serve with crusty bread for a simple sustaining meal.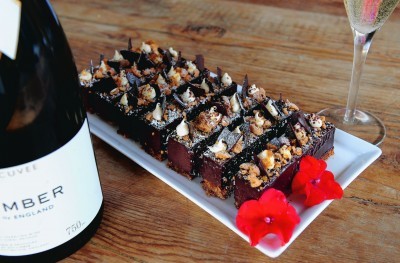 DARK CHOCOLATE AND MACAROON DELICE
SERVES 6
100g Amaretti biscuits/macaroons
1 shot Amaretti liquor
1 shot espresso coffee
110g best unsalted butter
110g caster sugar
200ml whole milk
225g very best dark chocolate, 70% cocoa
1 large egg yolk
First, smash the macaroons/biscuits in a plastic freezer bag into largish pieces. Tip three-quarters of these over the bottom of a shallow baking tray, lined with parchment paper, approximately 150cm by 210cm. Soak these with the coffee and liquor.
Place the butter and sugar in a bowl and mix very well until pale and voluminous. Warm the milk in a large pan and, when warmed enough for wisps of steam to rise from the surface, tip in the chocolate – remove from the heat and whisk very, very well until smooth.
Add the egg yolk to the butter and sugar and gently begin to pour in the hot milk-and-chocolate. Mix all together very well. Pour this mixture over the macaroons/biscuits. Strew the remaining macaroons/biscuits over the chocolate.
Cover the delice and refrigerate for at least 24 hours, 48 being even better.
Once cold and set, the delice can be portioned into individual slices and decorated. It is important to let the delice come up to room temperature, which may take a few hours before serving with crème fraiche, cream or ice cream.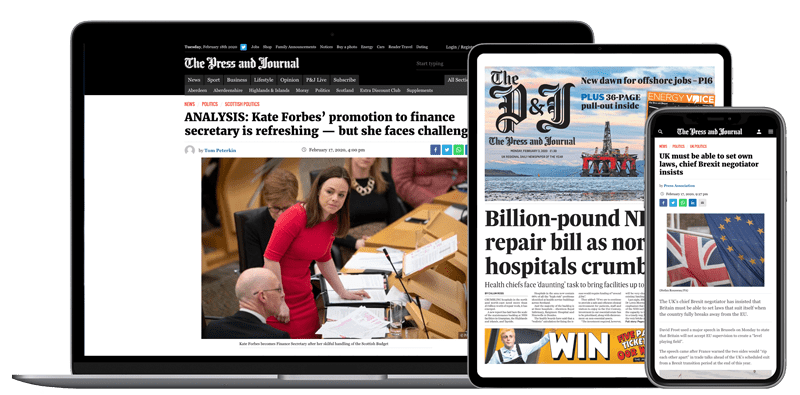 Help support quality local journalism … become a digital subscriber to The Press and Journal
For as little as £5.99 a month you can access all of our content, including Premium articles.
Subscribe