There's something very exciting about visiting a new venue, especially one that's been generating a fair bit of interest for months and has a distinctive black-box design. The start of December saw the opening of the first Village Urban Resort (VUR) in Scotland. Next year, there will be new "villages" opening in Edinburgh and Glasgow, but the one at Kingswells, on the outskirts of Aberdeen and close to the village of Westhill, takes pride of place for being first past the post.
Indeed, it's so new that some satnavs, such as the one I was using, might not be able to locate it, so the best bet is to follow directions for the Kingswells Park and Ride, as it is just a minute's walk from there and easily spotted because it really is a distinctive-looking building, set in an elevated position, surrounded by a rather stylish landscaped area complete with fountains and nice covered outdoor seating areas.
The interior of the £21million hotel is pretty impressive, too. The reception area is a nice mix of uber-trendy and traditional Scottish styles, with a raft of interesting objets d'art teamed with subtle tartan carpeting and a host of interesting seating – I particularly liked the animal-hide chairs. Comfortable and welcoming, it's a nice area in which to sit and relax with friends and family, although you're rather spoiled for places to sit here.
That's because VUR is unusual in that it aims to be a venue that has everything under one roof for the local community, business and leisure guests. For example, on the ground floor, it has a large Starbucks coffee shop which, as I checked out, was pretty busy with what looked like local mums enjoying a coffee and catch-up after dropping their charges off at school. There's also a fabulously styled restaurant, the Urban Bar & Grill, which is open to non-residents, but also offers private dining options.
Large and spacious with a mixture of seating, it has been styled to look like an industrial building – perhaps an old Manhattan warehouse – that's been converted to a cool and urban eatery. There's an open grill area where you can watch the chefs cook up a storm, while the menu has a good selection of appetisers – the spiced chicken lollipops and calamari rings were particularly tasty – plus a nice selection of upmarket burgers, salads, specials and grilled favourites, including fillet steaks and Canadian lobster.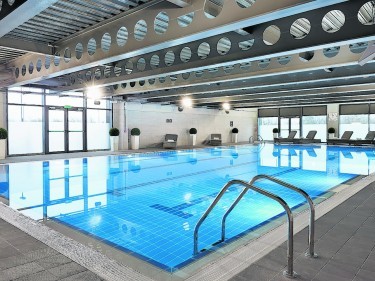 You don't have to go far to work up an appetite, as the hotel has a superb fitness centre, the Velocity Health and Fitness Club, complete with large swimming pool and state-of-the-art equipment, including the latest MyZone
and MyRide virtual spin equipment, Technogym
Artis and Unity equipment and studio classes. It's
open to non-residents and looks like being hugely popular. Within days of opening, more than 1,400 locals had already become members.
If exercise isn't your thing, then why not visit the Viva Urban Spa, where you can try a range of luxury ESPA beauty and relaxation treatments. As part of my visit, I enjoyed a 25-minute back, neck and shoulder massage from Hannah, whose skilled fingers helped ease the knots in my back and made me feel relaxed for the rest of the day. Not that I was too tense, having slept like a baby in my room, which had an enormous, very comfortable, double bed complete with snuggly duvet and funky cushions.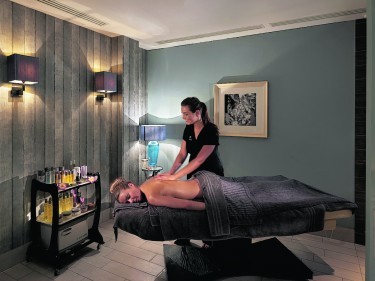 The hotel has 148 comfortable and stylish bedrooms, each with free WiFi, flat-screen televisions and modern furnishings. Alternatively, upgrade to one of the 46 UpperDeck rooms and enjoy Starbucks products, Bose speaker docks and a Sky Movies and Sports package. Along with sleek modern bath or shower rooms, the rooms also come with a full-size iron and ironing board, which is handy given that the wardrobes are only half-length so there's no place to hang a full-length dress or coat – a wee bit of a design hiccup, I'd suggest.
Many rooms have two double beds, which makes them ideal for families or if you're having a city or shopping break with pals.
Apart from being stylish, having welcoming staff and great facilities, the other thing that really impressed me was how reasonable the prices were. The Viva Friday Feeling Break, for example, includes bed and breakfast, a three-course meal and a 25-minute spa treatment but costs from just £69.50.
Fact box
For more information on Village Urban Resorts Aberdeen, contact Aberdeen@village-hotels.com or visit www.village-hotels.co.uk