Gone are the days of travelling far and wide to source the best ingredients to put on our dinner tables – the latest foodie trend has us looking right on our doorstep for our next meal.
The subject of food provenance is a hot topic and never before has there been such an appetite for the 'farm to fork' traceability. From supermarkets to local cafés, farmer's markets to restaurants, everyone is keen to claim a slice of that local, Scottish pie. Many professional chefs are now building their reputations on the provenance of the food they serve.
So why the interest in where our food comes from? Celebrity chef and P&J columnist, Nick Nairn, believes it is all down to the growing awareness among Scots of the benefits of eating fresh, local, in-season produce.
"I think we are all more aware of environmental challenges and the need to reduce waste, especially when it comes to food miles. Why eat tough green beans from South America when we have tender Scottish asparagus right in season? I've been banging on about it for 25 years, but it has finally reached a critical mass with enough people buying into the idea."
There is now such an appetite for the trend that last month the Scottish Government announced the launch of a dedicated food provenance campaign, Happier Mealtimes.
The campaign champions the eating and sourcing of fresh, in-season food, which is nutritious, tastes delicious and also has environmental benefits. The four-week campaign also provides advice on how to find and use these foods, including easy-to-make, tasty recipes from some of Scotland's leading chefs and food organisations.
Cabinet Secretary for Rural Affairs, Food and the Environment Richard Lochhead said: "Scotland's food and drink is among the best to be found anywhere in the world. As we journey towards becoming a Good Food Nation I want us all to make the most of the abundance of fresh, tasty ingredients being produced right on our doorstep.
"The Happier Mealtimes campaign will encourage Scots to look for local, in-season food which is fresher, full of flavour and good for the environment. It often works out cheaper, too, meaning it's a great way to keep shopping bills down while supporting your local economy.
"This is our Year of Food and Drink, making it the perfect time for us all to explore the wealth of tasty food from Scotland's magnificent natural larder."
But is buying local, in-season food only a passing trend?
"Absolutely not," says Nick Nairn.
"Flying produce from the other side of the world is never going to become a great idea again when we know we can grow so much here. Local and seasonal eating is here to stay.
"Go to your local farm shop or farmer's market and ask them to recommend new things to try. No-one knows what is good and in season better than the people growing it."
For more information on eating local, in season produce: www.greenerscotland.org/eat-greener-avoid-waste/local-in-season-food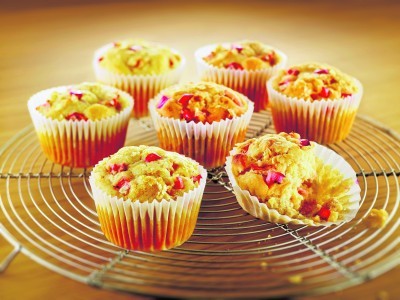 RHUBARB AND APPLE MUFFINS
These delicious muffins are a great snack and easy for kids to make. They are healthier than the average muffin, with less fat and sugar. The dried apples provide a sweet contrast to the tart rhubarb.
SERVES 10
150g rhubarb (washed, ends trimmed and finely
chopped)
150g self raising flour
Half teaspoon baking powder
100g dried apples (chopped into small pieces)
50g ground almonds
50g dark brown sugar
Half teaspoon ground cinnamon
Pinch of freshly grated whole nutmeg
125g low fat natural yoghurt
50ml low fat milk
50ml vegetable oil
1 large free range egg
Half teaspoon vanilla extract
1 tablespoon of Scottish oats (to sprinkle on top before baking)
1. Preheat oven to 180°C. Line a 12-hole muffin tray with 10 baking cases.
2. Sieve flour and baking powder into a large bowl. Add the brown sugar (breaking down any lumps with your fingers), ground almonds, cinnamon and grated nutmeg.
3. In a measuring jug add the natural yoghurt, oil, egg, milk and vanilla extract. Mix well using a small whisk or fork.
4. Add the yoghurt mix to the flour mix. Mix well with a wooden spoon. Add the chopped rhubarb and apple, folding gently until mixed through.
5. Taking a spoonful of muffin mix at a time, three/quarter fill the baking cases. Make sure they're all filled to the same level. Sprinkle a little oats on top of each. Clean any spills from the muffin tray.
6. Place the filled muffin cases into the pre-heated oven and bake for 20 minutes. They are ready when a cocktail stick comes out of the middle clean. If still wet, bake for another five minutes.
7. Leave to cool then eat or store in an airtight container for up to five days.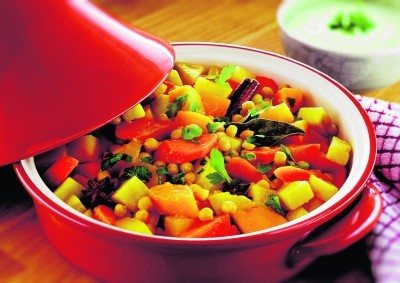 SPICED ROOT VEGETABLE TAGINE
An interesting way to spice up local, seasonal winter veg to make a delicious and filling main course, without meat.
SERVES 6
2 medium carrots (peeled, quartered lengthways, then chopped)
2 medium parsnips (peeled then chopped)
Half celeriac or turnip (peeled then chopped)
Half medium local winter squash (peeled then chopped)
150g tinned chickpeas (drained and rinsed)
100ml cold water
1 tablespoon vegetable oil
4 star anise (optional)
2 cinnamon sticks (optional)
2 bay leaves
Half teaspoon ground ginger
Half teaspoon ground turmeric
Quarter teaspoon hot paprika
1 small pinch dried chilli flakes
1 pinch black pepper
Handful of chopped fresh coriander
2 tablespoons low fat natural yoghurt
Lemon wedges to serve
1. Heat oven to 190°C.
2. Prepare all your vegetables, ensuring they are all chopped into medium-sized cubes roughly the same size so they cook at the same rate.
3. Place all the vegetables (excluding the squash), oil, spices (star anise, cinnamon, ground ginger, ground turmeric, paprika, chilli flakes) bay leaves, a tablespoon of cold water and a little salt and pepper into a heavy based casserole dish with a lid.
4. Cook in a preheated oven at 190°C for 10 minutes.
5. Take the casserole dish out of the oven. Add the chopped squash and a little more cold water (around 1 tablespoon). Cook for another 30 minutes or so until the vegetables are just tender.
6. Add the drained chickpeas along with 50ml water and cook for a further 10 minutes in the oven.
7. Remove from the oven, give it a good stir.
8. Serve in large bowls topped with a spoonful of low fat natural yoghurt and freshly chopped coriander with a wedge of lemon