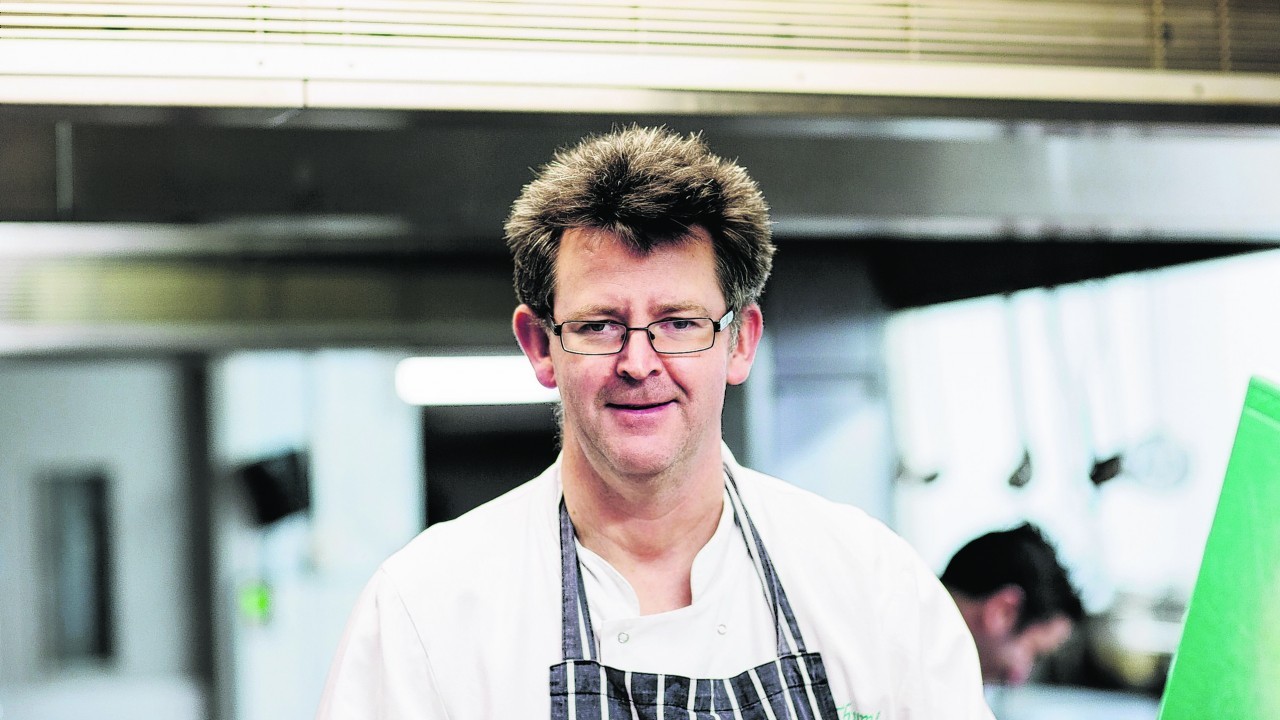 Scotland's newest foodie destination is the Wild Thyme restaurant at Glenturret Distillery, home of The Famous Grouse Experience. Wilde Thyme was set up in 2003 as a luxury caterer and is now one of the country's leading catering and party design companies.
Andrew Hamer, managing director of the Comrie-based company, is regarded as one of the best chefs in the business and was formerly executive chef of Gleneagles Hotel, where he worked for more than nine years.
Today he has created his perfect menu which starts with a smoked salmon recipe with Glenturret whisky, beetroot salad and horseradish cream, followed by sticky Scottish pork belly for the main course and a rhubarb queen of pudding for dessert.
HOT SMOKED SALMON WITH GLENTURRET WHISKY, BEETROOT SALAD AND HORSERADISH CREAM
SERVES 4
340g George Campbell & Sons Smoked Salmon (85g per person)
10ml Glenturret 10-Year-Old Scotch Whisky
1 regular beetroot
1 candied beetroot
1 golden beetroot
PICKLING LIQUOR:
150ml lemon vinegar
150ml white wine vinegar
50g sugar
1 sprig of thyme
6 white peppercorns
1 bay leaf
1 banana shallot
Salt and pepper to taste
TO SERVE:
80g Katy Rodgers crème fraiche
50g rocket leaves
30g horseradish cream
1 lime
Summer harvest lemon dressing
Separate the hot smoked salmon into four portions and brush each one with the whisky and allow to infuse. Meanwhile, make the pickling liquor. Place the lemon vinegar, white wine vinegar, sugar, bay leaf, chopped banana shallot, peppercorns and thyme into a pan and bring to a boil. Season well with salt and pepper. Keep warm.
Wash the regular beetroot. Place it in a pan with three quarters of the pickling liquor and bring to a simmer. Once the beetroot is tender, remove from the liquor, remove the skin and allow to cool. Put to one side. Peel and shave the golden beetroot into slithers. Using the remaining quarter of the pickling liquor, pour it over the golden beetroot slithers, cover, leave to soften then cool. Put to one side. Peel and shave the candied beetroot and put to one side.
Mix the horseradish sauce, lime juice and the crème fraiche and put to one side. Warm the smoked salmon in the oven for a few minutes. To serve, cut the regular beetroot into wedges and arrange on a plate. Mix the washed rocket leaves in a bowl with shavings of the candied and golden beetroot. Drizzle some summer harvest lemon dressing and the crème fraiche mix over the plate and then pop the salmon on top.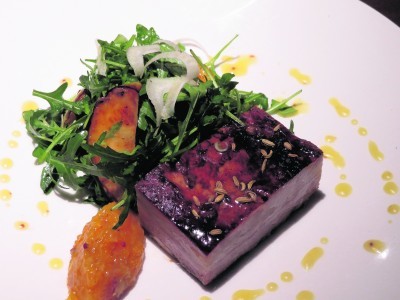 STICKY SCOTTISH PORK BELLY
SERVES 4
720g skinless pork belly
1 bay leaf
Enough chicken stock to submerge the pork belly
To save time, you can make the pork marinade and caramelised apple relish the day before.
PORK MARINADE:
50g ginger, peeled and finely grated
2 garlic cloves, peeled and chopped
2 tsp fennel seeds, chopped
3 tbsp tomato ketchup
3 tbsp. brown sauce
1 tbsp. brown sugar
2 tbsp. Scarlett's Scottish Heather Honey
1 sprig of fresh thyme
1 tsp. cinnamon
1 tsp. Chinese five-spice powder
Salt and pepper
APPLE RELISH:
1 banana shallot
1 tbsp. butter
1 tsp. mustard seeds
1 red chilli
1 apple, peeled and chopped
20ml apple vinegar or white wine vinegar
2 sage leaves, finely chopped
120ml apple juice
TO SERVE:
Shaved fennel
Rocket salad
2 tsp. toasted fennel seeds
Olive oil
Fry the shallots in a little butter. Add the mustard seeds, red chilli, chopped apple, apple vinegar and apple juice and reduce down to a chutney consistency. Adjust the seasoning and add the chopped sage leaves. Allow to cool and refrigerate until needed.
For the pork marinade, mix the ginger, garlic and fennel seeds in a bowl. Add the brown sauce, tomato ketchup and brown sugar followed by the Scarlett's Heather Honey (if you warm the honey in a microwave it makes it easier to mix in with the other ingredients) the thyme, cinnamon and Chinese five-spice powder. Generously smear the pork with this marinade and refrigerate overnight.
Put the prepared pork belly in a large greaseproof casserole dish. Pour the chicken stock over the pork so it's submerged. Add the bay leaf, season well with salt and pepper and cover with tin foil. Cook in the oven at 140°C for three to four hours. Keep checking it to make sure the top of the pork doesn't burn – you're looking for a lovely golden brown colour. To check it's cooked, push a fork into the pork and if it's soft and stringy then it's ready.
Remove the pork and put to one side. Keep the stock warm in a pan and let it reduce to a thick sauce consistency. Mix the washed rocket leaves with shavings of fresh fennel. Dress with a little olive oil and a handful of toasted fennel seeds. Put to one side. Prepare the pork into four portions and serve with some of the apple and shallot relish, shaved fennel salad, toasted fennel seeds and a drizzle of the sauce.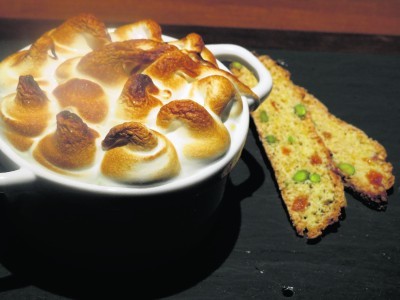 RHUBARB QUEEN OF PUDDING WITH GLENTURRET WHISKY
SERVES 4
2 sticks of rhubarb, washed
10g ginger
5ml Glenturret 10 Year Old Scotch Whisky
8 eggs, yolks and whites separated
1 pint of double cream
1 vanilla pod, seeds scraped out
450g caster sugar
1 small vanilla sponge
4 tbsp strawberry jam
Roughly chop the rhubarb and put in a pan with the ginger and 50g of caster sugar. Heat gently until it turns into a pulp. Remove from the heat and spoon into four individual ramekins. SlIhe vanilla sponge in half, smear the inside with strawberry jam and sandwich back together. Dice the sponge into half an inch squares and place in each ramekin to cover the rhubarb base. Gently warm the double cream with the vanilla pod seeds and the Glenturret Whisky. Bring to a simmer and remove from the heat to let it infuse.
Meanwhile, mix the egg yolks in a bowl with 50g of caster sugar. Add the double cream and whisk to create a custard mix. Pour the custard on top of the sponge and cover. Cook in a bain-marie at 120°C for 20 minutes or until the custard has set. Remove from the heat and leave in the bain-marie to keep warm. In a mixing bowl, whisk the egg whites until they form stiff peaks. Add 350g of caster sugar and mix. Spoon the meringue mixture into a piping bag and pipe on top of the custard in each ramekin. Bake in the oven for five minutes or until the tips of meringue turn golden brown. Remove from the oven and serve immediately. Best served with pistachio biscotti.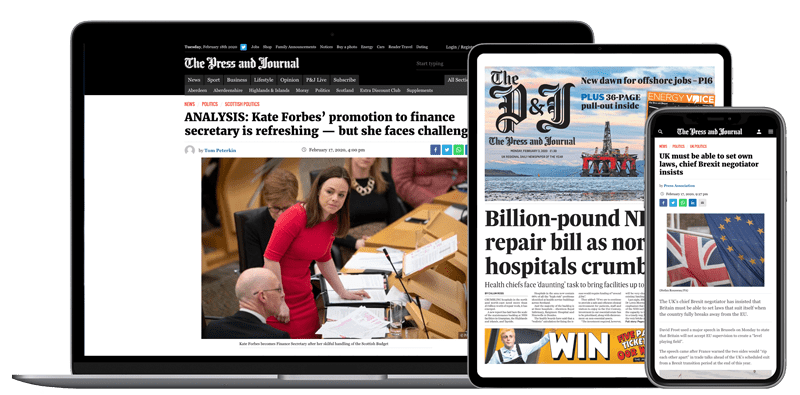 Help support quality local journalism … become a digital subscriber to The Press and Journal
For as little as £5.99 a month you can access all of our content, including Premium articles.
Subscribe